Lemon Mojo BBQ Scallops
Lemon vinaigrette and citrus chipotle bbq sauce provide the perfect combo of sweet and sour needed to create this tasty Caribbean classic.
INGREDIENTS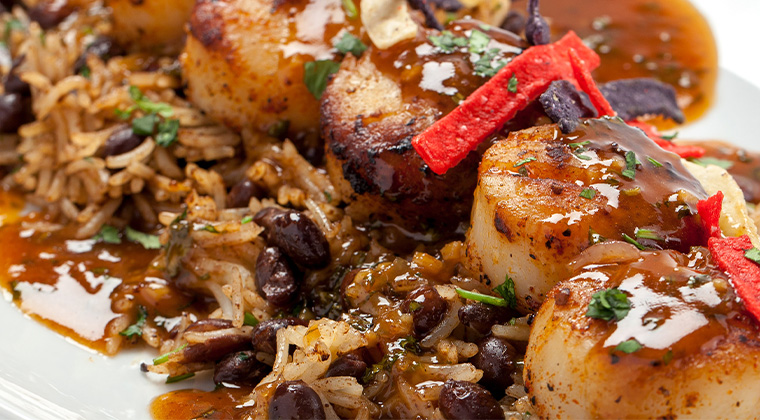 1 teaspoon olive oil
1 teaspoon salted butter
6 jumbo scallops
1 tablespoon fresh garlic paste
1 tablespoon finely diced shallots
2 tablespoons chopped fresh cilantro
3 oz lemon vinaigrette
1 tablespoon citrus chipotle barbecue sauce
sea salt and pepper to taste
3 oz dirty rice
DIRECTIONS
In a saute pan heat olive oil and butter on medium heat. Sear scallops on both sides then remove from the pan; keep warm.
Lower heat and saute the garlic shallot and cilantro for 30 seconds.
Add lemon vinaigrette and citrus chipotle barbecue sauce to the pan. Stir until sauce is reduced.
Add salt and pepper to taste.
Plate scallops over red beans and rice or dirty rice. Pour sauce over scallops and serve.
See More Recipes