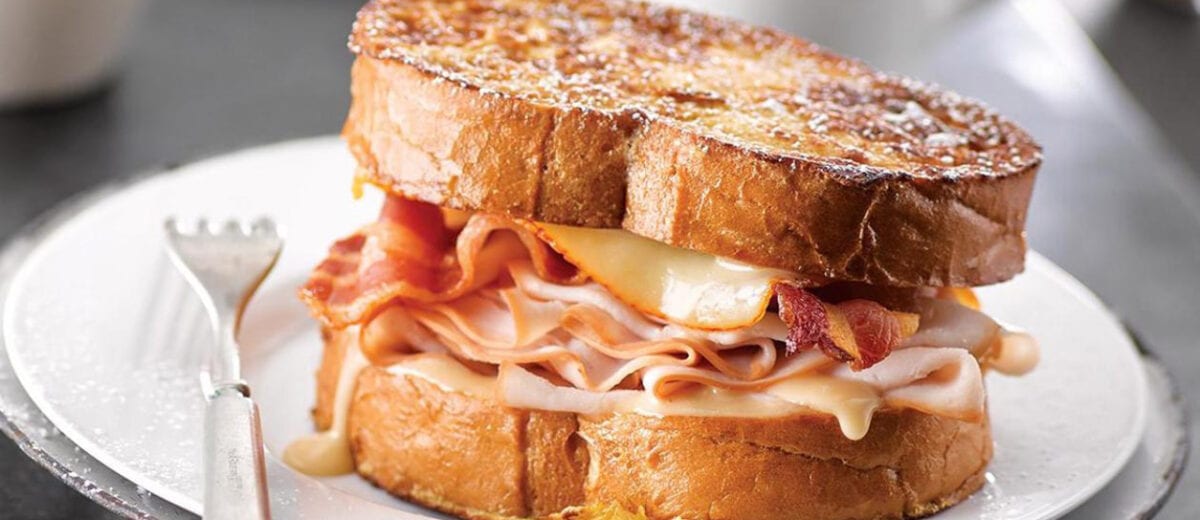 Fancy Footwork French Toast Sandwich
French toast with mayonnaise, turkey, bacon and melted cheese.
French toast gets even more craveable with deli-style turkey, crisp bacon, Meunster cheese and house-made maple mayonnaise. (Is it brunch time yet?!)
INGREDIENTS 

1 cup Hellmann's Real Mayonnaise (Item #70605)
3 tbsp Pure Maine maple syrup (Item #3303)
20 slices French Toast (prepared)
1 cup Maple Mayonnaise (prepared)
20 oz, Jennie-O Tender Brown Turkey, thinly sliced (Item #4124)
20 slices Bacon (cooked)
Kick it up a notch with Smithfield's Applewood Log Smoked 10/14 bacon (Item #22302), or add a unique twist with Hormel's Market Cut Shoulder Bacon (Item #16283)
10 slices Great Lakes Muenster cheese (Item #9980)
DIRECTIONS
Prepare the Maple Mayonnaise (combine ingredients and chill)
Prepare the Sandwich

Spread two French toast slices with Maple Mayonnaise
Layer ingredients to build sandwich.
Heat under salamander or broiler until cheese has melted.

Dust with powdered sugar.
See More Recipes