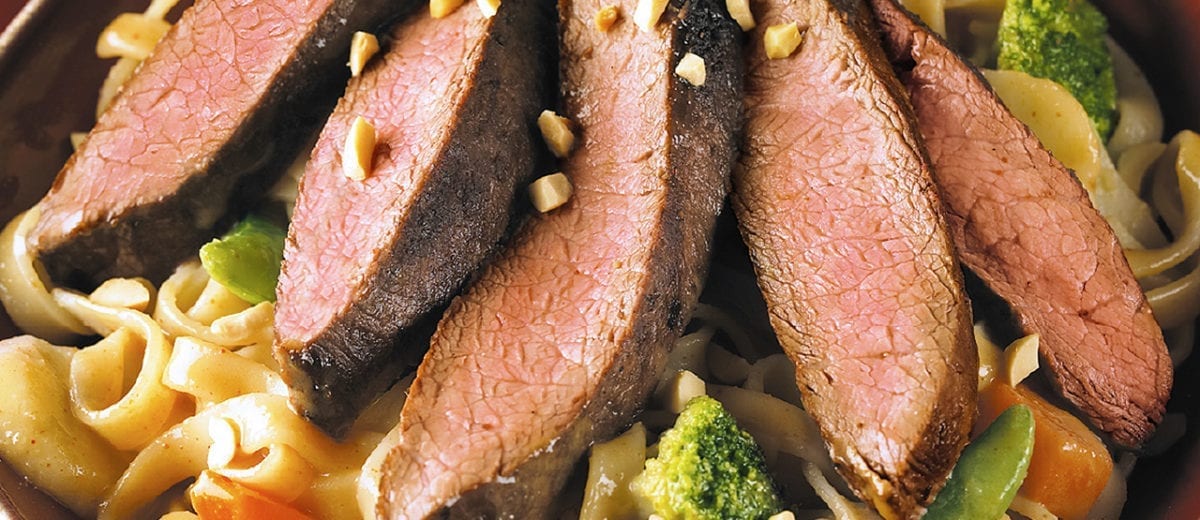 Flat Iron Steak with Peanut Sauce
An Asian inspired entrée that will leave your guests craving more!
Tender-crisp veggies and peanut sauce give this dish a classic Asian flavor with plenty of room left to customize using just the right level of heat. Experiment with different noodle options for a unique texture and presentation. This dish is also perfect for takeout! See more here.
Ingredients:
2 beef Flat Iron Steaks
1/4 teaspoon ground red pepper
1/4 teaspoon black pepper
1 package (16 ounces) frozen Asian vegetable blend
1/4 cup water
3 cups hot cooked thin noodles (such as vermicelli, Chinese noodles, rice noodles)
3/4 cup prepared peanut sauce
Salt
1/4 cup roasted peanuts, chopped (optional)
Instructions:
Combine red and black peppers; press evenly onto beef Steaks. Heat large nonstick skillet over medium heat until hot. Place Steaks in skillet; cook 11 to 14 minutes for medium rare to medium doneness, turning occasionally. Remove to platter; keep warm.
Add frozen vegetables and water to skillet; bring to a boil. Reduce heat to medium; cover and cook 5 to 7 minutes or until crisp-tender. Add noodles and peanut sauce; toss to coat. Cook until heated through, stirring occasionally.
Carve Steaks into slices and season with salt, as desired. Serve over noodle mixture. Top with peanuts, if desired.
Nutrition information per serving:
544 calories; 22 g fat (6 g saturated fat; 1 g monounsaturated fat); 51 mg cholesterol; 1073 mg sodium; 52 g carbohydrate; 3.5 g fiber; 33 g protein; 6.5 mg niacin; 0.5 mg vitamin B6; 3 mcg vitamin B12; 3.6 mg iron; 23 mcg selenium; 8.6 mg zinc.
This recipe is an excellent source of protein, niacin, vitamin B6, vitamin B12, iron, selenium and zinc; and a good source of fiber.