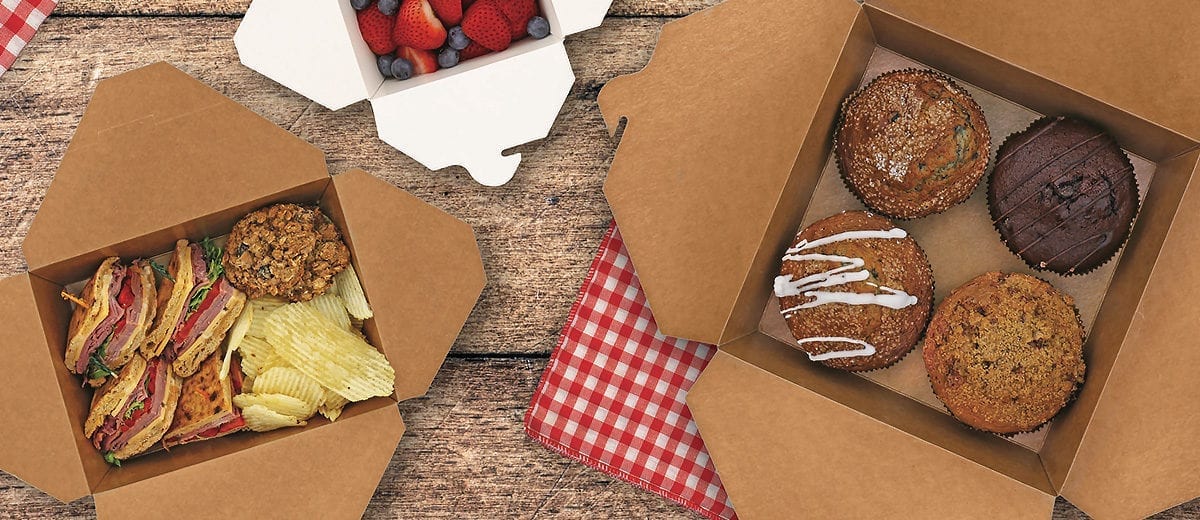 7 Tactics for Takeout Sales Growth
Here are 7 surefire ways to boost your sales and profits by increasing focus on your takeout business.
Listen to Episode 23 of our podcast for additional insights on takeout sales growth; subscribe for foodservice news, product updates and more information like this. Listen/Subscribe Here

1) Use Your Capacity
In order to determine your growth opportunities, it's beneficial to understand how much business you can handle and where that business is coming from. For example: What are the maximum amount of diners you can reasonably accommodate in a day? How many diners do you need to serve in person, or through takeout, to cover your costs for the day? What has an impact your capacity and ability to meet goals? With a firm understanding of these factors, the next challenge is to implement new profit growing strategies. Developing a strong takeout program – from products, to packaging, to employee training is an effective way to generate additional profit. Many restaurants have certain days when they are below their breakeven point; an ideal time to start strengthening takeout without overtaxing resources.
Dennis Tip: Most often, Monday, Tuesday, and Wednesday are three nights when there is plenty of capacity to do more business – perfect weekday opportunities to begin focusing efforts that will grow takeout business.

2) Have a Takeout Specific Menu
If you are going to focus on takeout, it's extremely valuable to have a separate menu. Why? All of the items on your menu may not be suitable for takeout. If a dish doesn't travel well or creates havoc to package in your kitchen, it probably shouldn't be included in your takeout menu. When a customer does call for takeout, make sure a menu goes out with the order. Not having a menu available could be the difference between a customer choosing your establishment or someone else's.
You should need to have your takeout menu online. Period. Ideally it should be written out, directly within a page on your website, so that it will be "mobile-friendly." The vast majority of connected-consumers make decisions about dining and takeout from information (and photos) viewed on their phones. Making your takeout menu available in a PDF format is also a nice touch, and convenient for workplace printing. Avoid relying on "pictures" or Jpeg images of your menu as these are not always mobile-friendly, print poorly and add little value to web searches. Online only specials, and combo deals in print, are a great addition to takeout menus and effective at increasing order size.
Dennis Tip: If you don't have a website, make your menu available through your social media channels and review sites like Yelp & Trip Advisor. Menu-listing websites like OpenMenu.com are also a great way to share your takeout menu online.


3) Use Packaging that Promotes

Your takeout packaging should mirror the quality of dinnerware you use. If you own a high-end establishment serving $40 steaks, would you present meals served in your dining room on paper plates? Of course not! A big part of the magic in a $40 steak is the quality of the beef, another part is the atmosphere and image you put forth; the same is true for takeout. The experience for the diner getting takeout should emulate their experience in the dining room. You can't send food home on glass plates, but by working with your Account Executive you can find the right packaging to fit your establishments brand goals.
Dennis Tip: Include your website address on your printed menus, and if possible on your takeout packaging, ensuring customers quick and convenient access to your menu whenever they want it. Keep the address short, and make sure your menu is easy to read or click to when they get there. If you want to shorten your URL, save space and print your website bigger drop the "www" … www.yummysteak.com or yummysteak.com/menu – customers will still be able to get to your site.

4) Don't Forget About Dessert
When was the last time you ordered dessert when taking out? For most people, the answer is almost never.  Why not? Many restaurants don't even give the customer an option. Training waitstaff to make asking about dessert part of their routine is common practice. It increases sales. Effective use of dessert offerings in your takeout menu is another way to increase sales. A big part of appealing dessert takeout is packaging. For example, segmented and leak resistant packages help customers transport premium deserts without a mess from sauces and toppings. Prepackaged upscale desserts are also perfect to-go options. They are easy to inventory, transport, and offer premium appeal and consistent quality. How many times after a large meal have you told a server that you are too full for dessert? If you have an effective takeout strategy, you can increase dessert sales and provide customers an even more satisfying total experience.
Dennis Tip: The same principles apply to apps as well. Showcase your appetizers and sides as more than just a supporting role. With a to-go package for every item, portion size and temperature there's no reason not to increase sales with apps and sides.

5) Do Market Research
In grade school and through college, we are taught not to look at another person's paper, as it is considered cheating. A funny thing happens when we start working in the real world; it's called market research. You should know how competitor's online menus are presented, as well as where they share and push content to suggestively sell. Look at their menus to understand competing products and prices. Order takeout and examine the packaging. Looking at what someone else is doing in order to gain better market insight is smart business.
Dennis Tip: Take advantage of the knowledge and resources available at Dennis. With an ear to the street our Account Executives are an extremely valuable resource for the market insights. Equipped with an immense product inventory, unprecedented supplier access and custom solutions our team will bring your vision to life.

6) Take Advantage of Social Media
Social media is a powerful free tool for establishments that know how to use it. If you aren't currently taking advantage of social media, you should immediately start outlining a strategy to do so. The key is not only to learn to use social media for promoting your business, but to actually engage your customers and potential customers with it. It's also extremely valuable for seeing what people are saying about your establishment. You should consistently monitor Yelp, Trip Advisor and other rating sites to understand both the positive and negative conversations being had about your business. Keep your information up-to-date and accurate, customers are increasingly turning to these sites to make decisions about where to dine.
Dennis Tip: For more information on working with social media, visit our Social Media 101 page.

7) The Grab-and-Go Market is Growing

Trends show an increasing desire by consumers for "grabable" premium meal options, ready-to-eat as well as meals they can heat-and-eat at home or in the office. Offering grab-and-go meals is a great way to increase sales and profits. This model works well for food-focused convenience locations as well as sit-down dining establishments. If you have 4 people come in for dinner and you are able to sell them a few conveniently available entrees, desserts or sides to-go, you will have dramatically increased the size of their check. Three "sellable" benefits for the guest are; they have an option to take home more of the great food they just enjoyed, they can share the experience of your food with others, and they can have a delicious meal at home which they don't have to cook.
Dennis Tip: Packaging is key to a successful grab-and-go program. Depending on the food item, it may need to be placed in a freezable, microwavable, or oven-safe container so it can be easily stored and reheated.

© "7 Ways to Ramp Up Your Takeout Sales," written by Mike Mirarchi, 2016. Revised with permission by Luke LaBree, Dennis Paper & Food Service, 2017.