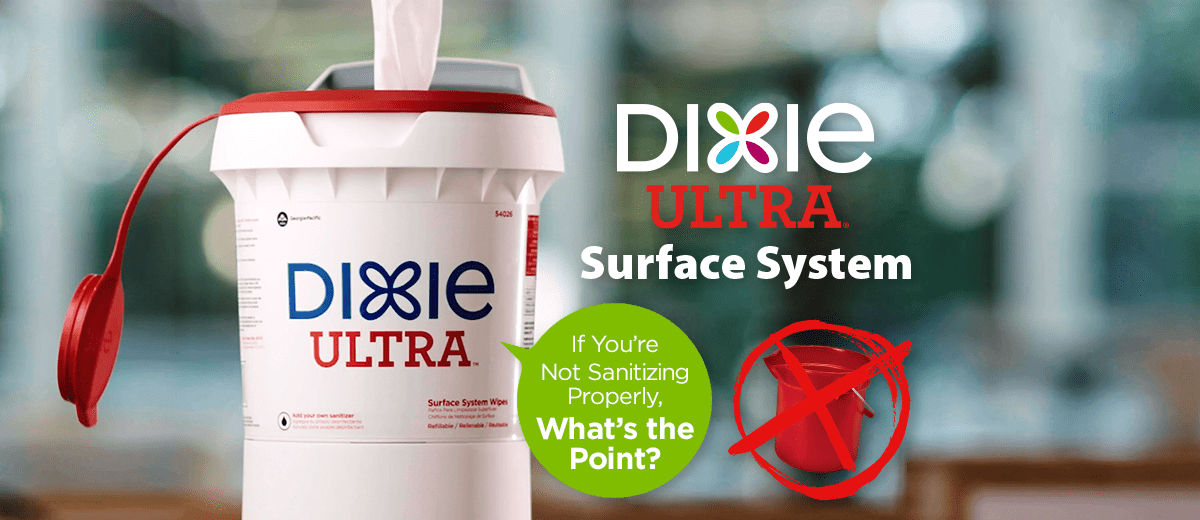 Dixie Ultra™ Surface System Wipe Dispenser for Foodservice
Dixie Ultra™ Surface System Wipe Dispenser for Foodservice is a closed-system dispenser with quat-compatible wipes that can be used with a wide range of sanitizers and disinfectants.
NOW IN STOCK

The Dixie Ultra™ Surface System can retain proper sanitation levels significantly longer than open-bucket systems with cloth towels. Fill the dispenser with your favorite sanitizer or disinfectant. The wipes are disposable, so they never re-enter the dispenser and contaminate the solution. Simply discard used wipes into the handy dispenser trash attachment, sold separately.
Maintains Quat-Sanitizer Concentration
Portable & Safe for Intended Use
Sanitizer Compatible
Sanitary Closed-System Dispenser
The dispenser's tight-fitting lid virtually eliminates the risk of spills, splash or vapors associated with open buckets, which your patrons will appreciate. And with the ergonomic handle, it's easy to move from table to table in the front of house, and from station to station in the back of house.
Dixie Ultra™ Surface System wipes can be used with sanitizers containing: quaternary ammonium compounds (quat), peroxide, peroxide with peracetic acid, isopropyl alcohol (70% solution), bleach and phenolic. Quat (or quaternary ammonium chloride) is the active ingredient in most sanitizers and disinfectants. Testing measured quat sanitizer loss as a function of time for Dixie Ultra™ Surface System wipes, cotton bar mops and microfiber cloths.
Dixie Ultra™ Surface System: Dennis Item #25175
Disposable Surface System Refills: Dennis Item #25176
Dispenser Trash attachment: Dennis Item #54027
Chemical Options (Quat): Dennis Item #s 13334/2526/3594/2565
View Surface System Flyer Dennis Chemical Products  Coronavirus Priority Products