Delicata Squash Rings
If you're looking for a fun seasonal alternative to onion rings, check out this under 2-minute video to see how to make Delicata Squash Rings!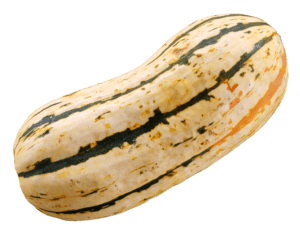 Delicata Squash is a small-sized winter squash that is pale fleshed, and has medium water content. Delicata Squash is ideal for stuffing and serving from "the shell." One unique finger food style offering is Delicata Squash Rings. Simply seed, slice, bread and fry. There's no need to peal the skin, that's edible too! Best served with your signature dipping sauce as an appetizer, add a heaping for a side with BBQ brisket, or load a pile on a burger.
Chef's suggested dipping sauce: Maple Cumin Aioli. A combination of mayonnaise, dijon mustard, toasted cumin, real maple syrup and seasoning.
More from the Test Kitchen