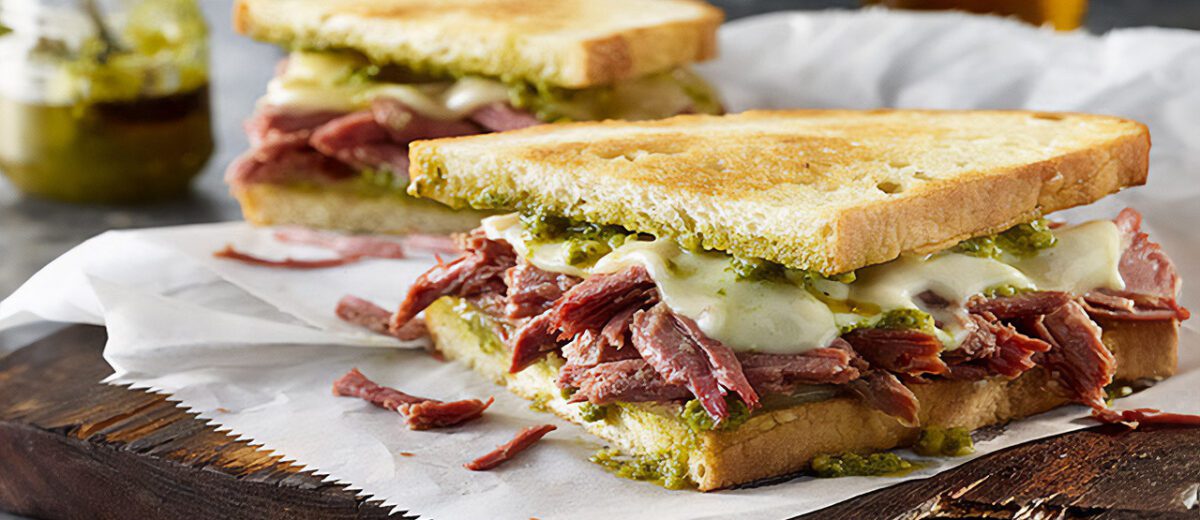 Corned Beef Pesto Grilled Cheese Sandwich
Toasted sourdough bread with tender shredded corned beef layered between melted Gruyere, white cheddar cheese, and pesto makes other sandwiches go sit in the corner.
Yield: Makes 4 sandwiches
INGREDIENTS
8 slices sourdough bread
4 oz. basil pesto
8 oz. sliced Gruyere cheese
8 oz. sliced white cheddar cheese
1 lb. Dan's Prize All Natural* Pulled Corned Beef, thawed
4 oz. butter, softened
DIRECTIONS
On 8 slices bread, evenly divide pesto.
Top 4 slices bread with Gruyere cheese and 4 slices bread with white cheddar cheese.
Top with shredded/pulled corned beef; sandwich together.
Spread butter on both sides of each sandwich.
On griddle or in large nonstick skillet, cook sandwiches over medium heat, turning once, 5 to 6 minutes or until golden brown on both sides and cheese is melted.
See More Recipes