Chicken Avocado Flatbread with Green Chili Aioli
Juicy chicken, onion, lettuce, avocado and cheese piled high on flat bread shells, finished with a dollop or two of a spicy aioli that features diced tomatoes and green chilies.
INGREDIENTS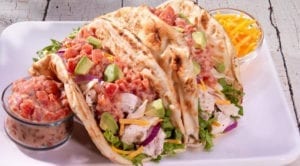 1/2 cup light mayonnaise
14.5 oz petite diced tomatoes, with green chilies drained
4 cooked, shredded, boneless, skinless chicken breasts item #30680 (alternatively, use item #1923)
1 teaspoon lemon juice
1 sliced thin small red onion
salt and pepper to taste
4 pc flat bread item #10501
1 cup shredded lettuce
1 peeled, diced avocado item #16190
1/2 cup sliced cheddar cheese
DIRECTIONS
Combine mayonnaise and tomatoes and green chilis to make the aioli.
Place chicken, lemon juice, red onion, salt and black pepper in a large mixing bowl; mix well.
Place lettuce on flat bread and top with chicken mixture and avocados. Spoon green chili aioli on top.
Garnish with shredded cheese, and serve!
serves = 4
See More Recipes