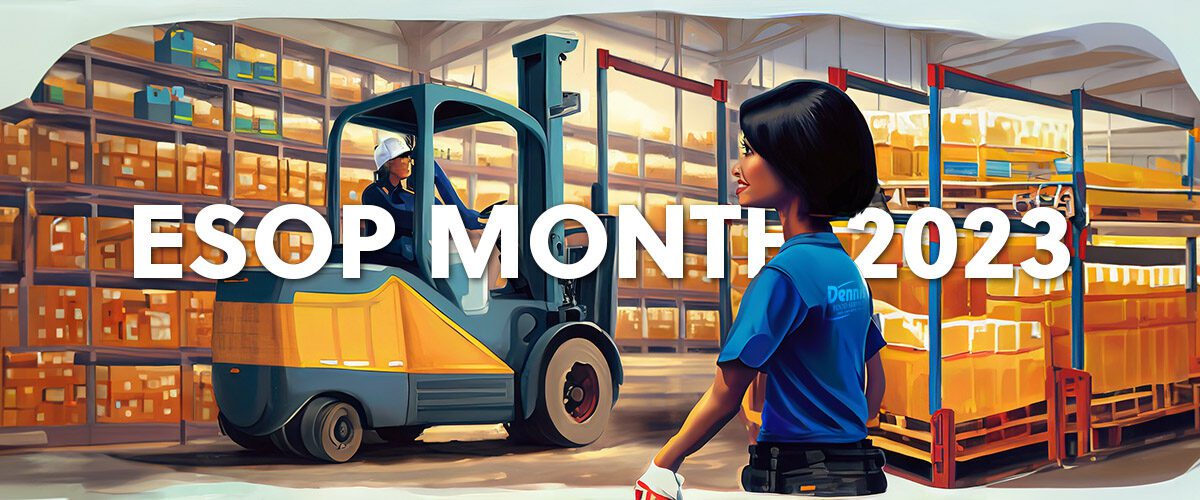 Celebrating National ESOP Month at Dennis Food Service, October 2023
Ownership in Action–October means festivities at Dennis Food Service!
Each year when October rolls around, it brings with it the chill of fall air and the warm spirit of celebration for our employee-owners at Dennis Food Service! ESOP month is a special time for us as we highlight and share the value of being an employee-owner. But before we dive into the festivities, let's take a moment to understand why ESOPs are so unique and why they matter to us.
What is an ESOP?
An Employee Stock Ownership Plan (ESOP) is not just another retirement program. It's a distinctive setup where employees receive company stock. This means as Dennis Food Service grows and prospers, so does the "additional retirement account" of every employee. And here's the kicker – unlike the typical 401(k)s, our employees don't have to spend a dime for these accounts to flourish.
But the magic of ESOP doesn't stop there. Being an owner does wonders for one's mindset. As owners, we all feel a genuine sense of responsibility towards the success of our company and by virute of that, to our customers as well.. This ownership culture motivates us, enhances productivity, improves retention rates, and ensures that we always endeavor to provide top-tier service – setting the company on a path of sustained health and growth.
Did You Know?
Retirement accounts in ESOP companies are 2.5 times higher.
ESOP-owned companies grow 2.5 times faster than non-ESOP ones.
When it comes to performance, benefits, and motivation, employee-owned companies stand superior.
The air at Dennis Food Service is filled with excitement as we celebrate all month long with events including an Employee Appreciation Breakfast, a Tailgate Party, and corn hole tournament. Any creatively inclined employees have a chance to shine in our upcoming Poster Contest. The stakes are high this year, with the winner getting an opportunity to represent Dennis Food Service at the national contest in June 2024. As we move through the month, we have a grand evening planned on Saturday, October 21st. The Employee-Owner Celebration is an event everyone looks forward to. It's an evening of food, entertainment, and prizes, and an event not to be missed. During this celebration, we'll also present our annual Dennis Difference Award to a deserving individual who was nominated by their fellow employees.
For those needing a little relaxation amid the festivities, our Massage Therapist sessions are back by popular demand. And if you can't make it to the site, don't fret; we have a lucky draw just for you. Nearing the end of the month, on Wednesday, October 25th, the aroma from The Black Sheep Food Truck will waft through our premises, offering delicious treats from 12:00 – 5:30 PM. And as the month concludes, anticipate delightful surprises with unexpected prizes and a special gift to commemorate our appreciation for all our employee-owners.
Through these festivities and more, we hope to cement the bond of ownership and camaraderie among all at Dennis Food Service. So, here's to a month filled with fun, recognition, and celebration of our collective ownership spirit at Dennis Food Service. Cheers to us, the proud employee-owners!