BBQ Pulled Pork Mini Sliders with Aged Cheddar
Moist pulled pork mixed with any flavor barbecue sauce of your choice, with melted aged cheddar cheese made into a shareable dish!
INGREDIENTS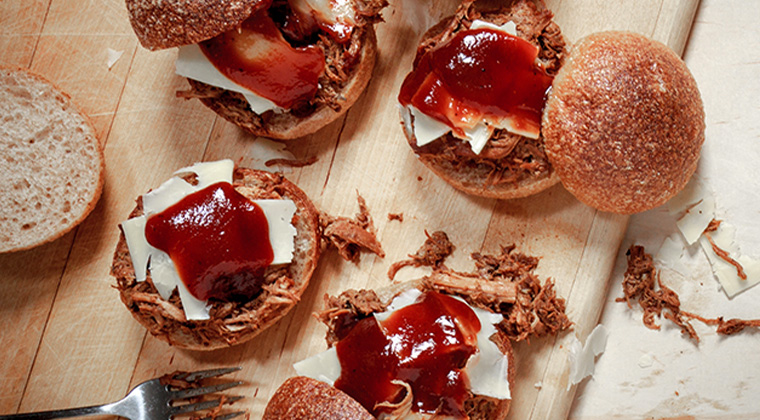 1 cup barbecue sauce
2 cups pulled pork, prepared with no sauce
1/4 cup slider buns, seeded, brioche or other.
4 ea white or yellow aged cheddar, sliced
8 ea small picks
DIRECTIONS
Using a medium size mixing bowl, mix 1/4 cup barbecue sauce with the pulled pork. Add more sauce to your linking, keeping additional sauce aside to spread on the bun or drizzle over the pork once cooked.
Using either a medium pot or pan, covered microwavable container or a covered oven-ready dish, reheat the pulled pork until an internal temperature of 165˚F.
Once cooked, spread additional barbecue sauce starting with the bottom bun topped with 1/4 cup of pulled pork.
Next, top the pork with 2ea slices of cheddar followed by the top bun spread with additional barbecue sauce.
Stick a pick through the middle if desired, and serve!
See More Recipes