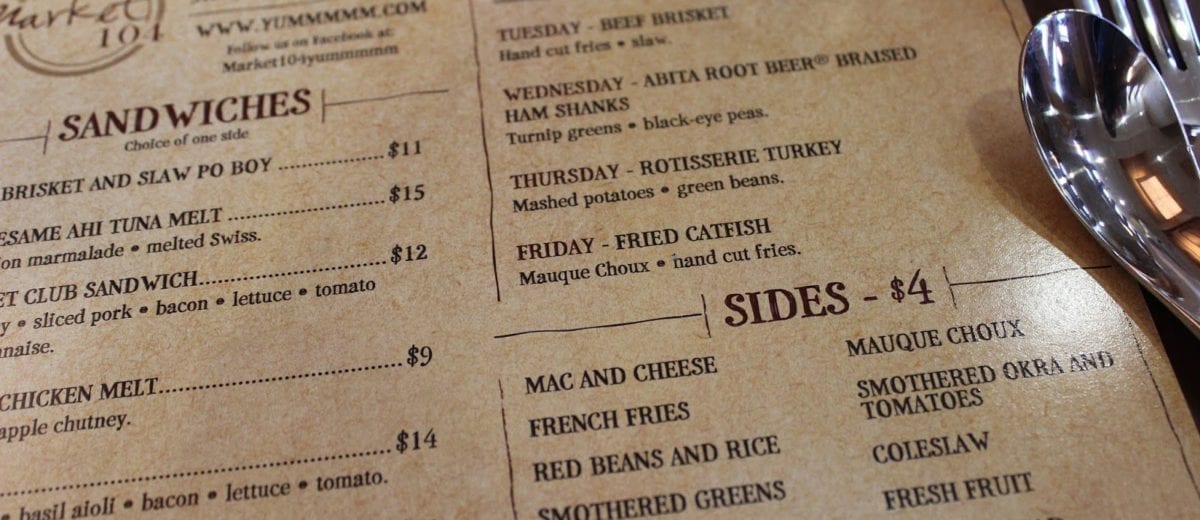 25 Smart Menu Moves
The best menu items have a certain extra something, an "x-factor" if you will.
The expectations are high for your menu items… They must fit within your concept, sound and taste good, fall within the skill set and resources of the kitchen,  and of course… make money.
Maybe your menu items cross-utilize a single ingredient particularly well, or move an operation into a new menu category. Perhaps they carry zip costs or are an especially adept interpretation of a hot food trend. A great menu item might simply take pressure off a kitchen station that would otherwise be slammed. Or attract lots of press attention. Or build the check average with minimal selling effort. Even turn a leftover into a popular new item. You know, smart.
1. Organics in a family chain
Organic Greens with Smoke-Grilled Chicken Salad might not sound like a menu innovation, but at a 32-unit family restaurant chain? Founded in 1960 in Portland, Oregon, Elmer's Breakfast, Lunch and Dinner is a Northwest institution. But as the whole sustainable food movement circles around it, the company figured it was time to make some adjustments. "Basically, we spent the past year taking the menu apart and putting it back together again," says Elmer's CEO Dennis Waldron.
The new Northwest Fresh menu, introduced earlier this summer, is about 20 percent locally sourced. It's got wild Alaska salmon and halibut on it, plus locally farmed produce. No single item better represents the effort involved in sourcing and distributing such ingredients in a five-state region than the salad: Not only are the greens organic, but the item also features candied Oregon hazelnuts, dried cranberries, Granny Smith apples and blue cheese crumbles from local Rogue Creamery.
"We've always been a local chain," Waldron says. "Now we're moving that strategy into the long-term with our menu."
2. Monday night special
With one move, Hosea Rosenberg not only removed an outdated (albeit beloved) item from the regular menu, he significantly boosted sales on a traditionally off night. As the first new chef in years at Jax Fish House, a 14-year-old casual restaurant in Boulder, Colorado, Rosenberg was expected to update the menu. "I couldn't wait to get my hands on the tuna," says the chef, who thought the rare-seared ahi served over scallion hash browns with a sweet soy drizzle was dated and clunky.
But regular customers howled, and the kitchen was forever having to slap the dish together whenever one of them howled loud enough. A year-and-a-half ago, Rosenberg came up with the solution: offer the tuna dish as part of the weekly selection of Blue Plate Specials. On Monday nights, regulars get their "Old School Tuna," while chef gets his way with the new Miso Glazed Hawaiian Tombo.
Best of all, Monday nights got a 30 percent bump in sales.
3. Desserts for a buck
At $1 apiece, who can turn down the mini-dessert menu that's part of Sofitel Hotels' new Express Lunch, a four-course "package" that's guaranteed ready in 15 minutes? The program consists of a changing array of two- or three-bite sweets — fresh fruit, chocolate, strawberry and so on — priced at just a buck. The server brings the tray automatically at the end of the meal.
"We never used to sell any desserts at lunch," says F&B director Jean-Marc Jalbert. "We're not making money on these desserts themselves, but we're providing a great finish, and we're selling about 1,000 a month." Plus, people will spring for a coffee or tea while they're at it.
4. Higher-priced takeout
Capitalizing on the growing to-go trend is always a good idea — especially if it means just being smarter about pitching (and getting more money for) what's already on the menu. The two-unit quick-service New England Soup Factory, whose locations are hard by such Boston-area outdoor attractions as the beach and the Esplanade concert venue, offers call-ahead picnic packages for summer.
Soups such as gazpacho, borscht and vichyssoise come in attractive Mason jars that can be tucked into coolers or beach totes along with premade sandwiches, fresh fruit and other picnic favorites. Prices range from $13.95 for one person to $60 to "feed a crowd" — a significant upsell for the same menu items that ordinarily go for $4 to $7.25.
5. Lunch alternative to pizza
It happens all the time with pizza menus: the need to offer items that are more lunch-friendly than a pie. For Stone Hearth Pizza, a growing chainlet around Boston, the answer was the Pizani (pronounced "p'zahn-ee"), a kind of rolled-up mini-pie that's single-serve and very portable.
The item is part wrap sandwich, part stromboli. It consists of warm, soft bread — made from the same dough that's used for the pizza but shaped differently — rolled up tight around a variety of fillings, such as the Stop, Chop & Roll (chopped mixed greens, oven-roasted tomatoes, bacon, chicken, basil, scallions, cucumber and blue cheese with balsamic vinegar). It's lighter than a pizza, heartier than a salad and super easy to grab and go.
6. Shortcut to a good gumbo
Michael Zulli is raiding the bar again: for recipe ingredients. His kitchen at Bridgewater's Pub in Philadelphia's historic 30th Street Station is barely four feet wide, utilizes portable butane stoves and doesn't even have its own walk-in. So he must rely on shortcuts to build signature dishes using minimal inventory. Take the seafood gumbo. It's Bloody Mary mix that provides the flavor framework; Zulli simmers it with a green pepper- and onion-accented roux and fresh crabmeat for body and depth, hits it with a little cayenne and bottled cilantro and ginger liquid flavor concentrates, and finishes it off with shrimp and crawfish.
"Using the Bloody Mary mix turns a five-hour process into one that's an hour-and-a-half," Zulli says.
7. Soup in a bagel 
Sometimes the ingredients you need for a new menu item are right in front of you. Take the new bagel bowl debuting this fall as part of Breugger's new soup program. "Our customers were telling us that we needed to upgrade our soup selection, and we decided to… make soup more of a destination menu item," says Philip Smith, director of new products and services for the 260-unit bakery-cafe chain based in Burlington, Vermont.
The company is repurposing its signature boiled- and baked-on-premise square bagels into a premium soup "bowl." "We take two of the uncooked bagel forms [the way all bagels come into the stores] and mold them into a container shape, then proof and kettle them in the usual way," says Smith. "When they're baked, they come out with that distinctive eggshell crust that literally holds water."
8. Thai-tasting wraps
When 13-year-old Big Bowl came back under Lettuce Entertain You Enterprises after four years with Brinker, it needed to rebrand. "Ultimately the challenge is, How do we 'graduate' Big Bowl, reinject that urban vibe, and at the same time jump on the whole sustainable/organic/local movement?" says Big Bowl president Dan McGowan. The answer was a menu item: the new, phenomenally popular Thai Beef Lettuce Wraps, which captures the essence of the "new" Big Bowl on a plate. The "small specialty" items are meant for sharing and wrapping at the table. And this is no repository for beef byproducts. Big Bowl went the extra mile to upgrade to purpose-bought prime steak as a way to train customers to expect better of the concept. It's all part of a total menu refit, which also includes all-natural fresh chicken and heirloom pork. Eventually, McGowan hopes to find a source for locally raised natural beef, but in the meantime he and executive chef Matt McMillin have a hit menu item on their hands.
9. Repurposed cheese scraps
Lots of folks would like to serve a cheese course, but are leery of waste and food costs. Evan Mallett, chef-owner of Black Trumpet Bistro in Portsmouth, New Hampshire, has got that one covered. He selects an ever-changing array of three cheeses that also work together in fondue, and hasn't worried about scraps or slow cheese sales since. "I'll pick something like a Comte that will melt well for the base, and select complementary cheeses that will add flavor without compromising the velvety texture," Mallett explains. The fondue, served with bread and vegetables, is practically a food cost freebie at $21, and makes a great vegetarian entree or shared appetizer.
10. On-the-fly appetizer
Pizza dough? Check. Kalamata olive tapenade? Got it. Herb goat cheese? Right here. Basil, tomatoes, balsamic? No prob. That's about how simple it is to create the popular Bruscetta Stack appetizer on the menu at Stone Fire Pizza Co., a Los Angeles wood-oven pizza specialist that bills itself as "a different kind of pizza joint." Insanely busy, with a menu that offers not only nearly three dozen kinds of pizza but also seven pastas, nine gourmet salads and half a dozen starters, the Bruscetta Stack only uses items that are already in-house and can be assembled on the fly — a real operational boon. It's dippy and colorful, based on homemade pizza crackers that make it not only easy on the house, but also easy to share.
11. Small plates meant for sharing
"Everyone thinks it's so hard to produce, but really it's one of the best dishes on the menu," says Jodi Denton, chef-owner of Deep, a new upscale Japanese restaurant in Bend, Oregon. "It" is an item called The Nine Bites, a "chef's daily selection of nine different hot and cold tastes of Deep," priced to share at $16.
Merchandised as a high-value way to sample different items, the appetizer also represents a brilliant cost and utilization strategy. Every day, the kitchen staff takes stock of what it has in-house, and what makes for a nice combo. "So, there's one quart of soup? Put it on the Nine Bites," says Denton. "Two orders of halibut? Nine Bites." As many as 20 orders a night are served. "It's the greatest utilization for small amounts that we couldn't sell otherwise."
12. Pickles as a starter
A burger joint will always have plenty of pickles; making them into an appetizer is another matter. Times Grill, a family-owned specialty burger concept with four locations in Louisiana, had more than 20 burgers on the menu but was short on starters and nibbles — until they came up with the idea of using the same crinkle-cut dill chips that are offered with all the sandwiches. The chips are dredged in a mixture of white and corn flour flavored with Creole seasoning, then deep-fried and served with housemade Creole Ranch dressing. Not only are the pickles a top-seller, but they're the single lowest food cost item on the entire menu.
13. Cheesecake in a wrap
What started out as a clever way to use up leftover cheesecake has become a top-selling dessert at Legends, a popular local restaurant in New Suffolk, New York: Cheesecake Spring Rolls. "We used to make several different kinds of individual cheesecake, and we'd sometimes have too many," says chef Michael Reilly. "So I started playing around with the extras."
Reilly discovered that if he laid out a prepared spring roll wrapper, filled it with a 3-in. cooked cheesecake round and wrapped it up tight, he could pop the whole thing in the deep fryer and create a crispy sweet roll that was hot on the outside, and a little warm but not too oozy within. Served with caramel and chocolate dipping sauces as a special, the dessert became so popular that Legends took the original cheesecake off the menu, creating a new signature in the process.
14. Steakhouse flatbread
Better steaks have also meant a new appetizer success for Black Angus Steakhouse. The 83-unit chain, which cuts steaks in-house, moved to all-natural corn-fed Angus beef in March, and now only serves center-cut filet mignon. "When you remove the chain [thin end] from a tenderloin, you get the best filet, but you are also left with a lot of good, usable meat," says executive chef Dave Ohlsen.
What developed from that meat was the Grilled Filet Mignon & Bleu Cheese Flatbread appetizer, tender seared filet, caramelized onions, Jack, cheddar and blue cheeses on top of garlic-butter-brushed grilled flatbread. At $7.99, it's a premium item that captures 15 percent of sales but is very low in food costs. Ohlsen says it's popular to share, and as a bar snack or smaller-portion lunch or dinner item.
15. Leftovers aren't left out
Don Pintabona learned the lesson of thrift early on. "Dad ran a grocery store for 50 years," says the chef/owner of Dani in New York City. "And he never let food go to waste."
Pintabona's rustic Italian menu has plenty of room for economical but tasty ways to cross-utilize what others might consider leftovers. Take the Malfatti Chips, served as a snack for the table with a trio of dips. The malfatti (literally, "badly made") utilize leftover scraps of fresh pasta dough, rolled out thin and cut roughly with a pizza wheel, then deep-fried and seasoned with smoked paprika and Parmesan cheese. Served with roasted garlic and white beans, caponatina, and spiced yogurt, the $9 item is found money. "I get a kick out of finding ways to use everything up in the kitchen," says Pintabona. That includes whey left over from making ricotta (used in polenta or pasta dough), and bread that doesn't get used in the nightly service (dried, crushed and rolled into gnocchi or even pappardelle noodles).
16. New burger, old ingredients 
It's not often that a menu item that's more than 10 years old can find new life. But look closely and you'll see a lot in common between the iconic Smoked Chicken, Spinach and Artichoke Dip at Hard Rock Cafe and the Garlic Spinach Burger, one of four new selections on the 122-unit chain's new Legendary Experience hamburger menu.
"The new burgers are doing really well," says Mike Winkler, senior director of food and beverages for Hard Rock International, who was responsible for the dip recipe. Both it and the new burger use a garlicky creamed spinach base — mixed with smoked diced chicken for the dip and topped with cheddar and Jack cheeses in the burger's case. "We put a lot of thought into how we cross-utilize everything on our menu," says Winkler. "Every ingredient we carry needs to have multiple uses, and every item we put on the menu has to be a solid performer. This is important because we've got operations in 46 different countries, and in many cases we're asking franchisees to import many of their ingredients from the States."
17. Bread gets special treatment
Leftover bread is one of the most popular menu items at Olga's Kitchen. "We pride ourselves on creating craveability with food products that no one else has, like our Olga Sandwiches on hot, grilled-to-order bread," says Michael Jordan, president of the 30-unit Troy, Michigan-based chain. When the busy lunch period starts, the bread is staged; to preserve freshness it's only held six minutes.
In search of something to serve with soups, Olga's R&D team started cutting the bread into wedges, then flashing it in the deep fryer; the crisp wedges are then dusted with a seasoning mix and served with Swiss almond cheese — creating a kind of farmer's lunch of soup, cheese and bread. Soon enough, customers started asking for the accompaniment on its own, and the Snackers were born: piled into an appetizer-size basket, offered as an a la carte side item with any soup or entree salad.
"Snackers have gone from being a great use for discard product into something we have to bake bread for," says Jordan, who adds that the item now accounts for one-third of bread production.
18. Italian ice adaptation
Anyone who grew up around Philadelphia or New York remembers Italian ice, an old-fashioned but unbeatable way to beat the heat with flavored ice. Now the Carvel ice cream chain has introduced the iconic cooler to a new generation — and extended a single product into two trendy new categories — with this summer's Italian Fizzlers and Icy-Wycy, sodas and squeeze pops made with Italian ice.
The new items were an extension of last summer's successful introduction of traditional Italian ices made with pureed frozen fruit in four flavors: Very Cherry, Mango Tango, Rockin' Raspberry and Pina Colada. The ices are blended to order with lemon-lime soda for the Fizzlers specialty beverages, and frozen into a cardboard tube for kid-friendly take-home for the Icy-Wycy.
19. Sushi just for sports fans
Delis name sandwiches after local heroes, so why not sushi bars? After the Boston Red Sox signed pitcher "Dice-K" Matsuzaka, Beantown's already obsessed citizens went wild for all things Japanese, including FuGaKyu's Matsuzaka Maki Roll — an $18 specialty roll made with lobster, matsutake mushrooms, avocado, asparagus, tobikko flying fish roe and spicy wasabi mayo garnished with lettuce, a paean to Dice-K's nickname in Japan: The Green Monster.
The Brookline, Massachusetts, restaurant scored a huge hit not only with fans, but also with the media, including the New England Sports Network, which sent its Sox announcers to tape a live segment.
20. Cracker Jack in Beantown
Anyone who gets taken out before the ballgame can get their peanuts and Cracker Jack at three-unit brewpub Boston Beer Works. That would be courtesy of the restaurants' Cracker Jack Fried Clams, served from opening day through the end of April.
The clams are coated with crushed Cracker Jack mixed with clam-fry mix, then fried and served with a prize. John Porter, the chain's director of management and staff development, says the promotional item is so popular that it's been brought back every April for three years. As for the prizes, "Cracker Jack is more than happy to provide them," Porter says.
21. Maximizing meat yield
With meat prices so high, effective utilization is key. No one knows this better than Donnette Hansen, the owner of Rainbow Lodge, a 29-year-old restaurant in Houston that specializes in game. Enter the "Taste of the Wild," an ever-changing daily appetizer sampler plate that allows the chef to maximize the yield on such specialties as elk, venison, quail, pheasant and buffalo.
"When you bring in primal cuts or whole birds like pheasant, you'll get a tenderloin or a breast to sell as a premium menu item, but you have a whole lot of other meat available," Hansen says.
So it's all fair game, so to speak, from housemade pheasant to buffalo "purses" made from shredded buffalo shortribs in wonton bundles with red wine game demi. The $14.50 Taste helps stabilize food costs.
22. Vegetarian additions
Not Your Average Joe's is a neighborhood-style restaurant known for casual, no-nonsense food like quesadillas, steaks, burgers, Black Angus meatloaf and the signature Mustard Crusted Chicken. So what's a Vietnamese-style vegetable spring roll doing as one of the top-selling appetizers? "You have to be able to offer something for vegetarians," says Chris Bodington, executive chef of the 14-unit chain, based in Dartmouth, Massachusetts. "But unless the items appeal to meat eaters too, it's going to sit there."
The spring rolls are a make-ahead chilled starter consisting of a chilled rice wrapper filled with asparagus, mint, spinach, cucumbers, carrots, rice noodles and cilantro pesto, served with a peanut dipping sauce. It's the top-selling appetizer in the summer, and Bodington is considering adding a shrimp or chicken version.
More importantly, the roll started a new Asian category on the menu that now includes miso-marinated salmon and Thai curry chicken — and, yes, the vegetarian soy-honey glazed grilled tofu steak over lo mein noodles entree.
23. Sushi as an impulse dessert?
With just 40 seats, Bin 8945 in West Hollywood, California, is a European-style wine bistro, with a 37-page wine list and a menu designed to go with it. There isn't a whole lot of kitchen space, and the menu is pretty ambitious, including made-to-order desserts.
A little number called the dessert sushi helps take the pressure off the dessert station. "It tastes just like an Almond Joy," says owner David Haskell. With an almond in the center, the sushi uses coconut in place of rice and a thin layer of chocolate in place of the nori, with a thin slice of mango standing in for pickled ginger and a green jelly bean instead of wasabi. The sushi can be made ahead, and its $4 price tag (less than half the price of the other desserts) positions it as an impulse item that everyone wants to order.
24. Low-cost combos
Everyone has pro forma combo meals; Moe's new Make It a Meal option is completely DIY. "Burritos have become just as much a commodity as burgers," says Sara Riggsby, senior director of marketing for 350-unit Moe's Southwest Grill. "And fast food customers want combo meals."
But with a concept based on a fictitious pop-culture hound whose favorite foods include the Art Vandalay Burrito, the last thing anyone wanted was a menu board full of Combo #1 and #2 choices. So the new modular menu board features a Make It A Meal option that adds a regular soda and a choice of queso or guacamole and chips for about $1.99, along with three rotating combinations. "The $1.99 represents a small price break, but it's perceived as a great value," says Riggsby. And have you calculated the food costs on chips and soda lately?
25. Rebranding the pork chop
If you think "prime rib of pork" sounds better than "pork chop," you've got John Brand's number. Having discovered locally raised heirloom pork, the chef at Charles Court at The Broadmoor resort in Colorado Springs wanted to make sure people ordered it. So he christened it by the familiar premium meat favorite, and came up with a cooking technique that makes the most of the flavor and natural fat content.
Brand keeps the fat cap on a whole, bone-in rack intact, scoring it and rubbing it with garlic and rosemary, then slow-roasts the meat on a bed of vegetables and herbs. ("We get a much better flavor and texture than if we grilled the chop from the raw state," says Brand.) When an order comes in, the chop is carved and glazed with housemade ketjap mannis — the Indonesian "ketchup" made with sweet soy sauce, ginger, brown sugar and star anise — and finished in the oven for 7 to 10 minutes. The item has become a top seller.
Source: NRA SmartBrief