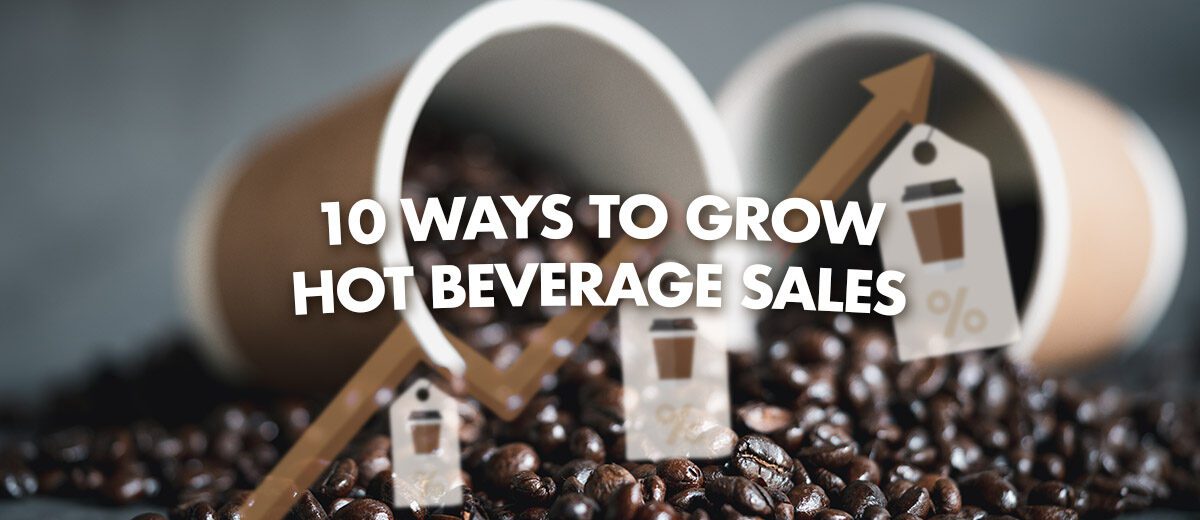 10 Ways to Grow Hot Beverage Sales
Here are some basics to keep your hot beverage program running smoothly, along with a few tips to help it grow.
Hot beverages are the workhorse products of foodservice. They are profitable "must-haves" for just about every type of operation, be it the office kitchen, college, and hospital cafeteria, or the high-volume LSR and convenience store. But it's easy to forget that these popular beverages don't just sell themselves. They have to be menued, merchandised, and prepared with care. So, here is a primer of 10 things to keep in mind when selling hot beverages, starting with the most basic, and moving on from there.
1. A knowledgeable staff goes a long way. The quality of the hot beverage consistently ranks up there at the top when it comes to customer concerns.1 So, don't skimp on training, especially in this time of hard-to-find workers. Staff should be well-trained in how to operate and maintain equipment and how to prepare fresh, quality hot beverages. Some tips: midday cups should be brewed fresh and not leftover from the early morning rush. And offering free hot water refills for tea goes a long way in building customer loyalty.
2. Let guests settle in for a long stay. One of the chief reasons patrons choose hot tea is for relaxation, says Datassential in its report "Buzz 2022, Annual State of the Category." The report also says specialty coffee is mostly consumed away from home in social settings. Customers are more willing to order that second cup while hanging out with family or friends. So, providing an environment where they can sit back and relax could help increase sales.
3. A good selection of sweeteners and creamers is essential. These can be used by staff to create signature hot beverages or to allow guests to customize their coffee, tea, or cocoa to their liking. And make sure to include on-trend plant-based creamers. Almost 10% of creamer usage away from home is plant-based. The most popular: Almond, oat, soy, coconut, rice, and cashew, with coconut growing the fastest.1
4. Building a hot tea program requires attention, and work. It is one of those hot beverages consumed much more often at home.1Some tips: offer both popular and niche brands, pay special attention to an adequate sweetener and milk or creamer selection, and offer on-trend specialty offerings like matcha or chai.
5. Pair hot beverages with food. What's better than a hot coffee, tea, or cocoa slowly savored by itself? One enjoyed with food, such as a snack or dessert. In fact, 30% of away-from-home hot brewed coffee occasions were consumed with food. And that increases to 40% for specialty coffee.1 Sweet desserts like brownies, cakes, or cookies are ideal choices here.
6. Embrace your inner pumpkin. Yes, it seems seasonal flavors begin earlier each year. But what's not to love? It brings with it a lot of free publicity—and long lines. In fact, 4 of the top 20 most craveable items in December 2021 were holiday-themed coffee drinks.2 According to Technomic, "Successful items levied descriptions that exuded comfort and called on the traditionality of certain flavors, like baking spices, chocolate, caramel, and vanilla. These items also drew attention for their fun holiday names, such as Winter Dream Tea Latte (from The Coffee Bean & Tea Leaf) or Snowball Latte (from BIGGBY COFFEE)."
7. Hot cocoa is nice, especially on a chilly day, but take it further. Make it extra fun, for example, by serving on-trend hot chocolate bombs. They are hollow spheres of chocolate filled with cocoa mix, marshmallows, and add-ins such as sprinkles. Drop them into warm milk and they create an instant cup of hot cocoa. Or menu a Mexican Hot Chocolate. El Pollo Loco's is made with Abuelita® chocolate, spiced with cinnamon and vanilla, topped with whipped cream, and dusted with cinnamon sugar.
8. Use your hot beverage program to drive traffic. A special promotion that gives back to your customers in one way or another can go over big. These can be reward programs or even hot beverage-themed celebrations that drive visits and, hopefully, impulse sales. For example, as school rolled around this year, Dunkin' treated teachers to a free medium hot or iced coffee on September 1.
9. Include hot ciders. They can be a delicious addition to your hot beverage menu and are especially craveable during the fall months. Seen on menus: Caramel Apple Spice from Starbucks: Steamed apple juice complemented with cinnamon syrup, whipped cream, and a caramel sauce drizzle; Hot Apple Blast at Caribou Coffee: Apple cider steamed with flavors of caramel apple, and topped with whipped cream, caramel drizzle, and ground cinnamon; and Caramel Apple Cider at Paris Baguette. Another option is mulled apple cider, which is a sweet cider heated with spices and citrus fruits.
10. Differentiate your menu by including steamers. They forego main ingredients like coffee, and instead just play off steamed milk. But they can also be creative. Starbucks features several. including Pumpkin Spice Crème, combining steamed milk with flavors of pumpkin, cinnamon, nutmeg, and clove, then topped off with whipped cream. And even more basic is their Steamed Milk, which the company describes as "a warm cup of skim, 2%, soy, almond, or coconut milk steamed for your sipping pleasure."
Hot Beverage Facts:
Most popular hot beverage additives: Creamers, 61%; Sweeteners, 36%; None, 26%.1
Medium roast is the most common coffee roast type, followed by dark.1
Salted Caramel is Technomic's LTO Hot Beverage Trend to Watch. Appearing in lattes and hot chocolate, the caramel adds extra indulgence to beverages, while the salt helps balance the sweetness.3
Sources:
Content courtesy of Nestle Professional via Operators-Edge.com
1Datassential's "Buzz 2022, Annual State of the Category" (March 2022)
2Technomic's "LTO Thought Starters" (2022)
3Technomic's "Winter 2022 LTO Seasonal Review"