Wok Seared Calamari
Seared calamari rings and tentacles, soaked in rice wine, fried in peanut oil with sliced baby corn, scallions, peppers coated in Kogi secret weapon sauce.
INGREDIENTS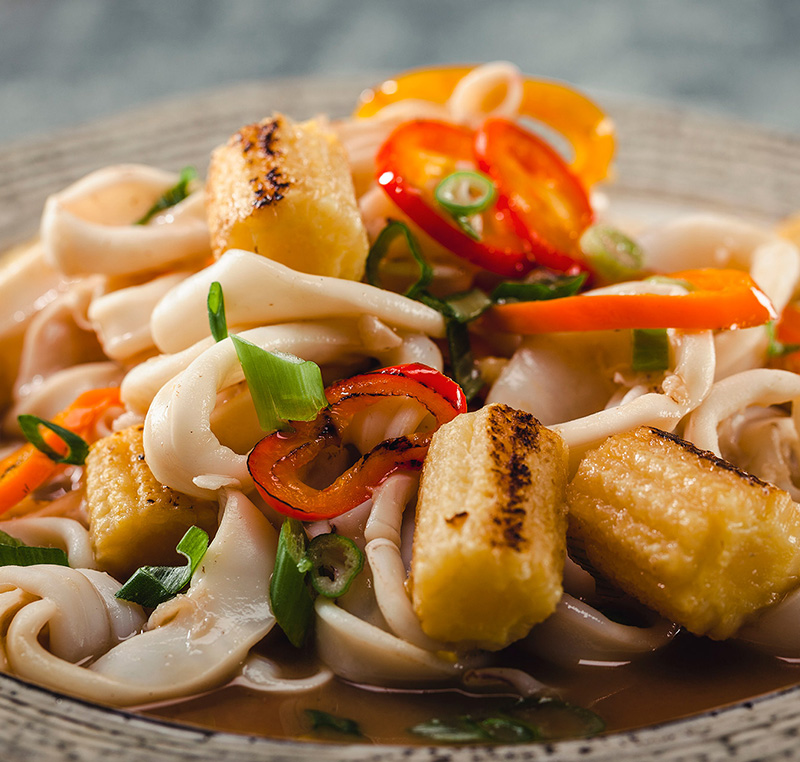 8 oz calamari rings and tentacles
2 tablespoon rice wine
2 tablespoon peanut oil
1/2 cup sliced, baby corn
2 tablespoons scallions
4 fl-oz Kogi secret weapon sauce
2 tablespoon sliced, fresno pepper or birds eye chili
DIRECTIONS
Place rings and tentacles in a bowl with rice wine. Leave for 15 minutes and strain.
Put in a large wok or large heavy-based frying pan over medium head and when it's hot add the peanut oil.
Add the sliced corn and scallions and stir-fry for 2 minutes straight. Remove and reserve.
When pan is hot again, add the drained squid and stir-fry until the squid turns opaque, about 1-2 minutes.
Add reserved corn, scallions and the secret weapon sauce and stir fry for about 30 seconds or so, until hot. Garnish with pepper to taste, and serve!
See More Recipes

Kogi Secret Weapon Sauce


Item #20907
People seek Kogi out. Driving out of their way just to get a taste. Why? One word:

flavor

!
People's palates are changing. They want…no, crave original, uncommon, adventurous flavors. That's Kogi. And now you can take advantage of this trend and serve up the fearless flavor combinations that everyone's lining up for.
See More Sauces