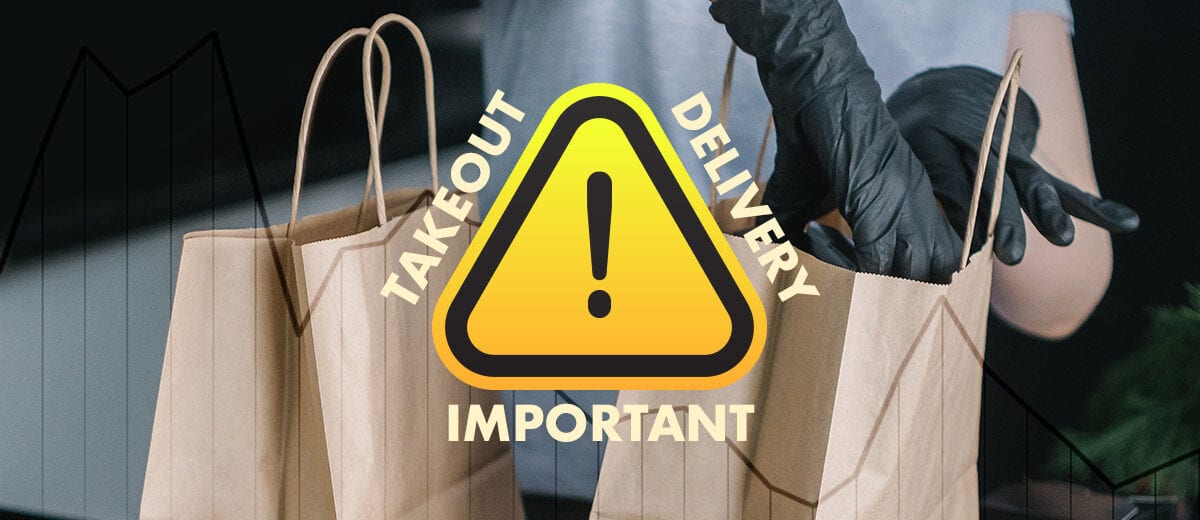 Takeout and Delivery are More Important Than Ever for Foodservice
The foodservice industry is in a state of rapid flux. Beginning in 2015, Americans began spending more money at restaurants than they did in grocery stores.
The way those dollars were being spent has also been changing: According to NPD, 48.5% of 2019 restaurant spending was in off-premise, like carryout, delivery, and drive-thru, spurring overall industry growth by 4%.1 Now, for many operators, takeout and delivery stand to become even more important. Other trends that will likely accelerate include mobile ordering, mobile pay, and third-party delivery.
Getting Ready
If you're just starting out with takeout and off-premise services, these are some considerations:
Examine your existing menu for items that are both portable and popular, and consider making changes as necessary, for example, switching up French fry specs or swapping out delicate angel hair for sturdier penne
Think about takeout packaging and adjusting items so they can be packaged more efficiently, such as changing a tossed salad that would need to be packaged separately from a hot item to a side like sautéed greens
Consider developing some one-and-done "meal-in-a-bowl" items like entrée salads, noodle bowls, garnished mac and cheese, and hearty sandwiches
Create a separate takeout menu—online, at point-of-sale, and printed versions that customers can take with them—to promote carryout options, including hours of operation, phone number, pickup location, and other details. Make sure on-premise service staff and anyone who answers the phone know your takeout procedures
Highlight takeout on social media, including Facebook, Twitter, and Instagram
Investigate local third-party delivery services such as DoorDash, Uber Eats, and Postmates. Be informed about their policies toward safety and sanitation, no-contact drop-off, and other issues
Try This: Look into "touchless takeout," which allows customers to order online or via phone, pick up food at the takeout window, and drive it home, with minimal contact and maximum convenience.
Safety First
Double down on maintaining best practices for sanitation and personal hygiene in order to help protect both customers and employees: Regularly and visibly clean and sanitize surfaces, including equipment and utensils, as well as areas such as doorknobs, credit card readers, phones, and wherever else hands go; observe standard time and temperature guidelines; practice effective handwashing techniques (click here for guidance from the CDC)
Consider posting information about the specific safety measures in place—on your website, social media, at point-of-sale—to help demonstrate your establishment's commitment to safety in this risk-averse time
Step It Up
If you already offer takeout but want to make it more comprehensive and appealing, there are a number of things you can do.
Look at offering family meals, curated selections that are sized and priced for groups of four to six or more: A choice of entrée, several side dishes including starch and vegetables, and bread or rolls. An enhanced family pack might also include an appetizer and/or salad, dessert, and a beverage. Homestyle and comfort food choices like lasagna, family-size meatloaf, pot roast, and whole fried or roast chickens work well and are popular enough to appeal to groups
Foods designed for an at-home finish are another great option within a takeout program, such as microwaveable family-style dinners, "take-and-bake" pizza, or ready-to-heat containers of soup. Venues like hospital cafeterias and onsite c-stores often see significant sales with these kinds of items, especially when they're promoted at lunch or throughout the day
Package ready-to-cook meal kits of your own fresh or partially prepared ingredients (such as pre-cooked meat or salad dressing), along with instructions and recipes
If possible, add a grab-and-go component to your takeout program, using a reach-in refrigerator rack or countertop display (for items that don't require refrigeration). For instance, if you're selling pizzas, offer pre-prepared salads in takeout containers, along with dressing and other condiments, to build impulse sales, save on service-time labor, and offer customers an accompaniment for pizza
If you can, offer cashless or contact-free payment via app, online, or phone, consider using curbside service, a 10-minute parking zone, a pickup shelf near the door, dedicated pickup window or counter, or other means of convenient, in-and-out service
Ask customers if they want napkins, utensils, disposable plates or cups, condiments, and so on with their order, rather than automatically including these items as a convenience; this saves on costs and gives customers the option to avoid them if they prefer
Try This: Promote the availability of food to go aggressively, perhaps with couponing or loyalty programs. While you're at it, offer a discount to first responders, healthcare workers, municipal employees, and others on the frontline.
Building Beverage Sales
Make sure that beverages remain a vital part of your business model even as off-premise sales increase.
Make sure that takeout packaging for beverages is sturdy and leakproof, as well as temperature-appropriate; drink-cup carriers and/or separate, handled bags for beverages are desirable
Include beverage selections on the takeout menu and order forms
Train service staff to ask about a beverage when taking a takeout order or presenting it for pickup, or to suggest a specific beverage accompaniment.
For a dedicated takeout venue such as a counter or kiosk, consider a refrigerated reach-in or barrel to encourage impulse sales, and/or a self-service station for hot and cold beverages
Try This: Investigate whether local regulations allow takeout of alcoholic beverages such as bottled wine and beer.
Packaging Pointers
Packaging is one of the biggest concerns when it comes to takeout: It's imperative that to-go fare match that of dine-in food in terms of quality and freshness.
Look for sturdy materials that resist cracks, punctures, and degradation by heat, since many consumers also use packaging to store and reheat food. That means avoiding foam in favor of microwave-safe materials including paper, cardboard, and plastic.
A single operation committed to takeout might use a variety of different packaging options, ranging from sturdy paper and corrugated cardboard for fried foods like fish and chips, to clear-lidded plastic with lots of surface area to show off the fresh ingredients in salads.
For hot items, consider a thicker grade of plastic that can withstand holding and subsequent microwaving without degrading quality. Separate compartments for different components can be desirable, and condiment cups and other small packaging should be used to keep items like salad dressing and even sauces separate.
By the same token, be aware that customers may be discarding your packaging after transferring to their own dishes.
Try This: Consider investing in greener takeout packaging options to appeal to customers who want to avoid, say, foam clamshells or plastic bags. It's good for business and the environment—and good practice in the event of changing local restrictions.
Content courtesy of Nestle Professional
1The NPD Group/CREST®, year ending January 2020