Steak and Eggs Breakfast Tacos
There's no wrong time for tacos, even during breakfast and brunch! These steak and egg breakfast tacos topped off with guacamole, sour cream and salsa will give your AM crowd a dish to rave about all day long!
INGREDIENTS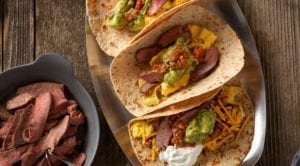 Serves: 6
1 beef top sirloin steak boneless, cut 3/4 inch thick (about 12 ounce)
2 teaspoons vegetable oil
6 small flour tortillas, warmed
6 eggs, beaten or 1 1/2 cups egg substitute
6 tablespoons reduced-fat shredded cheddar cheese
6 tablespoons guacamole
6 tablespoons salsa
6 tablespoons reduced-fat dairy sour cream
DIRECTIONS
Heat large, heavy non-stick over medium heat until hot. Season beef top sirloin steak with salt, as desired. Place beef in skillet. Pan-broil until desired doneness, turning occasionally. Remove beef from skillet. Set aside; keep warm.
Heat oil in same skillet over medium heat until hot. Add eggs and scramble until set, stirring occasionally; keep warm.
Carve steak into thin slices. Top each tortilla with equal amounts of eggs, steak and 1 tablespoon each of cheese, guacamole, salsa and sour cream.
See More Recipes