Shaved Potato, Sausage & Egg Breakfast Naan
Breakfast pizza on naan bread with sausage, shaved potatoes and house-made cheese sauce topped with an egg. A unique, fresh and easily prepared breakfast or brunch idea with cozy B&B appeal.
INGREDIENTS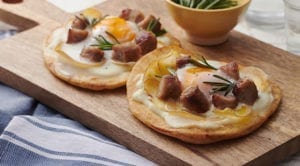 3 tablespoons of butter
1/4 cup of all-purpose flour
2 cups of milk
1 1/2 cups of shredded pepper jack cheese item #4230
2 large pieces of naan item #10501
2 medium potatoes, thinly sliced
4 Farmland Pork Sausage Links, cooked and cut into pieces item #72603
2 large eggs
2 sprigs of rosemary, leaves removed from stem
DIRECTIONS
Preheat oven to 375˚F
Melt butter in small saucepan over medium heat and add flour. Allow to cook, stirring frequently, for 2 minutes.
Add milk, whisking constantly until just reaching simmer. Stir in cheese and season with salt and pepper.
Place naan on baking sheet and top generously with cheese sauce, leaving a little crust uncovered.
Top with potato slices, leaving open place in center for egg, followed by sausage. Place egg in center and bake until lightly browned and warmed through, 8-10 minutes.
Remove from oven and top with fresh rosemary.