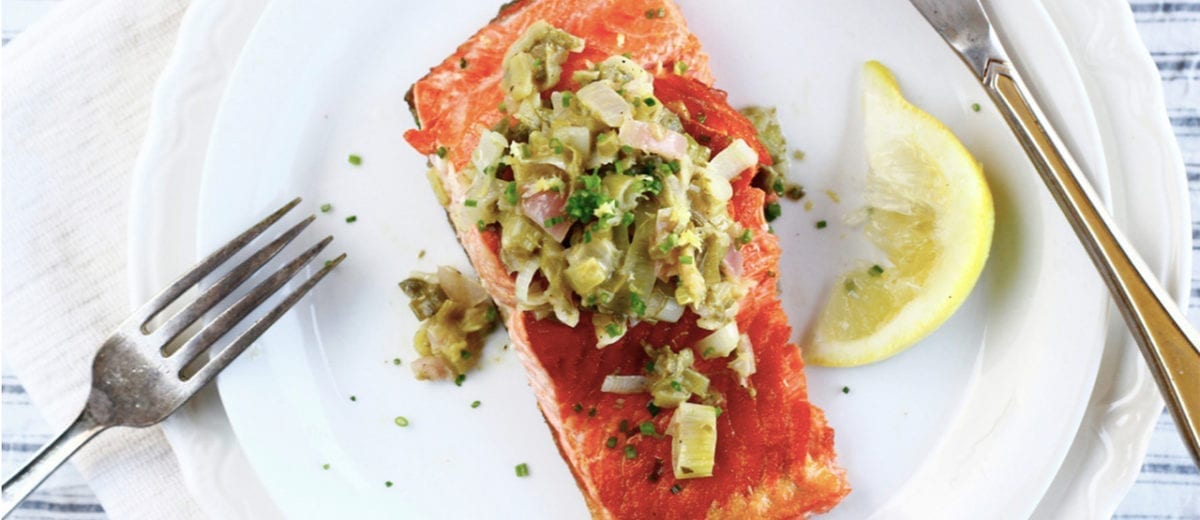 Seared Salmon With Shallot & Green Onion Relish
Help your more pious patrons enjoy a delicious meal without traditional meat offerings.
For more inspiration explore our Seafood selection and expand your menu for Lent.
Lent Recipe Idea
Ingredients
1 pound wild salmon fillet
1 cup chopped green onions
2/3 cup diced shallots
3 tablespoons olive oil, plus more for cooking
2 tablespoons lemon juice
2 tablespoons chopped, drained capers
1 tablespoon dijon mustard
1/4 teaspoon sea salt
1/4 teaspoon freshly ground black pepper
In a medium-sized skillet over a medium-low flame, saute the shallots and green onions until soft, about 7 minutes. Stir occasionally to prevent burning. Remove from heat.
In a mixing bowl, combine the olive oil, lemon juice, capers and mustard with the green onions and shallots. Add the salt and pepper and mix to combine. Set aside.
Meanwhile, pat salmon fillets dry with a paper towel. Lightly sprinkle each side with salt. Heat a large skillet over a high flame. When the pan is hot, coat with a thin film of oil. Place salmon, skin side down, into the hot pan, and leave undisturbed for three minutes. Flip the salmon and leave undisturbed for another three minutes, ensuring a nice crust. Remove from heat.
Top each fillet with a generous spoon of the relish. Garnish with fresh slices of green onion, if desired. Serve immediately.
Originally shared by Foodily in The Year in Food
Photo by Kimberly Hasselbrink