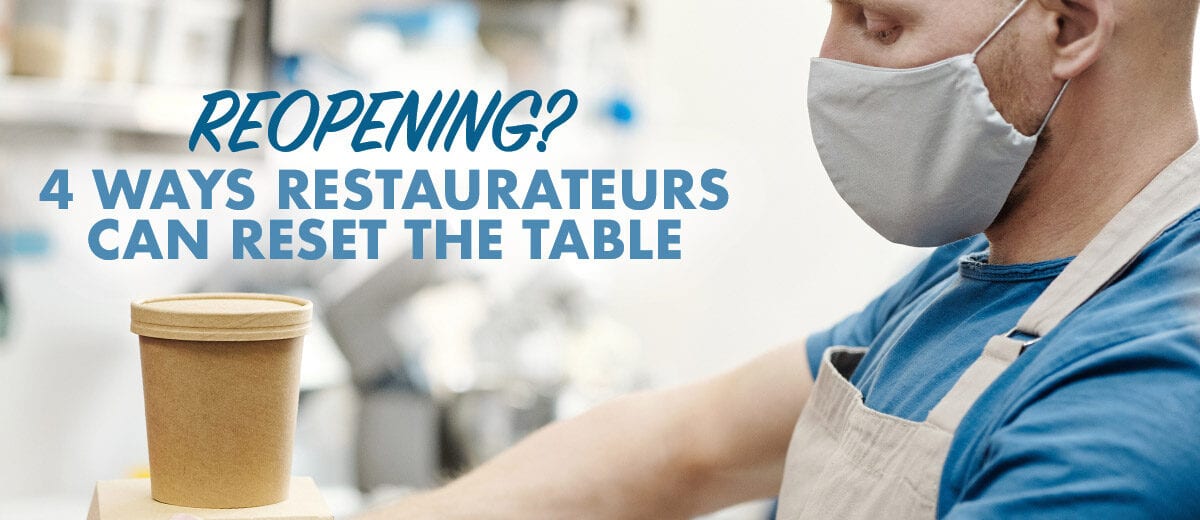 Reopening? Here are 4 Ways Restaurateurs Can Reset the Table
While uncertainties still loom, restaurants can consider a few ideas to ensure safe, hygienic, and resourceful operations.
The restaurant industry is just one market of the many that are struggling during the COVID-19 outbreak, especially locally owned and operated eateries. Most recently, the National Restaurant Association reported the pandemic has affected more than 8 million restaurant jobs, causing thousands of restaurants to temporarily or permanently close—a devastating shock felt across the country.
Talk of reopening, however, has given the industry a glimpse of hope. As states begin to lift restrictions, restaurants are preparing to welcome customers back—all while determining what a new normal will look like and how to operate under new guidelines.
Look for Operational Efficiencies
It won't be uncommon for restaurants to have a limited wait staff upon reopening. Due to mandates such as reduced seating, that scenario has already proven to be true in some of the first states that reopened such as South Carolina, Tennessee, and Georgia.
With a reduced wait staff, it will be more important than ever to find operational efficiencies whether they be timesaving solutions or ones that allow for improved planning, such as the following three ideas:
Require reservations to better plan staff and inventory; consider third party reservation apps to provide digital natives easier ways to book a timeslot.
Rethink rolling cutlery. Rolling cutlery takes time and creates an additional touchpoint between the employee, and the utensils and napkin a patron will be using. Alternatives such as premium disposable napkin pockets to protect the silverware or pre-rolled napkins and disposable cutlery exist to improve cleanliness and convenience.
Consider a communication board to streamline in-house updates. This will allow for fewer points of contact between employees and will allow for efficient updates between shifts.
Reduce Menu Offerings
Due to decreased sales while the country sheltered-in-place, restaurants don't have their normal cash flow to afford traditional expenses.
Womply data shows that by March 27, 16 percent of restaurants had already stopped collecting transactions, implying they had ceased operating. Meanwhile, by March 28, listings were down 28% compared to last year.
As a result, restaurants are now looking to cut costs beyond reducing staff and hours of operations. To prepare to reopen, restaurants can analyze their POS data for food cost savings. Before ordering a smaller amount of food or supplies, start by pulling recent purchase history and look for which menu items can temporarily be eliminated.
With a reduced menu, operators can also replace reusable menus with throwaway options or disposable placemat menus. Disposable options allow for a condensed space for your food and beverage menu and are proven cleaner.
Research shows that the most unclean item on a restaurant's menu is the menu itself, with one study proving an average of 185,000 bacteria on menus in one test of restaurants in three states.
A disposable placemat menu also allows for an additional barrier from the table and a safe place to set silverware.
Recognize Consumers' Concerns
Many patrons will be weary of sanitation practices upon returning to restaurants. Establishments must make sanitation a priority. A few ways restaurants can instill sanitation practices may be to:
Provide antibacterial gloves and masks for your team, especially if they handle cash. In the meantime, consider going cashless;
Pay special attention to any surface customers touch, like door handles, bar rails, and chairs; and
Schedule weekly professional cleanings to take every initiative to keep the restaurant disinfected.
Overly communicating the steps being taken to ensure sanitation and safety to customers will ease these fears, as will visible precautions, such as gloves, sanitizer stations, and sustainable single-use utensils. Presenting covered and rolled utensils and wrapped straws, as well as disposable menus, will minimize the appearance of communal goods.
Prove It: Seeing Is Believing
Even though people are still concerned about eating out, a recent Datassential report notes that the fear of eating out is starting to soften. Forty-three percent of consumers surveyed either have no concerns or are nervous but will still eat out.
Much of this fear is surrounded by contamination from surfaces in restaurants such as countertops, napkin dispensers, chairs, cash, and countless other surfaces.
How restaurants reopen will provide a key opportunity for winning customers back. The need for trust post-coronavirus will be based on the same principles pre-virus. Previously, they dined at their favorite restaurants because they knew they could trust the staff to provide them with a positive experience and quality meal. Now, they will expect a similar experience but will choose to dine where they feel most safe.
The silver lining is that seeing is believing; proving how your restaurant is ensuring cleanliness will ease fears and regain the trust of customers, make them feel safe, and allow them the peace of mind to return.
The restaurant industry may not look the same today, but it's important to be flexible when dealing with new initiatives and practices. When trying different strategies, make a point to give customers a chance to voice their concerns and find out what can be implemented to make everyone feel comfortable and safe.
Source: Andy Romjue for Foodservice Director