Cordon Bleu Stromboli
You've made stromboli with pizza dough, but what about Cordon Bleu Stromboli?
It's not hard to use pizza dough to make Stromboli, but the typical dish can become a bit boring for customers. With just a few other ingredients, you can really up the gourmet factor! And if you're short on frozen pizza dough, you can use other types of bread dough too.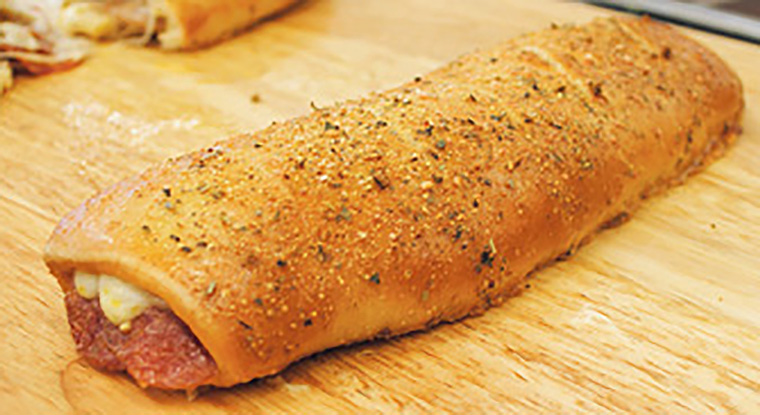 Ingredients:
1 pound of any kind of dough you choose
2 tablespoons butter, room temperature
8 ounces ham, thinly sliced
1 cup Swiss cheese, shredded
5 ounces chicken, thinly sliced
Instructions:
Preheat the oven to 375 degrees Fahrenheit, grease a baking sheet, and generously flour a work surface. On that surface, place dough and roll out thinly.
On top of the dough place ham, cheese, and chicken slices.
Starting with the long edge of the dough, roll it up jelly roll style. When the dough is completely rolled, pinch the seam to seal the dough and tuck the ends underneath. Once again, pinch the seams on the bottom to ensure that the entire thing is completely sealed.
Place the entire Stromboli on the baking sheet and place in the oven for 25-30 minutes until dough bakes up golden brown.
When it comes out of the oven, slice it in half or in pieces, however you'd like to serve it, and serve with a bit of pizza sauce on the side.
A DELORIO'S RECIPE