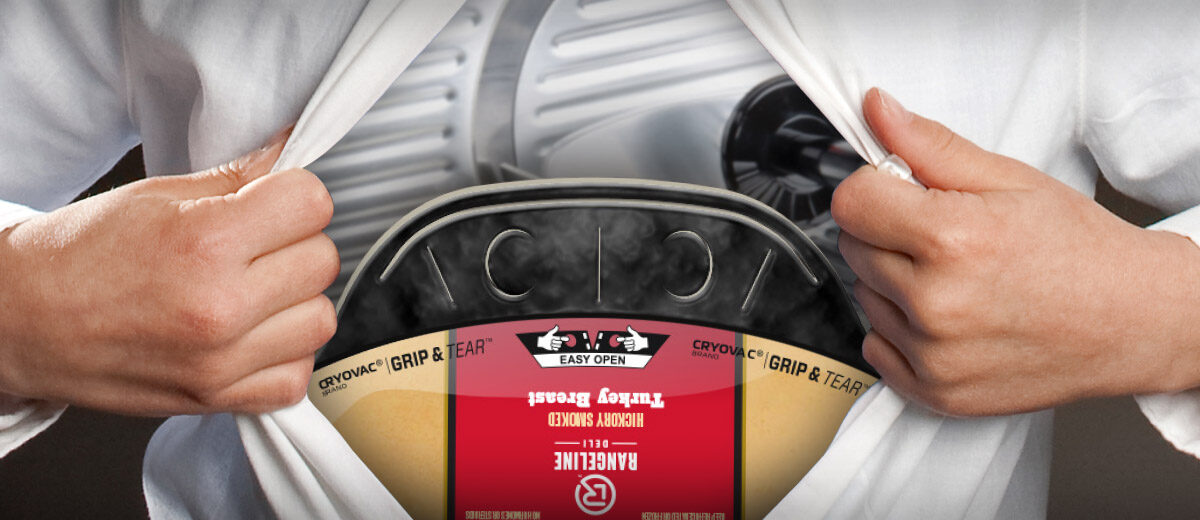 Rangeline™ Easy Open Packaging
Today, food packaging is expected to do more than simply contain, protect and preserve.  That's why Rangeline has partnered with Cryovac® to create easy open packaging featuring Grip & Tear®.
Rangeline is committed to premium products, and that includes their performance in your kitchen. Packaging solutions like Grip & Tear offer your business unmatched food quality, safety, and ease of access.
Put the knife away…



Within the retail environment, the meat and deli departments are where employees tend to be the most susceptible to injury. Solutions like Cryovac Grip & Tear help reduce those risks by eliminating the need for knives or scissors to open packaging. And with no tools to keep separate or clean after use, you also decrease the likelihood of product damage or cross contamination.
On top of offering superior food handling safety, in the case or on-shelf, Cryovac Grip & Tear is visually appealing, easy-to-open, skin-tight package with 360° distortion free graphics.
---
Rangeline™ Easy Open Packaging
with Grip & Tear® from Cryovac®

As a food service operator, your packaging choices can have a direct impact on your speed and food safety, one of the biggest worries within the food service industry today. By offering a packaging solution that eliminates the need for sharp opening tools, you create an environment that enables worker safety by reducing the chance of injury, and saving steps in food prep. Your operations can be more efficient and profitable when solutions like Grip & Tear help you address your work environment as well as food safety standards.
Food Safety • Brand Recognition • Shelf Life Extension • Operational Efficiency
---
---
Food Safety
Reduces the risk of cross-contamination
No blades needed reducing risk of injury
Brand Recognition
360° distortion free graphics and skin-tight shrink maintains optimal freshness and provides outstanding product visibility free of pleats, folds or excessively large seal areas.
The consistent look and feel of Rangeline products offers appeal and reassurance about quality.
Easy-to-open bags make it easier and faster to access fresh foods, your employees will thank you and your customers will be impressed.
Shelf Life Extension
Combined with Cryovac barrier bags, maximizes shelf life and freshness, while providing longer storage and less discoloration.
Operational Efficiency
Rangeline is proud to offer Cryovac's abuse-resistant packaging, which reduces "leakers" and the need for continuous rewraps throughout the product's use.
Allows for quick and easy removal of the food from its packaging, saving time for deli workers and reducing risk of knife-related injury.
Saves employees time, and every step saved in a busy kitchen amounts to real dollar savings.