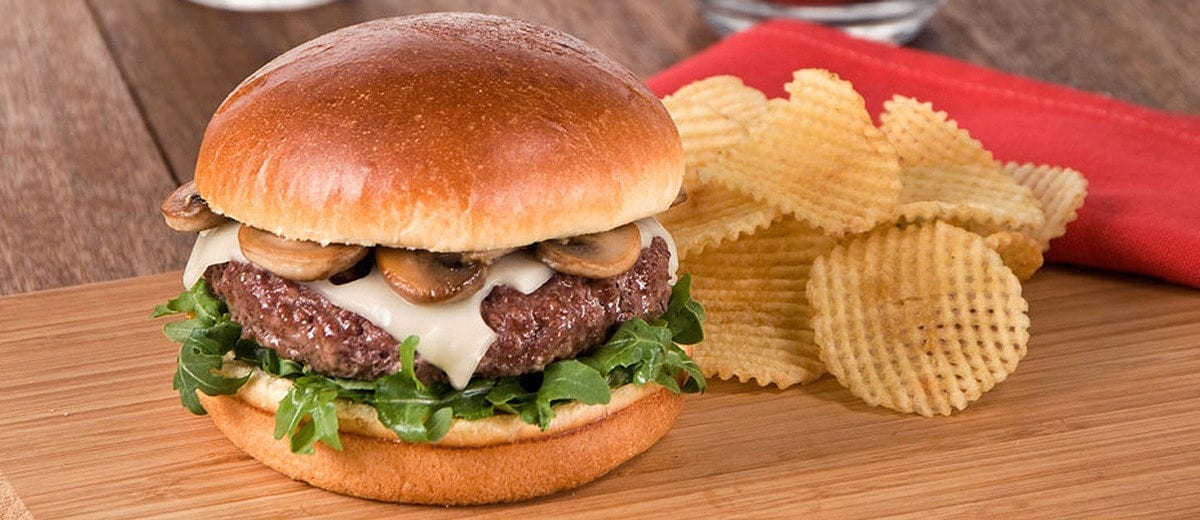 Angus Pub Burger on Brioche
It's more than a Mushroom Swiss, this Angus Pub Burger on Brioche is a refreshing twist on the classic American Cheeseburger. The brioche, Swiss cheese and mushrooms give this burger a rich savory flavor that perfectly compliments the garlic, mayo, and Worcestershire sauce.
Ingredients:
1⁄4 cup mayonnaise
2 cloves garlic, chopped
1 tsp. Worcestershire sauce
7oz Fresh Burger Maker Angus patties
10 Button mushrooms, sliced
2 Tbl. olive oil
1 tsp. Fresh thyme, chopped
Salt and Pepper, to taste
4 slices Swiss Cheese
1 cup baby arugula
4 Turano Brioch Buns, lightly toasted
Ingredient Item Numbers:
Ken's Mayonnaise: #70607
Garlic: Cloves: #26162 or Chopped #70650
Worcestershire: #70717
Burger Maker Patties: #17851
Mushrooms: #26044
Olive oil: #78010
Fresh thyme: #26326
Swiss Cheese: #6504
Baby Arugula: #26455
Turano Brioch Buns: #17960
Instructions:
Combine mayonnaise, garlic and Worcestershire sauce together.
Preheat broiler on high for 5 minutes.
Season burger patties with salt and pepper and place on broiling pan.
Cook burgers 4-6 minutes on first side, flip and finish cooking 3-5 minutes on other side, depending on desired temp.
Preheat sauté pan over medium heat, add olive oil and thyme.
After a few seconds the aroma of the thyme will be apparent. Add the mushrooms and sauté 3-5 minutes.
Layer buns with arugula, burger patties, Swiss cheese and mushrooms.
Spread sauce on bun tops, top and serve.