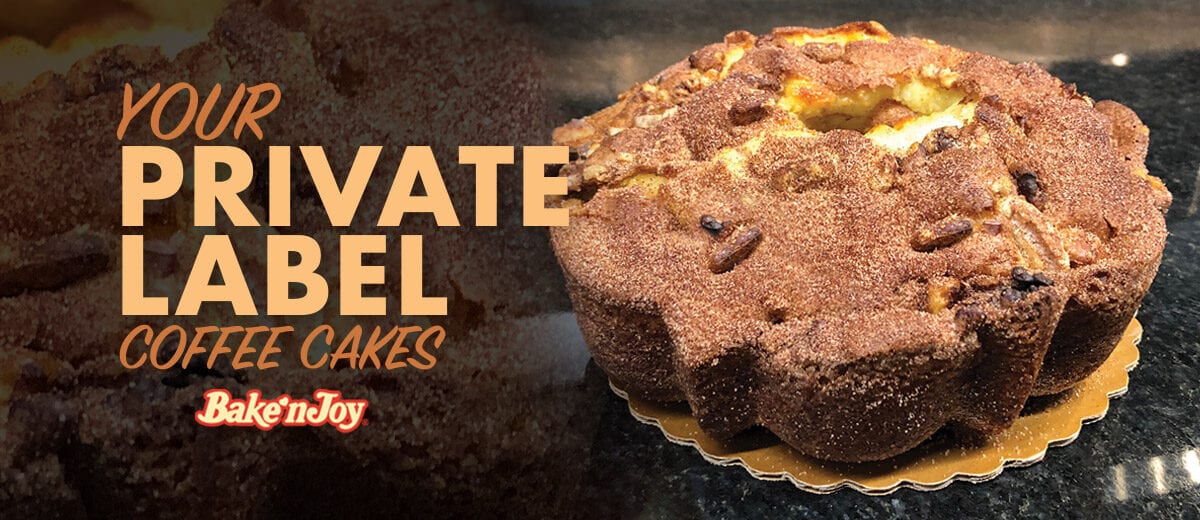 Wholesale Private Label Coffee Cakes for Foodservice
Sensationally-moist coffee cakes made with an award-winning recipe and your private label on them!
Baked with a beloved family recipe, coffee cake is a New England favorite. Each cake is made the old-fashioned way, using real sour cream, premium ingredients and lots of hand-applied cinnamon sugar, walnuts and other toppings. These are coffee cakes you'll be proud to call your own!
Fully baked – just label and merchandise.

Eye-catching labels included in each case; perforated for exibility in placement of avor ID and nutrition & ingredients portions.

The trendy "Kraft like" cake boxes are ideal for private labeling, and the crystal clear window on top showcases the coffee cakes beautifully.
---
Blueberry – Item #17692
Creamy and moist coffee cake expertly blended with Greek yogurt and plump blueberries, complete with a crowning touch of Gourmet Butter Streusel.
Cinnamon Walnut – Item #17690
Our moist sour cream coffee cake with a special layer of cinnamon sugar and walnuts. We top it off with more cinna- mon sugar and walnuts for a delicious, crunchy coating.
Marble – Item #17694 (SPO)
A delicious combo – our sour cream coffee cake swirled with rich chocolate cake and semi-sweet chocolate chips and topped with even more chocolate chips.
Case pack: eight (8) 24 oz. cakes per case; net weight 12 lbs.; gross weight 13.5 lbs.; dimensions 18"x 9.25"x13.25"; cube 1.28; TiHi 12/7. Frozen shelf life: 364 days.