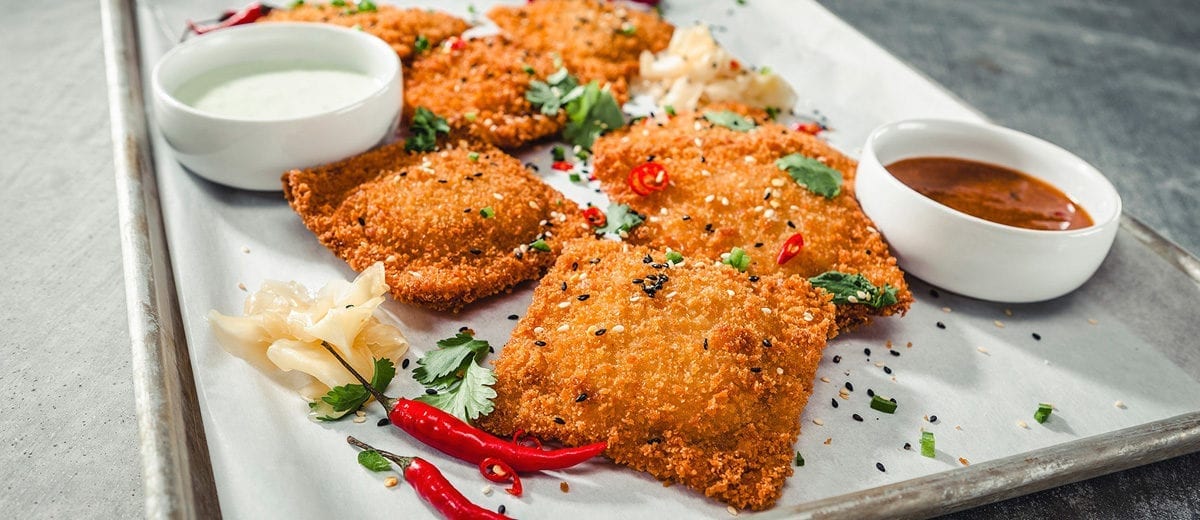 Pork Fried Jiaozi
Homemade Pork Fried Jiaozi, fried and drizzled with Salsa Roja, and served with a side of fresh Secret Weapon Slaw.
INGREDIENTS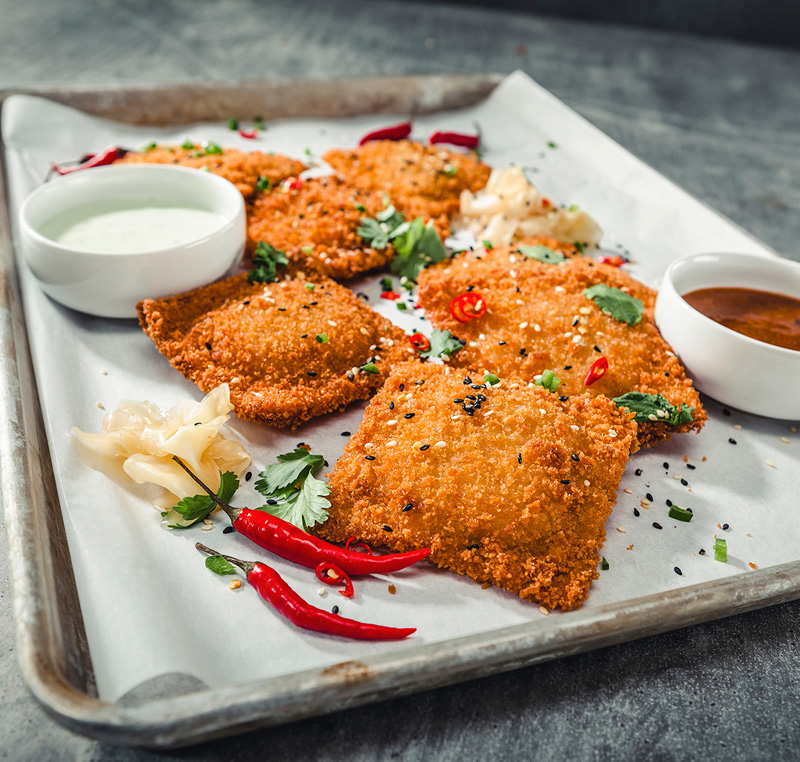 6 ea Pork Jiaozi, panko crusted, fried
2 fl-oz Kogi Salsa Roja
8 fl-oz Kogi Secret Weapon Slaw
PORK JIAOZI
1 lb ground Pork
2 fl-oz Kogi OG Kalbi Sauce
2 fl-oz minced, Shiitake mushrooms
1 tbsp minced, Fresno red chili
1 tsp toasted, Sesame seeds
1 ea Egg
2 fl-oz toasted, Panko bread crumbs
1 tbsp minced, Green onion
24 ea Wonton wrappers
SECRET WEAPON SLAW
4 oz cole slaw
2 oz Kogi secret weapon sauce
DIRECTIONS
Combine the Pork Jiaozi ingredients in a large mixing bowl and blend well.
Let set in refrigerator for at least one hour. Place twelve wonton wrappers down on prep table.
Spoon one tablespoon of filling into center of each wrapper.
Wet edges of the wrappers with warm water and place another wrapper on top.
Seal edges with a fork. Let Jiaozi set for one hour.
Bread with standard breading system of seasoned flour, milk wash and panko break crumbs.
Deep try Jiaozi until golden brown and internal temperature reaches 165F.
Place on serving vessel along with secret weapon slaw, drizzle with salsa roja and serve!