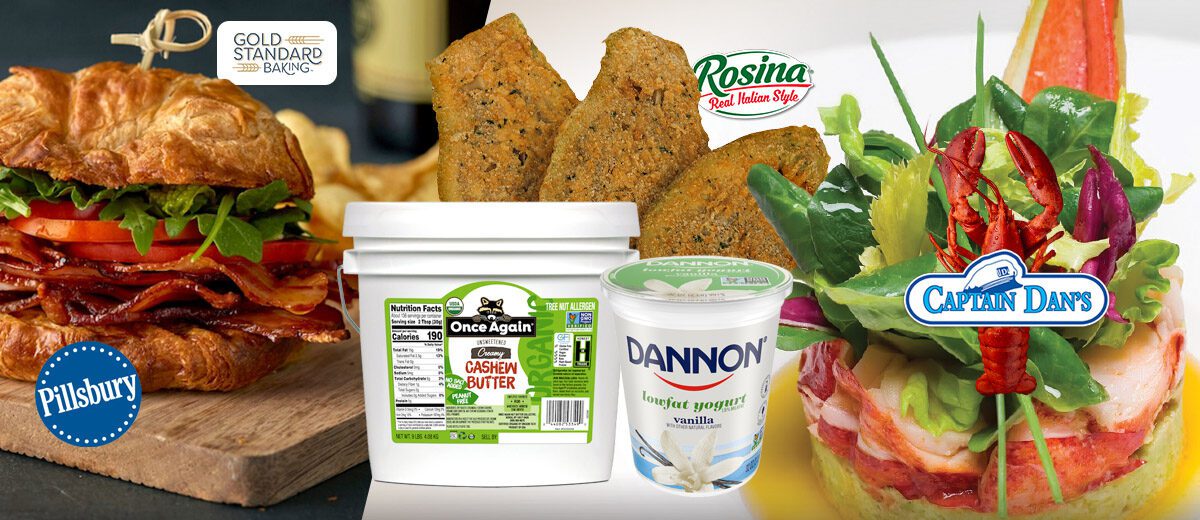 New food service items from Rosina, Dannon, Pillsbury, Anderson and more
This week we've added breaded eggplant cutlets, low fat vanilla yogurt, croissants, turkey breast roast, lobster meat, takeout containers and more.
From Rosina Foods we've added Celentano Breaded Eggplant cutlets. Featuring a Naples cut and light traditional breading, these cutlets can be used for preparing eggplant parmigiana and other signature dishes, and are ideal for cafes, diners, and bistros. Plus, they can be heated from frozen for service as needed saving time and reducing product loss.
Dannon Lowfat Vanilla Yogurt features a silky smooth texture and creamy taste. This gluten-free yogurt combines a velvety consistency with the rich flavor of vanilla for a satisfying mouthful. Made with quality ingredients, Dannon lowfat yogurt not only tastes great but provides protein and calcium as well. Add it to your favorite baking recipes for a flavorful boost, or layer it with berries and granola to create a delicious parfait.
From Once Again we've added 9lb tubs of their Cashew Butter. Made from organically grown dry roasted cashews milled until smooth and creamy. We add 5%-8% expeller -pressed organic sunflower oil to enhance the spread-ability.Ooil separation occurs naturally – to prevent, stir and refrigerate or freeze.
This week we've added 2 new croissant varieties. Croissants add a sophisticated, upscale feel to any meal experience, and satisfy consumers need for indulgence with their buttery rich texture. From breakfast staple to sandwiches to desserts, croissants can help create meal solutions for any meal day part. Pillsbury croissants give you all the flavor without the complexity. These pinched and sliced croissants have a sweet, dairy flavor and buttery notes with a flaky and tender texture. They come pre-baked, as a thaw and serve item, in a 2 ounce size. From Gold Standard Baking we've added their melt-in-your-mouth croissants – the perfect addition for foodservice, QSRs, casual dining, retail in-store bakeries, and sandwich makers. Every croissant is made the old world way using the finest ingredients available.
New in from Turkey Valley – the biggest little company in the turkey industry – we've added their ready-to-cook, foil wrapped, skin-on, boneless turkey breast roast.  Each case contains 2, 10lb average foil-wrapped roasts. Lightly seasoned and ready to cook, this raw roast provides mouthwatering whole bird aroma and taste. An 18% solution is injected deep within the roast to enhance flavor and moistness.
We're now stocking Captain Dan's Seafood, North Atlantic lobster meat–caught fresh daily from Canada's Atlantic coast. Captain Dan's Seafood lobster is consistently one of the best-tasting shellfish in the world and served at some of the most popular restaurant chains in North America. These 6, 2lb packages of delectable claw and knuckle lobster meat are packed dry, ready to thaw and eat, and full of rich all-natural flavor.
New in, SafeSeal takeout containers, specifically designed to inhibit tampering with to-go orders. Provide next-level takeout that mirrors your onsite dining experience! Whether your customers are using curbside pick-up or third-party delivery, SafeSeal TakeOutsT ensure food arrives secure and looking good. Create an enjoyable, table-ready dining experience to go! The vented, anti-fog lid helps maintain food integrity and keeps food visible. The premium, microwavable black base and clear lid make reheating easy. Perfect for takeout, delivery and grab and go options!
From the name you trust in cleaning and sanitation, Anderson Chemical, we're now stocking their ALPET QE2 sanitizing foam hand soap. This item works in any foaming dispenser and produces a rich, thick foam free of fragrances and dyes. It is an ideal hand soap for all foodservice and food processing environments and offers over 3,150 applications per gallon!
Lastly, we've added fiber foodservice trays. Ideal for schools, cafeterias, seasonal takeouts, and quick-service formats. 5-comparments keep food and flavors separate. Whether delivered by staff, handed through a window, or picked up in line. Reduce waste and add environmentally friendly convenience to your day with these compostable food trays.
Take a look at our full list below:
| | | | |
| --- | --- | --- | --- |
| Item # | Description | Pack/CT | Brand |
| 27558 | EGGPLANT BRD NAPLES CUT FRZ | 2/5 LB | CELENTANO |
| 27559 | YOGURT LF VANILLA 32OZ | 6/32 OZ | DANNON |
| 27561 | CASHEW BUTTER | 1/9LB | ONCE AGAIN |
| 27563 | CROISSANT PINCHED MARG 2OZ | 64/2OZ | Pillsbury |
| 27565 | CROISSANT MARG SAND CLSD SLCD | 150/2OZ | GOLD STANDARD |
| 27564 | TURKEY BRST S/O FOIL RTC FRZ | 2/10# AVG | TURKEY VALLEY |
| 27574 | LOBSTER MEAT C&K DRY FROZEN | 6/2 LB | CAPTAIN DAN'S |
| 27566 | SOAP HAND SANITIZING FOAM ALPE | 4/1GL | ANDERSON |
| 27575 | CONT MICRO 9X9X3 TAMPER BLCK | 2/75CT | SAFESEAL |
| 27576 | TRAY PAPER/FIBER 5COMP SCHOOL | 4/125CT | PACKER |
Dennis Paper & Food Service delivers thousands of foodservice products and supplies to restaurants and food operations in Maine and New Hampshire. If you have a question or are interested in becoming a customer contact us or call 1-800-439-2727.
SEE MORE NEW PRODUCTS
Stock status subject to change. Posted 6/15/22.