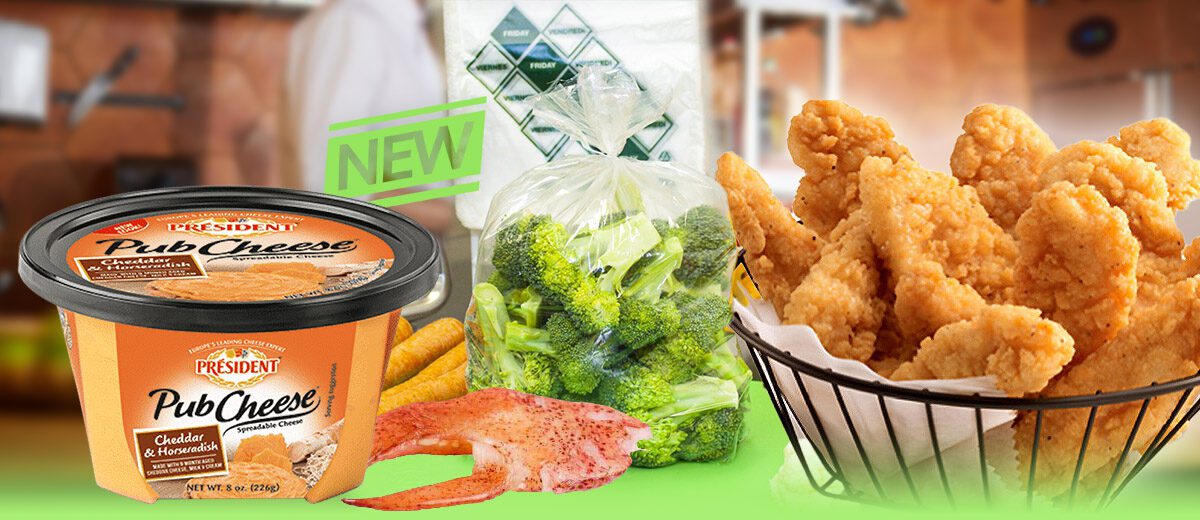 New Food Service Items from Président Cheese, Tyson, Handgards and More
This week we've added pizza liners, pub cheese, poly bags, lobster meat, chicken tenders, and salsa-ready tomatoes.
From Président® Cheese we've added their Cheddar & Horseradish Pub Cheese. Président® is one of the world's premiere cheese makers, and has been producing a wide range of specialty cheese in the French artisanship tradition since 1933. Their Cheddar & Horseradish Pub Cheese offers a delicious, sharp bite from a blend of horseradish, aged cheddar, milk and cream.
Under our packer label and back in stock popular and versatile, frozen all claw lobster meat. This item is exactly what it sounds like. 100% lobster claw meat. Perfect for highlighting your lobster and seafood recipes with a portion of lobster claw meat.
From Tyson Foods we've added their homestyle breaded tenderloins. These tenders provide great flavor and crunch across your menu. Whole muscle tenderloins provide your customers with the premium quality, bite and texture they expect from center-of-the-plate chicken. Chicken that's raised with no antibiotics ever, and a product that contains no MSG or trans fat. Fully cooked product provides quick and easy preparation while minimizing food safety concerns.
New in from Bienvenido, add your signature fresh seasonings to their salsa-ready tomatoes for a salsa fresca with extraordinary flavor. Or use to give a salsa made with "market tomatoes" fresher tomato flavor and brighter vine-ripe red color by replacing half of the market tomatoes with an equal volume of Bienvenido Salsa-Ready Tomatoes.
From Norpak we've added grease-proof, ovenable 14 inch square liner sheets. These pizza liners are flat, dry wax delicatessen paper liners used for lining the bottom of pizza boxes and can go from the over to the pizza box.
Lastly, from Handgards Tuffgards® line we've added 2 sizes of their .6ml poly bags. Tuffgards® low density storage bags offer food storage solutions for every application and every need. The clear bags help staff keep an eye on freshness by making it easier to identify the contents of the bag. Clear Tuffgards® also make pre-portioning convenient; protecting food on the counter, the refrigerator, or in the freezer.
New Item Details:
| | | | |
| --- | --- | --- | --- |
| Item # | Description | Pack/CT | Brand |
| 27916 | CHEESE CHEDDAR & HORSERADISH | 12/8 OZ | PRESIDENT |
| 27922 | LOBSTER ALL CLAW FROZEN | 6/2 LB | PACKER |
| 27926 | CHICKEN TENDER NAE HS FC BRD | 2/5 LB | TYSON |
| 27928 | TOMATO SALSA READY | 6/#10 | BIENVENIDO |
| 27923 | LINER PIZZA 14X14 SHEET | 1/50# | NORPAK |
| 27920 | BAG POLY 6X3X12   .6ML | 1/1000CT | HANDGARDS |
| 27921 | BAG POLY 6X3X15    .6ML | 1/1000CT | HANDGARDS |
Dennis Food Service delivers thousands of foodservice products and supplies to restaurants and food operations in Maine and New Hampshire. If you have a question or are interested in becoming a customer contact us or call 1-800-439-2727.
SEE MORE NEW PRODUCTS
Stock status subject to change. Posted 2/8/23.