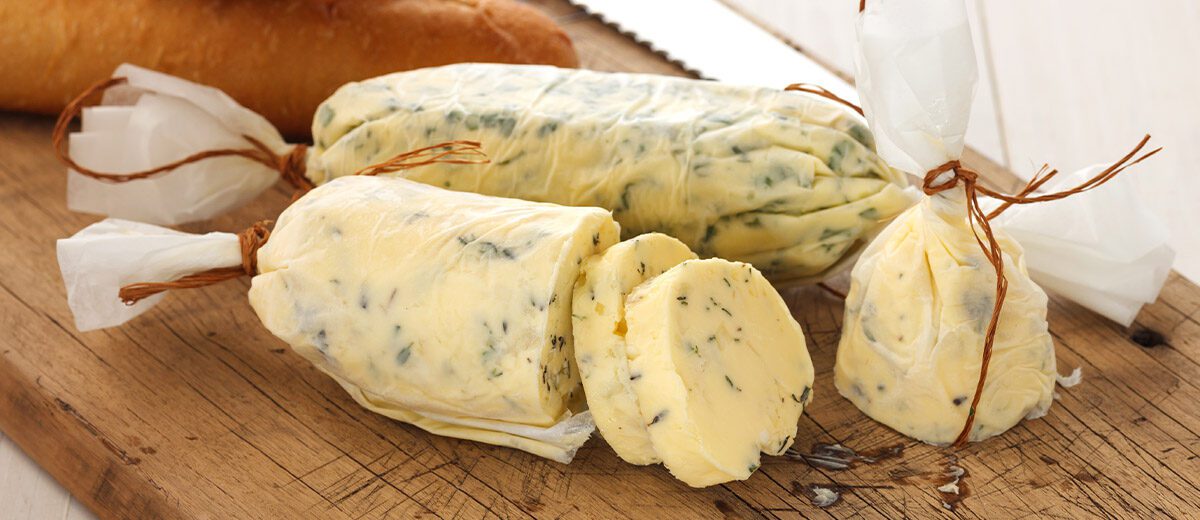 Save Labor, Improve Performance, and Optimize Your Menu with Multitasking Ingredients
Multitasking ingredients such as flavored butters, sauces, dressings, and gravies save time and money in the kitchen.
Multitasking ingredients can enhance several dishes keeps food costs, labor, and inventory in line. Ingredients that can be used in more than one item are the Holy Grail of menu management, keeping food costs, labor, and inventory in line. Dennis offers a variety of products from multiple vendors that are designed with multitasking in mind—you can use them as is, or as speed-scratch basics for multiple applications.
Consider the following examples as a template for maximizing the utilization of your own flavor-building inventory. 
Flavored Butters
One of the easiest and most convenient ways to add flavor to food is by mixing seasonings and other ingredients into butter, which can then be chilled or even frozen for later use. In addition to using on steaks and other proteins hot off the grill, these butters can be used to:
Sauté or dress vegetables
Slip under the skin of chicken before roasting
Include in a signature bread service
Offer with cornbread or muffins
Float on a bowl of soup
Top off a baked potato
Spread on grilled or toasted sandwich bread
Nestlé Professional Chef Mary Locke suggests the following to offer as schmears for corn on the cob, but the butters have many other uses:
Fire Roasted Poblano Flavor Concentrate with butter, Cotija, and a squeeze of fresh lime
Herb de Provence Flavor Concentrate and goat cheese
Sun Dried Tomato Pesto Flavor Concentrate thinned out with a dab of good olive oil and toasted pine nuts
Fire Roasted Jalapeño Flavor Concentrate and mashed, ripe avocado
Chipotle Flavor Concentrate, blue cheese, and crumbled bacon
Dressings as Marinades
Many dressings, particularly vinaigrettes, include an acidic ingredient such as vinegar or citrus juice, which also serves as a tenderizer in marinades. Other common dressing ingredients that tenderize proteins include honey and yogurt (think of tandoori marinade), which also aid in flavor-boosting caramelization when cooked.
Likewise, many marinades can be used as dressings for salads and other chilled foods—perhaps with the addition of an ingredient to make them more clingy, such as oil or mayonnaise.
Creamy Sauces
Creamy, relatively neutral-flavored sauces such as béchamel, Alfredo, and cream gravies have many uses in addition to adding a luxurious touch atop cooked foods.
Use as a replacement for cream sauce or béchamel in a casserole or au gratin
Flavor mashed potatoes or other vegetables by substituting a creamy sauce for some of the liquid
Customize with the addition of tomato, pesto, sautéed onions, mushrooms, crumbled bacon, and so on
Use in cream soups, such as Creamy Chicken and Wild Rice or Seafood Bisque
Substitute for cream sauce in a classic Spinach and Artichoke Dip recipe
Mix with vegetables and a protein (optional) for a main course stuffed baked potato
It's All Gravy
Talk about a menu workhorse: Gravies of all kinds are the ultimate multitaskers. in ways that go way beyond the mashed potato.
Over hearty sandwiches like French dips, open-face turkey, and New Orleans-style po' boy sandwiches
As a dip for fries or tots, or for a classic poutine
In casseroles, shepherd's pie, and pot pies
As a binding for meatloaf or meatball mixtures
As a flavor-building thickener for soup
To moisten a brunch-worthy egg strata
In a simmer sauce for pot roast, chicken fricassee, and other braised proteins
In quesadillas, instead of—or in addition to—cheese
Sauces = Spreads = Dips
Sauces are the true shape-shifters of the menu-making world. Depending on qualities such as flavor and thickness, a sauce can be used as-is or in additional uses such as a warm spread (for sandwiches, for instance) or a dip for finger foods.
The cheese sauce is a perfect example. The binder for mac-and-cheese and the topping for nachos and steamed broccoli can also be used to create a cheeseburger, fondue, or dip for fries. Thicken cheese sauce with a product such as cream cheese to make it more spreadable or add flavor and body with products such as crumbled cooked chorizo or crabmeat to create a dip.
Stir into scrambled eggs, mix into fritters, layer on flatbread, or mix into beer and broth with sturdy vegetables to create a soup.
Content courtesy of Nestle Professional
GreatMenusStartHere.com