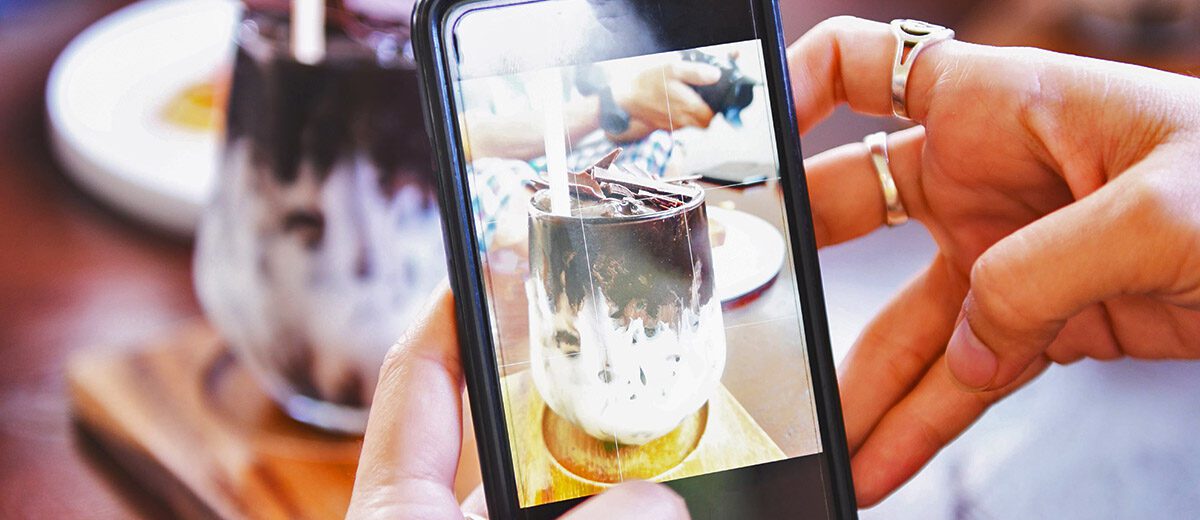 Leverage Social Media to Boost Dessert Sales
Using social media platforms to reach your target audience when promoting dessert offerings may be key to boosting sweet sweet sales.
According to Hootsuite, there are 4.65 billion social media users who interact with an average number of 7.4 social platforms each month.1 Targeting consumers through social media has proved effective and profitable. By taking advantage of social's captive, recurring audience, operators have even more opportunities to connect and engage with their core customers. Utilizing the most effectual social platforms for reaching the largest targeted audience is key when promoting dessert menus and operator programs and promotions.
High Reach, Low Costs
Marketing through social media allows operators to connect directly with consumers and is a relatively inexpensive means to reach a large mass of active users. 90% of social media users have already connected with a business or brand through their preferred platform2 which means there is ample opportunity to continue reaching consumers regularly with minimal investment. Social platforms give operators a chance to be present, act in real-time all day long and engage with and respond to followers' comments.
Picture It On Social
Desserts are typically known for their elevated styling and decadent presentations. Thus, they tend to create the most beautiful food photography which complements the social media landscape perfectly. Sara Lee Frozen Bakery offers an unmatched selection of indulgent, picturesque desserts that are photo-ready for the operator's menu and photo-worthy for promoting on social posts. Plus, with thaw and service convenience, our low labor dessert offerings bring instant plate appeal with minimal labor required. For operators looking to add a signature touch to their desserts, we provide simple yet elegant culinary solutions to elevate any dessert menu.
Taking photos to post on social channels is easier than you think. Share these helpful tips with your operators to capture the beauty in every slice:
Be authentic and not overly polished
Find as much natural light as possible and shoot on a clean space close to a window
Don't shoot photos too closeup as there is opportunity to crop before posting
Take multiple angles – side view and top down to capture full plate presentation
Contrast background colors – light colored dessert against dark backgrounds and vice versa
Shoot at the highest resolution possible and size correctly
Operators need to understand their audience and know which platforms they're most actively using and what types of content suit their needs. Suggest these top three social platforms for promoting desserts:
With over 1 billion users each month3, Instagram is the 4th most-used social platform.3 Over 62% of active users engage with the platform to follow or research brands or products4 and almost 70% use the platform to post or share photos and videos.5 Operators can use this channel to show-off their exquisite dessert photos and dessert prep videos – think dessert flights, specials, and take-home solutions. 57% of users on this platform are also more likely to engage with quizzes and polls.6 Operators have a direct connection with their audience and can make them feel important by asking their opinions on new desserts offerings, favorite flavors, promotional offers, and more.
TikTok has passed the one billion monthly active user figure with users aged between 18 to 24 accounting for about 45% of TikTok's global reach 7 and 61% of its user base in the U.S. skewing female.8 While most of this audience uses TikTok for entertainment means, operators can create fun video content (now up to 10 minutes long) that showcases their chefs and staff behind the scenes crafting plated desserts or can use the platform as a means for customers to share their own personal experiences while dining in or enjoying after-dinner delights at home.
Facebook is the most used social platform worldwide with 2.91 billion users and 79% of monthly users being active daily.9 This platform provides opportunities for operators to elevate their content with daily or seasonal dessert menu specials, happy hour deals, company stories, community outreach, or employee spotlights. It's also a vehicle for encouraging healthy engagement with customers – allowing customers to share their experiences and opinions directly with the operator and its community of followers. Operators can increase user experience by including a "start order" link that takes them immediately to an online ordering interface on their website.
It's imperative for foodservice operators to ensure that post content is relevant and relatable to targeted followers. Offer these content ideas to help guide operators' dessert promotions:
Seasonal desserts or monthly LTO offerings
Daily dessert pics or employee picks
Customer reviews and reshares of their dessert favorites
Dessert & food pairings
Flavor polls
Build your own dessert (B.Y.O.D.) promotion
Clean ingredients and allergen information
1, 4, 5 The Global State of Digital, Hootsuite, April 2022
2, 7, 10 Stausbrew.com
3, 6 35 Instagram Stats That Matter to Marketers in 2022, Hootsuite, 2022
8 Digital Trends, Hootsuite, 2021
9 39 Instagram Stats That Matter to Marketers in 2022, Hootsuite, 2022
Find more articles like this in our blog The Daily Foodie and on GreatMenusStartHere.com a resource of UniPro Foodservice.