Jalapeño Bacon Margarita
Bacon, spicy heat, tequila… what more can anyone ask for? This refreshing cocktail is ready to stand out on your signature drinks menu!
INGREDIENTS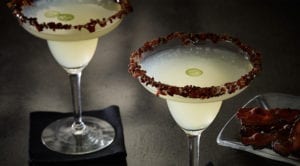 2 ounces Jalapeño tequila
1 ounce fresh lime juice
1/2 ounce triple sec
Fresh jalapeno slivers
1/2 ounce bacon syrup
Hormel Black Label Premium Jalapeño Bacon Item #10617
DIRECTIONS
Combine ingredients in cocktail shaker
Fill ice and shake vigorously
Pour into martini glass, discarding ice
Rimmed glass – Rim glass with a salt and crushed-crispy-bacon mixture, add lime wedge and fresh jalapeño slivers
Garnish with a slice of Hormel Black Label Jalapeño Bacon
Bacon Syrup? Yes it's a real thing and you can buy the Proof Syrup brand HERE or the House of Webster brand HERE.