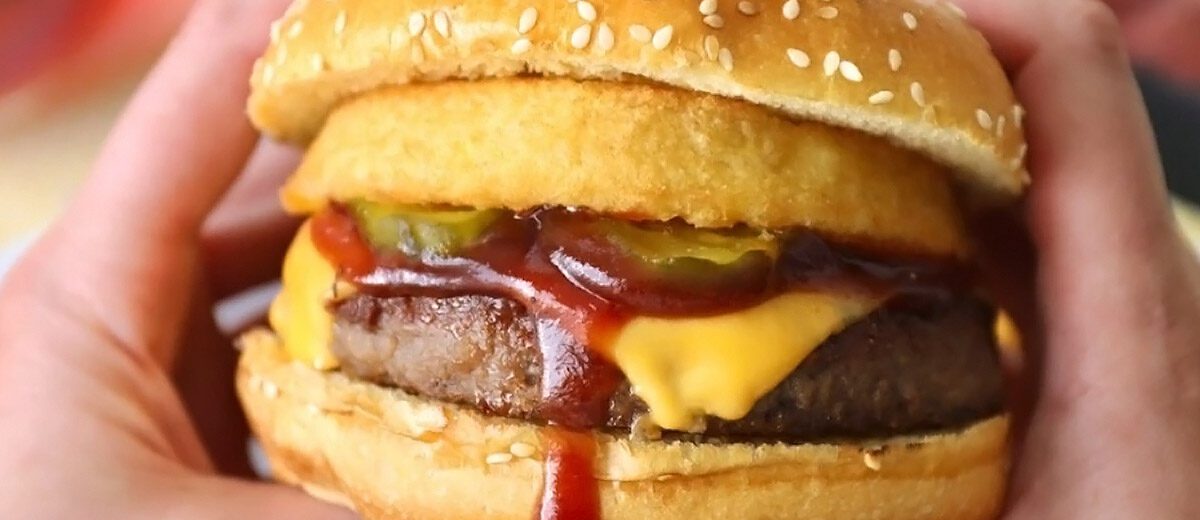 Impossible® BBQ Cheddar Burger
This impossibly good burger features crispy onion rings, a sweet and spicy house-made barbecue sauce, and melty cheese on potato burger buns.
If you haven't had onion rings on a burger, have you truly burgered? Seriously: the perfect ratio of sweet onion, golden breading, and our meaty Impossible™ Burger Made From Plants can change your perspective. This recipe includes a dreamy BBQ sauce made from scratch. Jalapeños lend some zip while grape jelly and pineapple juice (yep—you read that right) balances the apple cider vinegar. Not in the mood to DIY? You can't go wrong with your favorite Sweet Baby Ray's BBQ sauce.
Servings: 4
INGREDIENTS:
(Burgers and House-made BBQ Sauce)
4 Impossible™ Beef patties (or 12oz ground, portioned to 3oz patties)
4 Potato Burger Buns
Frozen onion rings, prepared according to directions
1 Cup bread and butter pickles
4 Slices cheddar cheese or plant based cheddar cheese
1/2 Cup Yellow Onion, Roughly Chopped
1 Jalapeño, De-Stemmed & Roughly Chopped
4 Cloves Garlic, Roughly Chopped
2 Teaspoons Vegetable Oil
2 Tablespoons Tomato Paste
1 1/2 Teaspoons Chili Powder
1 1/2 Teaspoons Dry Mustard
1 Cup Ketchup
1/4 Cup Molasses
1/4 Cup Pineapple Juice
1/2 Cup Apple Cider Vinegar
2 Tablespoons Hot Sauce
3 Cups Brown Sugar
1/2 Teaspoon Kosher Salt, plus additional to taste
1/2 Teaspoon Black Pepper, plus additional to taste
1 Cup Concord Grape Jelly
DIRECTIONS
Make the BBQ Sauce

Place roughly chopped onion, jalapeño, and garlic in a food processor. Pulse until a paste is formed. In a 3 quart pot over medium heat, heat vegetable oil. Once heated, cook onion, jalapeño & garlic until soft and translucent, about 3 minutes. Whisk in chili powder, dry mustard, and tomato paste, cook for 1 minute. Whisk in other ingredients: ketchup, molasses, pineapple juice, apple cider vinegar, and hot sauce, and bring to simmer. Add in brown sugar. Simmer for approximately 10 more minutes. Whisk in Concord grape jelly and season with salt & pepper. Sounds wild but it's delicious!

Cook the Impossible Burgers

Separate patties or portion Impossible Beef into 4 equal burger patties. Over medium-high heat, sear your burgers in a pan or on the grill to desired temperature (approximately 2 minutes per side). Season with salt and pepper as desired. Once you flip from the first side, top with cheese to melt and toast buns in the pan or on the grill while the cheese is melting.

Build Your Burgers

Once burgers are done, place on the bottom buns. Top with 3 to 4 tablespoons of BBQ sauce, add bread and butter pickles, stack high with onion rings or fried onions. Top with burger bun, and serve some additional BBQ sauce on the side if you like to dip. Enjoy this burger masterpiece.
See More Recipes