Honey Ham, Fried Egg and Potato Breakfast Pizza
There's brunch in every bite! Fresh ingredients and preparation elevate this breakfast pizza to a premium level. Featuring classic ingredients that meld magically with melty cheese and warm soft dough for an oh' so satisfying morning experience.
INGREDIENTS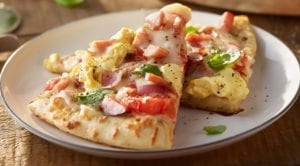 1 thawed pizza dough item #8979
4 slices Hormel honey cured ham item #741141 tablespoon butter
1/2 peeled, thinly sliced, russet potato
1 tablespoon olive oil
1/2 teaspoon salt
1/4 teaspoon pepper
1/4 teaspoon chili powder item #7813
1/2 cup shredded cheddar
1/4 thinly sliced, red onion item #6833
1/2 cup torn spinach
3 eggs
Garnish: cilantro
DIRECTIONS
Roll dough with rolling pin until it is 1/3 inch thick.
Cook potatoes by heating butter in skillet over medium heat. Add thinly sliced potatoes in an even layer. Sprinkle with salt to taste. Cook for 4 minutes or until lightly browned. Set aside.
Heat oven to 450˚F.
Brush prepared pizza dough with 1 tablespoon olive oil and sprinkle with salt, pepper, dried basil and chili powder. Top with ham, cheddar, onion and spinach. Crack eggs on top. Bake for 5-7 minutes or until cheese is melted and crust is crisp. If eggs aren't fully cooked, broil for up to 1 minute.
Top with cilantro is desired, and serve!