Hawaiian Flatbread Pizza
Classic Hawaiian flavors on a crispy baked flatbead.
INGREDIENTS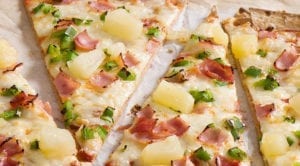 1 flatbread
3 tablespoons pasta sauce
1 1/2 ounce shaved deli ham
1/4 cup pineapple tidbits, well drained
2 tablespoons diced green bell pepper
1 1/2 ounce shredded mozzarella cheese
DIRECTIONS
Pre-heat oven to 450˚F
Top flatbread with pasta sauce, and most of the cheese. Arrange ham, pineapple and green pepper on top. Sprinkle with remaining cheese.
Place in oven, for 5-6 minutes or until golden brown, and serve!