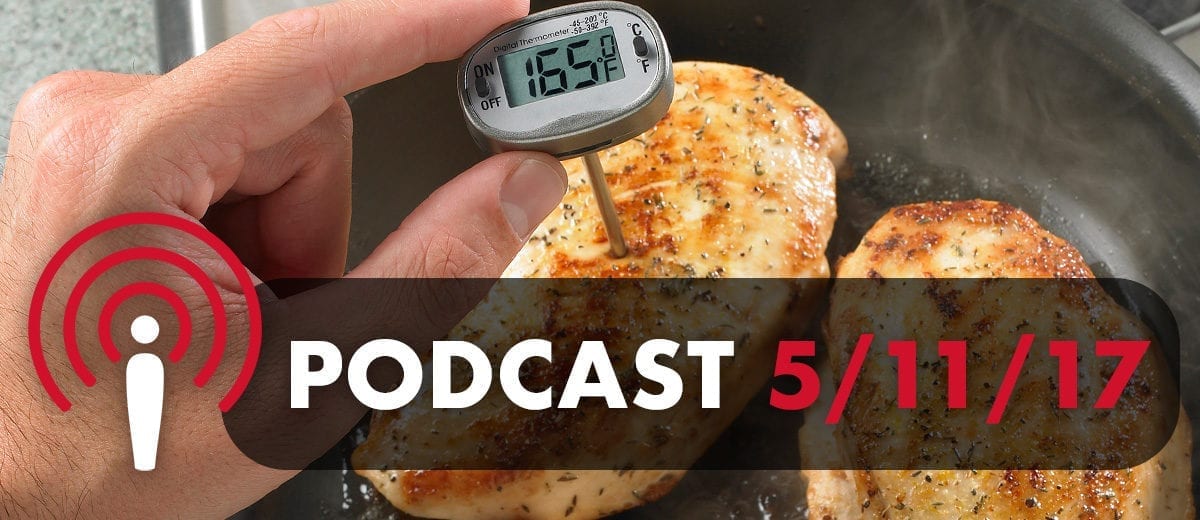 Episode 13 – New Products, Safety Programs, Foodservice Headlines and More
It's Thursday, May 11th, and this is Episode 13 of the Dennis Knows Food Podcast!

It's been an interesting couple of days trying to record audio for our Podcast, you'll hear why in the episode…
This week we've added 14 new items to our inventory spanning several delicious categories. We've added liquid coffee concentrate, cereal, almond milk, yogurt, soups, a 4.5oz beef and bean burrito and more. Keith Durrah our Director of Risk Management drops in to talk safety. We cover some of this weeks food industry headlines. Don't forget Mother's Day is this coming Sunday. Visit our website for great Mother's Day menu ideas!
Subscribe to the Podcast –  Subscribe Now (Subscribe with iTunes)
Trouble Subscribing to the Podcast? Listen Here with SoundCloud.
More about this week's Podcast photo:
The U. S. Department of Agriculture (USDA) Food Safety Inspection Service (FSIS) recommends an internal cooked temperature of 165 to 180 degrees for poultry. The food thermometer depicted here is thermistor-style food thermometer, which uses a resistor (a ceramic semiconductor bonded in the tip with temperature-sensitive epoxy) to measure temperature. The thickness of the probe is approximately 1/8 of an inch and takes roughly 10 seconds to register the temperature on the digital display. Since the semiconductor is in the tip, thermistors can measure temperature in thin foods, as well as thick foods. Because the center of a food is usually cooler than the outer surface, place the tip in the center of the thickest part of the food. This type of thermometer does not remain in the food while it is cooking but should be used near the end of the cooking process. USDA Photo.