Citrus Mojo Grilled Shrimp Salad
Try this Citrus Mojo Grilled Shrimp Salad recipe with new Citrus Mojo Sauce, hints of garlic, cumin, oregano and of course… citrus!
INGREDIENTS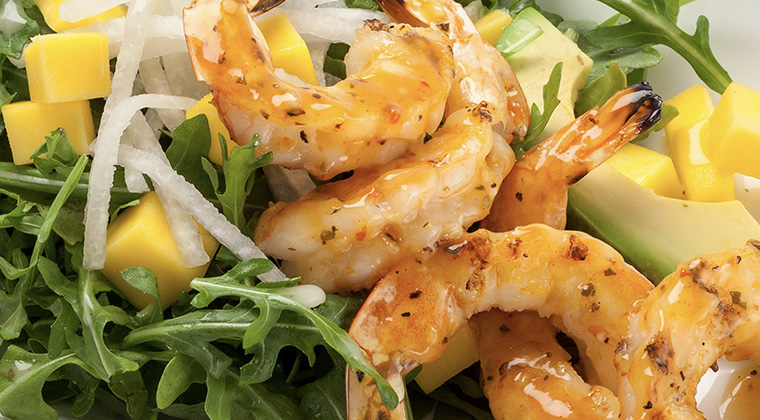 1 teaspoon vegetable oil
16-20 jumbo shrimp
1 cup Citrus Garlic Mojo Sauce
4 cups arugula
1 cup julienne jicama
1 cup diced avocado
1 cup diced mango
4 oz lime vinaigrette
salt and pepper to taste
DIRECTIONS
Heat grill to medium and lightly oil grates.
Assemble shrimp skewers. Use two long skewers, threading 1 skewer through the head end of the shrimp and one through the tail. Season with salt and pepper.
Grill until shrimp begins to turn opaque, about 2-3 minutes. Flip and brush liberally with citrus mojo sauce and cook until opaque throughout (about 3-4 minutes), while brushing on more sauce.
Place arugula, jicama, avocado and mango in a bowl and toss with lime vinaigrette. Place onto serving plate and top with grilled shrimp.
See More Recipes