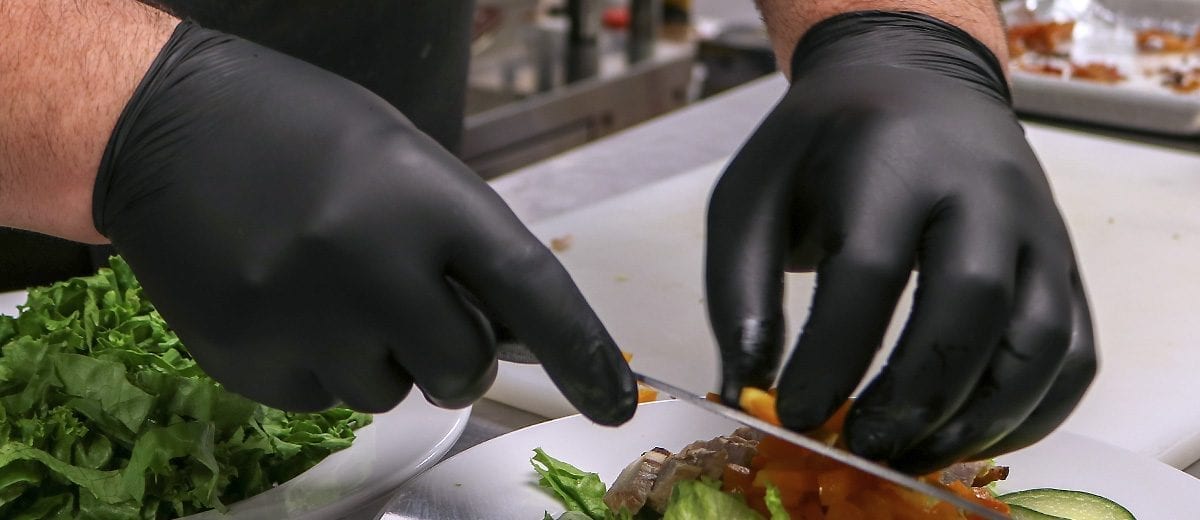 Chef's Pantry: Nitrile Gloves
Give your hands a form fitting superhero-uniform look, and superior performance, with Nitrile gloves.
Nitrile is the form fitting food handlers glove that will make you feel like the culinary superhero you are. Nitrile gloves are made out of a synthetic rubber, and are an ideal alternative when latex allergies are a concern. Nitrile gloves are the superior glove when it comes to puncture resistance.  The snug fit offered with Nitrile allows chefs and cooks better control of food handling not found with other lose fitting gloves.
Lets put it this way, if you're wearing shoes that are 2 sizes to large you'll be more likely to trip and fall. Although loose gloves may not increase your odds of tripping, they will add an elongated finger obstacle for you to work around, which can be dangerous when a sharp knife and your fingers are added to the equation. Captain Nitrile to the Rescue!
PROS: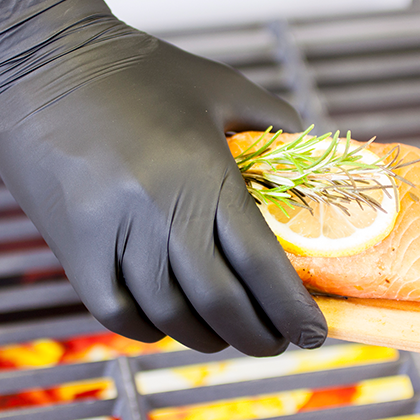 Form-fitting
Non latex
Scent free
Safer than non fit gloves
Best for precision knife use
A more polished/elegant look for buffet staff
Become a gloved culinary crusader in the kitchen with Nitrile!
| | | | |
| --- | --- | --- | --- |
| ITEM | DESCRIPTION | PACK | BRAND |
| 21775 | NITRILE BLACK SMALL | 10/100 | HANDGARDS |
| 21777 | NITRILE BLACK MEDIUM | 10/100 | HANDGARDS |
| 21779 | NITRILE BLACK LARGE | 10/100 | HANDGARDS |
| 21781 | NITRILE BLACK X-LARGE | 10/100 | HANDGARDS |
| 18937 | NITRILE BLUE SMALL | 10/100 | ROYAL |
| 17952 | NITRILE BLUE MEDIUM | 10/100 | ROYAL |
| 7423 | NITRILE BLUE LARGE | 10/100 | ROYAL |
| 17956 | NITRILE BLUE X-LARGE | 10/100 | ROYAL |
| 7421 | NITRILE WHITE SMALL | 10/100 | HANDGARDS |
| 7422 | NITRILE WHITE MEDIUM | 10/100 | HANDGARDS |
| 7423 | NITRILE WHITE LARGE | 10/100 | HANDGARDS |
| 7424 | NITRILE WHITE X-LARGE | 10/100 | HANDGARDS |