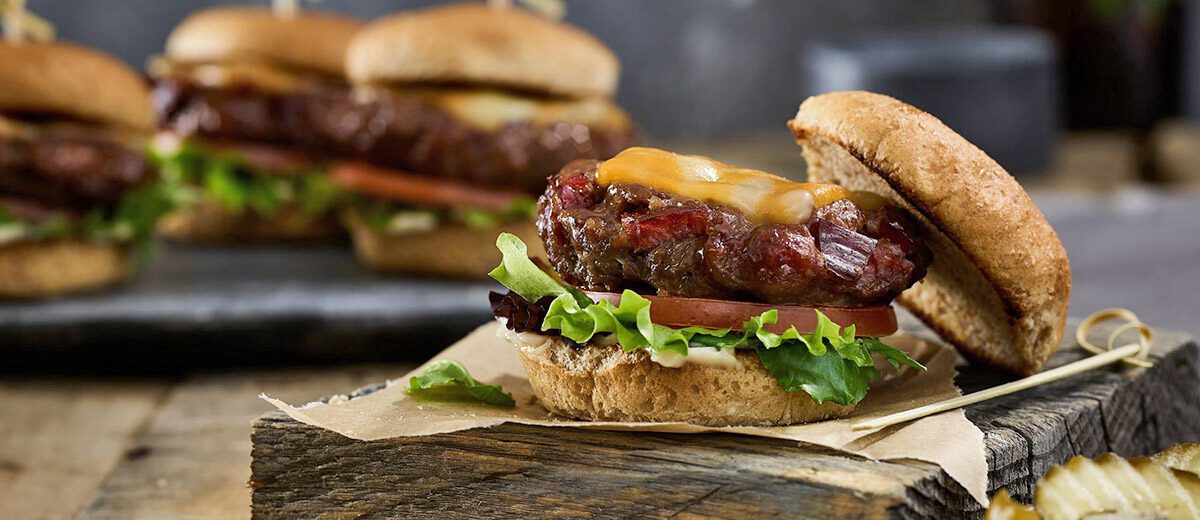 Beef Jerky Burger Sliders
For big flavor in a small package, serve up this slider recipe for the next big (or little) game!
Beef Jerky pieces added to a Ground Beef slider patty. Topped with all your classic burger favorites.
Servings: 8
INGREDIENTS:
3/4 pound Ground Beef (93% lean or leaner)
4 ounces beef jerky, 1/4-inch cubes
1/4 teaspoon kosher salt
1/4 teaspoon pepper
2 slices Colby-Jack cheese, cut into 8 pieces
8 slider hamburger buns
3 tablespoons prepared garlic mayonnaise
2 cups loosely packed mixed salad greens
8 slices tomatoes
DIRECTIONS
Combine Ground Beef, jerky, salt and pepper; mix until just incorporated. Do not over mix. Divide mixture into 8 equal balls. Press into slider patties, about 2-1/2 inches in diameter.
Place patties on grid over medium, ash-covered coals. Grill, covered, 8 to 10 minutes (over medium heat on preheated gas grill, covered, 9 to 11 minutes) until instant-read thermometer inserted horizontally into center registers 160°F, turning occasionally. Top each slider with cheese; cook until cheese is just melted.
Spread mayonnaise on bottom of each bun. Top mayonnaise with salad greens, tomato, burger patty. Close sandwiches.
Cook's Tip: Cooking times are for fresh or thoroughly thawed Ground Beef. Ground beef should be cooked to an internal temperature of 160°F. Color is not a reliable indicator of ground beef doneness.
See More Recipes
Source: beefitswhatsfordinner.com