Bangers & Mash, Chef's Twist on a Pub Classic
A Test Kitchen
St. Patrick's Day

Recipe

Bangers and Mash is a centuries(ish) old pub classic, comprised of sausage (banger) server with mashed potatoes and finished with brown gravy. It has been said that the term banger was adopted during WW1. During war time shortages of meat, sausage manufacturers had to reformulate production recipes and add additional water to the meat mix. The additional water, in conjunction with heat from the cooking process caused the casing to pop or "bang."

This rendition of Bangers & Mash is a bit different (2021 style) as it use potato gnocchi in place of mashed potatoes and serve our dish with cabbage that has been braised in pickle juice.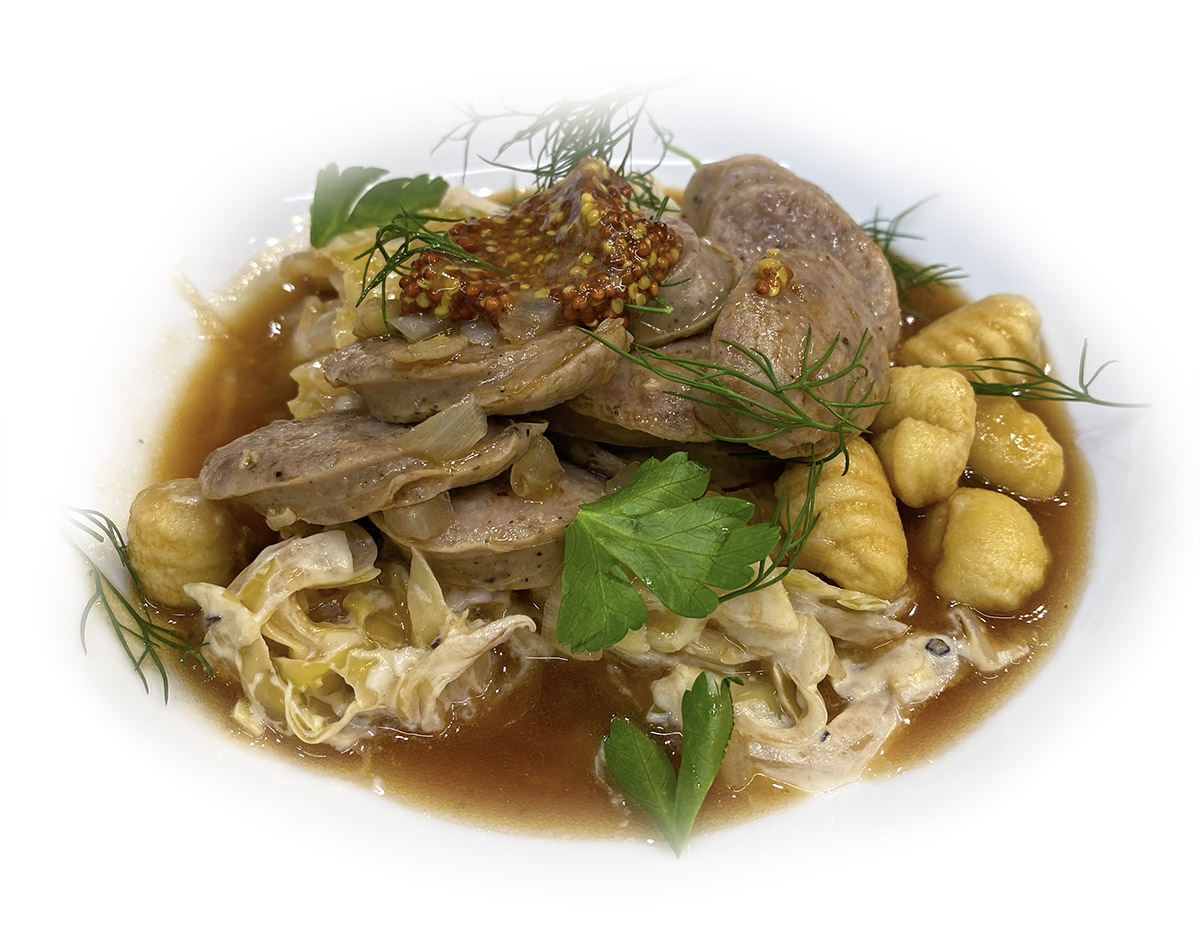 INGREDIENTS
Braised cabbage:
2# shaved cabbage
2 cup pickle juice
2 ounce oil blend
1/2 # shaved spanish onions
1 tbsp kosher salt
1 tsp pepper
Mix together all ingredients and roast @350 until cabbage is wilted and pickle juice has reduced by 2/3; about 30 minutes. This can be done in advance and kept in the refrigerator for use in this recipe & other application
For the Bangers and Mash:
2 oz oil blend
4 oz Fontanini Bangers, sliced into medallions
1/2 cup gnocchi
2 heaping tbsp diced onion
1 clove garlic rough chop
2 oz stout
3 oz brown gravy
S&P to taste
DIRECTIONS
Sauté bangers and gnocchi until gnocchi starts to brown, add onion and garlic and continue to sauté until gnocchi & sausage have developed some caramelization.
Deglaze with stout and reduce by half, add gravy and adjust seasoning to taste.
Warm 1/4 cup braised cabbage and coat with 1 tbsp sour cream
Serve bangers & mashed over creamy braised cabbage
Garnish with fresh parsley leaves, dill sprigs and a dollop of grain mustard.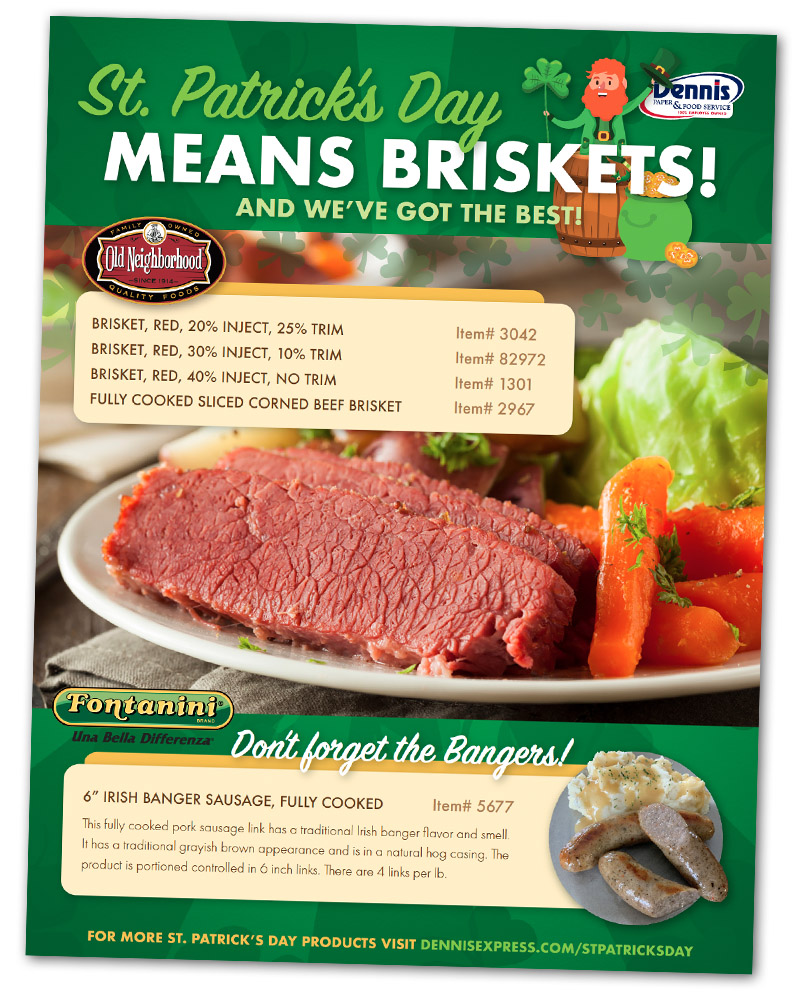 Download our St. Patrick's Day Brisket Flyer 🍀
Beef Briskets from Dennis
A few products of interest:
I prefer a sour pickle juice for braising the cabbage. In my opinion the Juice from Morse's Sour Mustard Pickles works the best #21935
We used Fontanini brand GarLucky Bangers #5677
We used Joseph's Potato Gnocchi #13365
See More Recipes