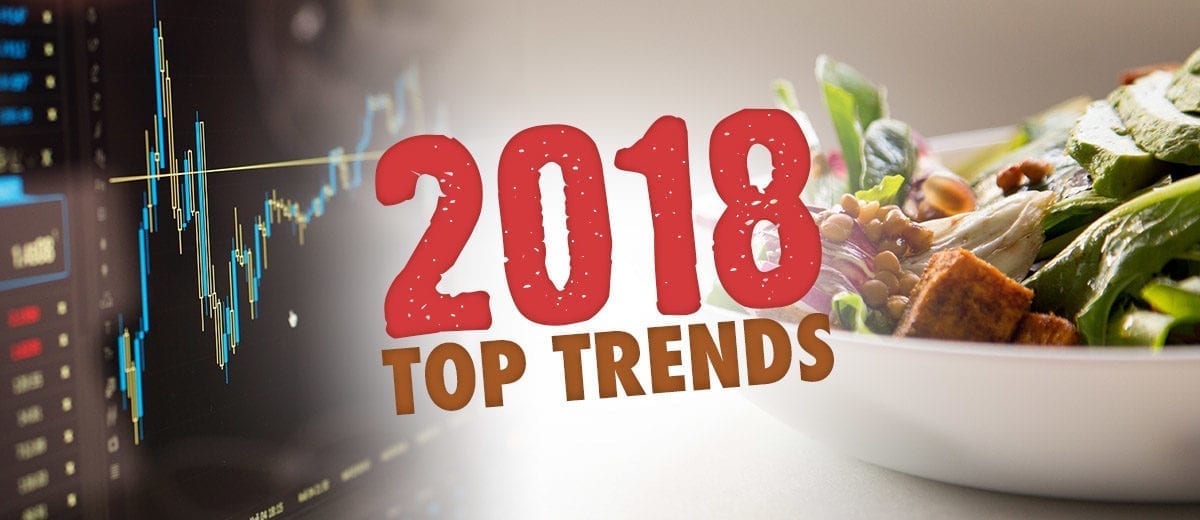 Top Restaurant Industry Trends to Watch in 2018
The National Restaurant Association reported restaurant industry sales of nearly $799 billion last year, which represents approximately 4 percent of the U.S. gross domestic product, and nearly 48 percent of total food dollars spent in the United States.
Despite industry wide growth for several years, restaurant operators face significant challenges keeping pace in an environment that is changing at a much faster rate than ever before. Evolving consumer tastes and preferences, work force constraints and intense competition will continue in 2018 and likely create a deeper divide between successful and unsuccessful operators. Operators that respond in a timely, effective way have an opportunity to thrive, while others may struggle to survive.
Consumer preferences
Consumer preferences and buying behaviors will continue to evolve in 2018 and beyond. Preferences toward healthier menu options, created with products that are locally sourced from organic and socially conscious producers, will challenge operators to adapt their menus in a cost-effective manner. Gluten free and paleo menus will also become more prevalent as operators respond to growing concerns around food allergies. Trends toward ethnic foods with bold or unique flavors is also likely to continue, as those who value the dining experience seek new experiences with their restaurant dollars.
How consumers purchase their meals will also continue to evolve. Although experience seekers will continue to seek edgy new concepts with cool vibes and bold flavors, for many others convenience will drive purchasing decisions. This trend has multiple ramifications for the industry. On the positive side, opportunities to bring city dining to the suburbs will likely continue, as suburban diners enjoy the convenience of dinning close to home. However, restaurant operators will also face continued competition from untraditional sources. Prepared foods from grocery and convenience stores will continue to attract busy consumers who simply don't have the time or inclination to prepare their meals and seek convenience over experience.
Demand for convenience will also fuel continued growth in carry-out and home delivery. The challenge for restaurant operators will be creating menu items that travel well, while also managing the margin impact of third-party delivery systems and the potential cannibalization of their on-premise business.
Watch Anthony Ackil, Co-founder and CEO of B.GOOD, a fast casual restaurant with 65 locations in the United States and abroad, and John Nicolopoulos, RSM's restaurant and retail practice leader, as they discuss the impact changing consumer preferences has had on B.GOOD.
Labor
Labor will continue to be a significant issue. At the start of 2018, minimum wage increases took effect in 18 states and 20 cities across the nation. This will have a cascading effect across the industry, affecting more than just minimum wage workers. Unit growth across the industry coupled with a stronger labor market overall has also contributed to increasing payroll costs and has created labor shortages across the industry—particularly at the experienced general manager (GM) level. Competition for talent will continue to drive up GM salaries in many markets, increasing turnover and affecting operations. Operators will need to find creative ways to retain top performers capable of building strong teams and providing consistently high guest satisfaction to be successful in increasingly competitive markets.
Operators will likely look to technology to help manage labor costs. Automation and robotics will continue to be tested where appropriate, while back-office systems to analyze customer traffic patterns and better manage payroll hours will continue to gain popularity. In addition, kiosks, on-line and mobile ordering and mobile payment, primarily implemented to manage throughput, will also help operators manage payroll hours during peak periods of the day.
Branding and brand risk
Branding will continue to be critically important in a hyper-competitive marketplace. Successful operators will find ways to enhance their brand by driving guest experience, convenience or both. Those who effectively differentiate their brand will be successful. However, brand risk in the digital age is significant. Guests routinely share their experiences through social media, which can quickly have a negative impact if the experience was not favorable. Brand awareness and loyalty that can take years to create, can dissipate overnight. Successful operators will need to have programs to monitor social media and to promote the brand.
Food safety and IT security will also continue to be major risks to the reputation of a restaurant brand. Appropriate internal controls aimed at preventing issues, and well-designed and well-communicated incident response plans, will help mitigate, but not eliminate, these risks.
Technology
Technology will continue to be a focus for restaurant operators in 2018. Increased competition and rising costs will drive technology spend toward technologies aimed at driving traffic and controlling costs. Mobile ordering and mobile payment will become table stakes for quick serve and fast casual concepts and the entire industry will continue to undergo a digital transformation. From quick serve to fine dining, consumers will use technology to make their buying decisions. Restaurant operators who invest in technologies that connect with their guests will be positioned for success. Many operators will use online ordering platforms and loyalty programs to collect data on their guests and market to them directly and data security will become increasingly important as the industry becomes more reliant customer-facing technology.
Operators will also continue to invest in technologies to control food and labor costs. Menu engineering and labor management will be focus areas as operators try to find ways to control menu inflation to compete with lower-cost providers of prepared foods. Automation and robotics will continue to be tested in certain segments of the industry, but will likely take a back seat to customer-facing and other cost-containment technologies.
Home delivery will continue to gain momentum. Multiple third-party delivery platforms operate in most metropolitan areas, causing operators to manage multiple ordering platforms or limit their reach to a single service provider's subscribers. There is likely to be consolidation of third-party delivery services over time. Meanwhile, technologies that can effectively manage multiple platforms, allowing operators to maximize their reach within each delivery market, will be in high demand.
Real estate
The retail real estate market will continue to evolve with consumer buying behaviors. The transformation of the regional mall, the proliferation of lifestyle centers and the creation or rejuvenation of urban centers will continue in 2018 and beyond. The impact to restaurant companies will vary from segment to segment and concept to concept, suggesting a disciplined real estate strategy is more important than ever.
Declining same-store sales and traffic during 2017 has caused operators to close underperforming locations and adjust their growth trajectories. This should lead to moderating real estate prices and rents in the coming months. Second generation real estate could provide growing brands a more cost-effective growth model, assuming the location was not the reason the prior tenant exited the space. Cost of new space may also become less onerous; as demand weakens, landlords will aggressively pursue brands that are on trend for their specific developments. Operators who are on trend, patient and more cautious will benefit from these changes.
Looking ahead
While many operators have adjusted their growth plans, investment in restaurant concepts remains strong and will continue to fuel growth in 2018. Private equity investors will likely be more selective with their investment dollars, but multiples on strong concepts are expected to continue to rise as competition for high quality assets remains fierce.
The Tax Cuts and Jobs Act is also expected to fuel new unit growth as companies take advantage of lower tax rates and other tax incentives aimed at driving further investment. However, patient and disciplined growth will be critical. The industry is over-seated creating significant completion for both customers and qualified employees.
For existing units, takeout and home delivery will provide a boost to sluggish same store sales and should provide a means for restaurant operators to compete with grocery chains and other producers of prepared foods. However, home delivery is not without its challenges. Operators need to ensure that items on their delivery menu travel well and are delivered quickly enough to be enjoyed as intended. There is also a danger that off-premise sales will cannibalize on-premise sales and at a higher cost.
Operators need to find ways to expand their guest base and the frequency with which their existing guests dine with them if takeout and delivery are going to be truly accretive.
Source: RSM