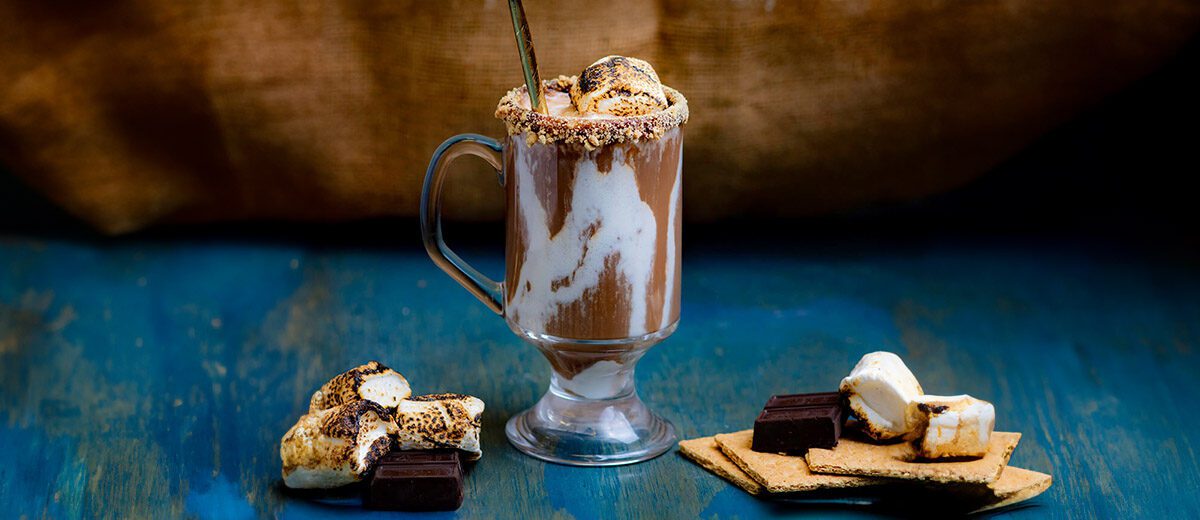 S'mores Cold Brew Coffee
Capitalize on the seasonal crave-ability and classic flavor of s'mores by adding this specialty cold brew coffee to your summer beverage menu. This refreshing twist on a campfire classic combines the rich flavors of chocolate, marshmallow, and graham cracker with smooth-sippin' cold brew coffee. To top it all off, garnish this delectable drink with a perfectly toasted marshmallow. From sight, to smell, to sip it's the ultimate caffeinated s'mores experience.
| Ingredients: | |
| --- | --- |
| Ice | 2 cups |
| Cold brew coffee | 1 cup |
| Chocolate Syrup | 2-1/4 oz |
| Marshmallow Topping | 1-1/2 oz |
| Graham cracker crumbs | 1 tbsp |
| Lg. Toasted Marshmallow | 1 |
Directions:
Place ice, cold brew coffee, 2 oz. chocolate syrup and 1 oz. marshmallow topping in a stainless steel shaker tin. Shake vigorously until well blended.
Rim a 16-ounce glass in remaining chocolate syrup and dip in graham cracker crumbs. Drizzle remaining marshmallow topping around inside of glass.
Pour mixture into glass and top with toasted marshmallow. Serve immediately.
Makes 1 portion / 1 beverage
Learn more about Beverages from Dennis 🥤