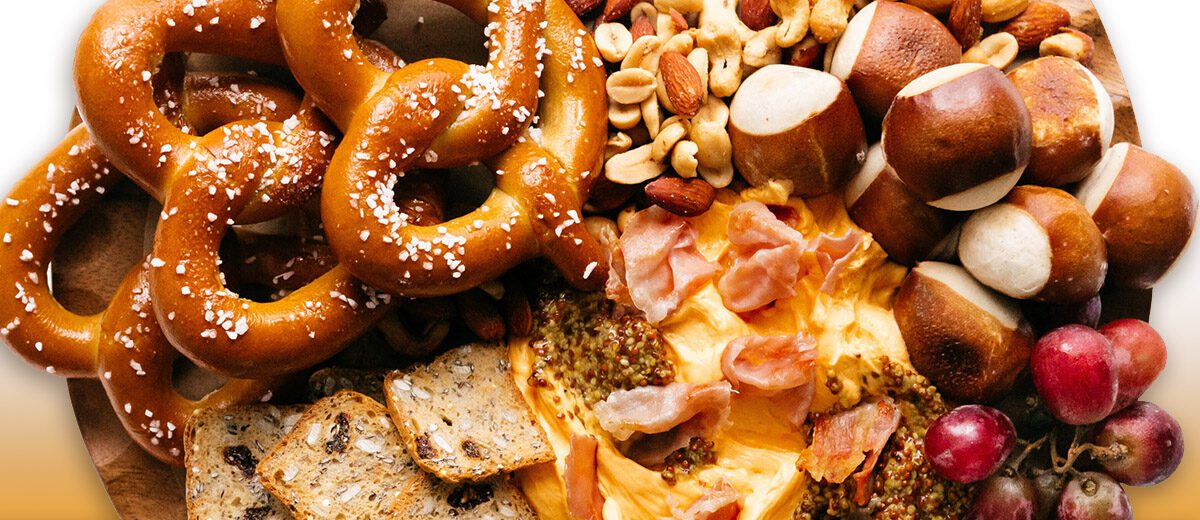 Shareable Cheddar & Horseradish Pub Cheese Board
This easy-to-prepare sharable is as delicious as it is beautiful. Featuring pretzels, prosciutto, and flavorful personality with a bit of bite!
This charcuterie style appetizer makes Président® pub cheese the star of the show, where it's complemented by an array of pub-style snacks perfect for spreading, dipping, or scooping.
Yields: 10 servings   
INGREDIENTS:
Président® Pub Cheese (#27916)
Pretzels
(Soft Pretzel Bites: #12841 | Soft 2.5oz Pretzels: #89345)
Crackers
Nuts
Dried Fruit
Stone-ground Mustard
Columbus Sliced Prosciutto (#27450)
DIRECTIONS
Preheat the oven to 400 degrees and line a shallow, rimmed baking sheet with parchment paper
Preheat the oven to 400 degrees and line a shallow, rimmed baking sheet with parchment paper. Arrange thin slices of prosciutto on the pan and bake until crisp. Bake until the slices start to shrivel and turn golden (10-12 minutes)
Remove and let cool. Next, line your serving board of choice with parchment paper
Spread Président® pub cheese to fill the desired area. Top the cheese with stone-ground mustard and prosciutto crisps
Finish by arranging all other ingredients around the spread. Add greenery for garnish
See More Recipes