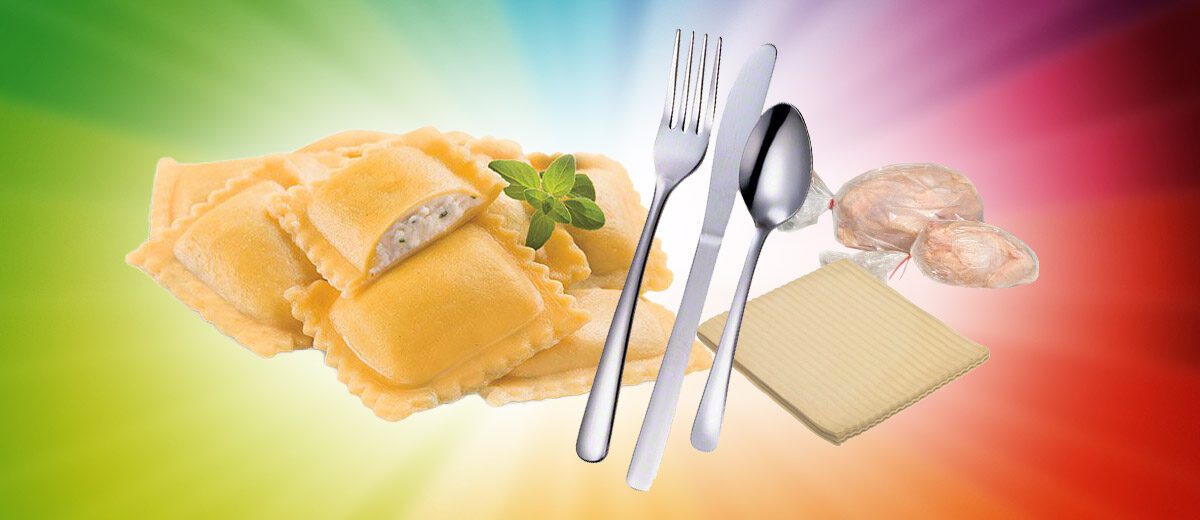 New food service items from Seviroli, Marzetti, LK, and Walco
This week we've added cheese raviolis, rippled lasagna sheets, clear poly bags, and stainless steel utensils.
From Servoli, makers of chef-inspired artisan filled pasta we've added their square cheese-filled raviolis. Servoli raviolis feature authentic pasta dough made with whole fresh eggs and semolina flour. Each square ravioli is filled with a blend of Ricotta and Romano cheese plus spices. New in from T. Marzetti Foodservice come convenient, rippled lasagna sheets. Preparation is fast, easy, convenient and with little or no waste. Remove just the amount you need from the freezer and assemble your lasagna… layer frozen pasta sheets/strips with favorite sauce, meat, cheese, and any other desired ingredients. Preheat oven to 350° F. Bake until heated through (35 to 60 minutes depending on number of layers). Let stand 10 minutes before cutting.
In non-foods we've added clear poly food bags from LK. These gusseted bags feature creased sides that expand to accommodate bulky items. Low Density Polyethylene (LDPE) bags are the most commonly used plastic bag because they provide excellent protection and outstanding value. LK polyethylene bags are made from virgin materials, so they comply with FDA requirements for use in food applications. Lastly, from Walco we've added stainless steel utensils. From their Windsor collection we've added serrated stainless steel knives, teaspoons, and 4-pronged forks.
Take a look at our full list below:
| | | | |
| --- | --- | --- | --- |
| Item # | Description | Pack/CT | Brand |
| 27577 | PASTA RAVIOLI MED CHZ SQUARE | 2/5 LB | SEVIROLI |
| 27578 | PASTA LASAGNA SHEET RIPPLED PC | 1/48 CT | MARZETTI |
| 27581 | BAG POLY 10X8X24 1ML CLEAR | 1/500 CT | LK |
| 27583 | KNIFE DINNER WINDSOR S/S | 1/12 CT | WALCO |
| 27584 | FORK DINNER WINDSOR S/S | 1/24 CT | WALCO |
| 27585 | TEASPOON WINDSOR S/S | 1/36 CT | WALCO |
Dennis Paper & Food Service delivers thousands of foodservice products and supplies to restaurants and food operations in Maine and New Hampshire. If you have a question or are interested in becoming a customer contact us or call 1-800-439-2727.
SEE MORE NEW PRODUCTS
Stock status subject to change. Posted 6/22/22.