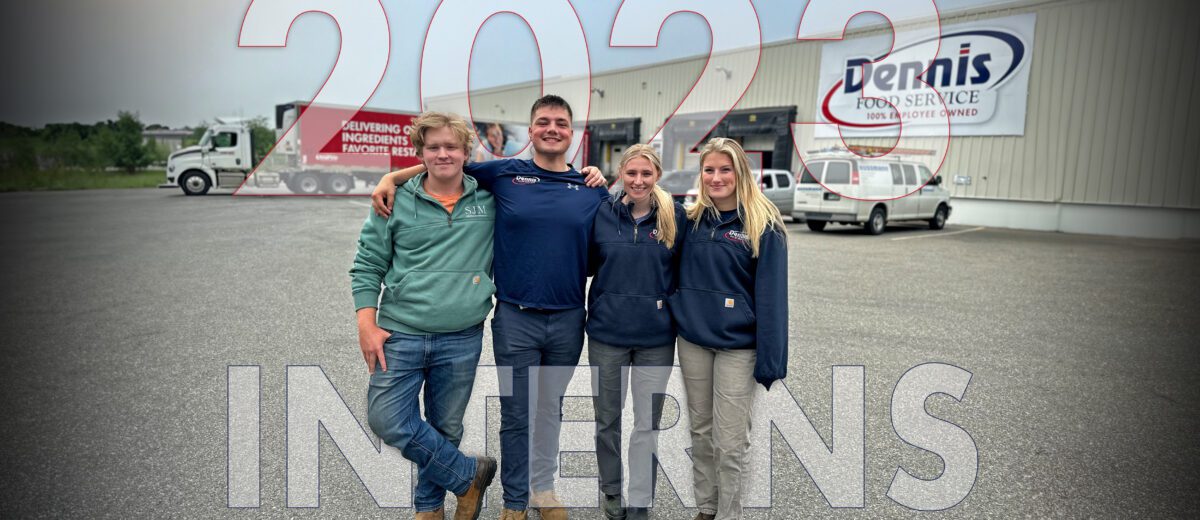 Meet the 2023 Dennis Interns
This summer we welcome four interns from Maine Maritime Academy to our employee owned company.
For both students and companies, internship programs can be highly beneficial for several reasons: Any internship provides hands-on experience in an industry that a person is interested in. It allows the intern to apply the theoretical knowledge that they have gained in their studies to real-world situations. This practical exposure helps to understand the complexities, challenges, and intricacies of business operations. Logistics internships offer an opportunity to develop and enhance various skills that are essential in the field. These include problem-solving, critical thinking, decision-making, communication, teamwork, time management, and attention to detail. You can learn how to navigate supply chain systems, handle inventory, coordinate transportation, and manage warehouse operations, among other valuable skills. By interning here at Dennis Food Service, you gain exposure to the industry and gain insights into the functioning, processes, and the best practices. You can observe and learn from professionals who have extensive experience in the field. This exposure helps you understand the various roles and career paths within logistics, allowing you to make more informed decisions about your future career.
---
Meet the 2023 Dennis Food Service Interns!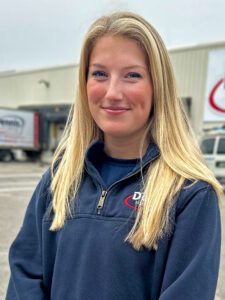 Sierra Hoops

"Hello, I am Sierra, and I am from Houlton, Maine. After graduating from Houlton High School in 2020, I decided to pursue a Bachelor of Science in International Business and Logistics with a Minor in Sustainability at Maine Maritime Academy. I chose this school and program because it has an excellent reputation and allows me to continue my soccer career, all while staying in the beautiful state of Maine. When I finished high school, I was unsure what I wanted to do, so I decided to get a business degree which is very versatile and would open up many opportunities. When choosing a summer internship, I chose Dennis because I loved the friendly and supportive atmosphere inside and outside the workplace. I was extremely excited to join the team and am very happy I did! Being a transportation intern has allowed me to see firsthand what the logistics field is like, which is something I want to explore in the future. I am very thankful for this opportunity, and I look forward to the rest of my summer here with Dennis!"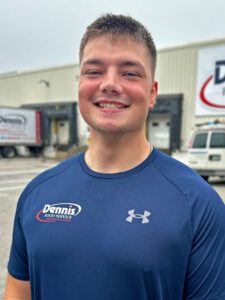 Keegan Gruver

"I am originally a farm boy from Lebanon, CT, but I have called Winthrop, ME, my home since 2012. I graduated from Winthrop High School in 2019 and am now studying for a bachelor's degree in International Business and Logistics at Maine Maritime Academy. MMA's reputation for student development and work readiness were the leading factors for why I committed to the school's program. Dennis offered me a position to test the waters in my field of study as an Operations Intern, with all my training being done in a hands-on learning environment. The opportunity to work alongside a variety of departments and management made it an easy decision for me to join the team. Once I graduate from MMA, I intend to expand my education with a master's degree in Supply Chain Engineering."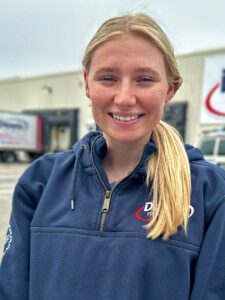 Kaitlyn Anair

"I grew up in Greene, a small town in Southern Maine. After graduating from Leavitt Area High School in 2020, I started my next adventure at Maine Maritime Academy in Castine. I began taking classes in the fall to obtain a Bachelor of Science in International Business and Logistics (IBL) and became a teammate on the women's soccer team. I chose Maine Maritime for the small school atmosphere and how well you can get to know your professors. When I first toured MMA, I met the IBL Department Head, Kirk Langford, and was thoroughly captivated by the speech he gave. After listening and speaking with him, I decided MMA would be my home for the next four years. Now I am a rising senior at MMA, working as an intern at Dennis Food Service as a requirement through school for the summer to graduate. I chose to do my internship at Dennis because my IBL graduating class worked with them, and a few Dennis employees mentioned that they were coming to our spring career fair to take applications for interns. When I had my interview with Thomas White and Matt Cuskelly, they were very friendly and inviting; they also stated Dennis would be a great place to learn all sides of logistics. I was all for it! After graduating from MMA, I plan to pursue further education through MMA's master's program to achieve a master's in International Logistics Management. I also hope to find a job doing something that makes me happy."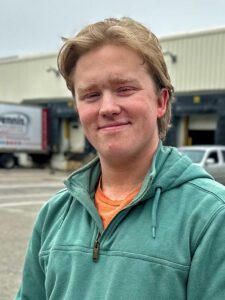 Landon Jones
"I'm from Sanford, Maine and attended Sanford High School and Sanford Regional Tech, and I'm currently taking classes at Maine Maritime Academy, studying International Business Logistics. I chose International Business Logistics for my major because I wanted to do something that wasn't being a machinist because that would probably kill me young. Last fall I met Thomas White at a career fair; he was personable, real nice and represented Dennis Food Service well. The company seemed like it would be a fun place to work for the summer, so I looked into the internship and here I am. Since I still have two more years at MMA, I don't have any definite plans for the near future, but I could end up in defense with transportation. I like the idea of transportation, that really interests me."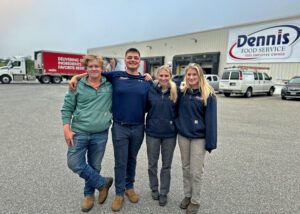 Sierra, Keegan, Kaitlyn and Landon will soon finish their internships with us. We look forward to what the future holds for them and who knows, maybe we'll see them back here someday.