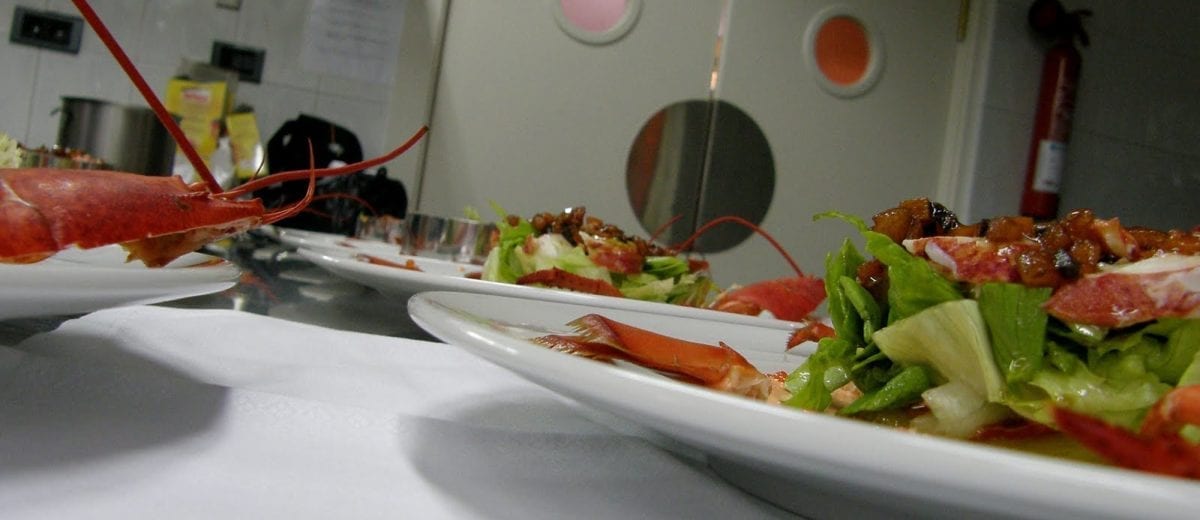 How to Maximize Kitchen Space
One of the constants of the foodservice industry is that the back of house prep area is never quite as spacious as it could be.
Ask a restaurateur or chef whether they think their kitchen is large enough, and their first response will probably be a laugh…
As a result, making the most of space available should always top the list when it comes to constructing a new facility or overhauling an existing space. And experts will tell you that maximizing your back of the house space starts with improving flow of people and product as well as paying attention to staging areas, storage and training.
The following offers some tips that may be useful to you as you embark on your kitchen construction odyssey.
Flow follows function
It's a rule of thumb that kitchen work flow should start with food in its roughest form, moving from storage to prep to hot or cold production to plating and finally to table with as little backtracking as possible. "Such a path makes sense for your staff, your vendors as well as for storing and organizing," says Danny Bendas, managing partner at Synergy Restaurant Consultants, Newport Beach, Calif.
Flow also applies to people. "Identify your critical pathways," adds Connie Dickson, principal for Minneapolis foodservice design firm Robert Rippe & Associates. "One of the biggest mistakes I see in commercial kitchens is that no one has defined traffic aisles versus work aisles. You need people and product to be able to move through the space without interrupting work in process."
Mapping pathways can also highlight excess steps. "We recently worked with a pizza restaurant kitchen where we mapped out the travel path of staff and menu items," Bendas says. "By reorganizing the kitchen to make items more directly accessible to usage points and changing some of the flow patterns, we were able to reduce steps taken by about 50 percent."
Think vertical and movable
Vertical storage, movable shelves and wheels are just a few ways to optimize storage areas and save steps.
Flat items such as cutting boards, sheet pans or trays stored vertically under or near work areas will not only be right at hand when needed, but also your operation will gain food safety benefits from faster drying.
If your kitchen has an unused wall, wall-mounted storage systems will boost prep area efficiency. Sturdy wire grids designed for hooks, bins, spice racks, drying racks and more can be configured to back of house needs, keeping tools and supplies within arm's reach.
Shelving – in walk-ins and dry storage – offers another area to maximize space. Adjust racks to minimize empty area above product on each shelf.
"I see this type of unused space [above product] in almost every walk-in cooler I visit," says Mike Ward, foodservice marketing manager for InterMetro Industries, Wilkes-Barre, Penn. Space-savvy operators match shelf spacing specifically to product being stored.
If you happen to be in the market for new shelving units, test out how hard or easy it is to adjust or add individual racks so there is always sufficient storage. If your new shelving racks will be used in a walk-in, sturdy plastic shelving may be a good long-term method to ward off rust. Units with one-inch adjustment increments will better help you eliminate air gaps between the top of product and the shelf above.
Finally, think wheels. "Rolling work tables with locking casters can be used as a home for mixers, choppers and other countertop equipment. The carts let you save on counter space, and if the equipment is heavy, no one has to lift it from below or above to use it," Bendas says.
One back of the house space-saving trick that's been used in libraries for years is also available for foodservice. "Movable racks, in which a track system allows racks to glide back and forth, can increase storage capacity by up to 40 percent," notes Patricia Guerrero, senior marketing manager for Cambro, the Huntington Beach, Calif.-based kitchen storage manufacturer. If you have five shelving units, the movable racks mean you would only need a single aisle, vs. four aisles for non-movable shelving.
These systems can be floor-mounted or top-mounted. Opt for floor-mounted if you'll be storing heavy loads, and top-mounted for everything else.
"We've seen a number of chains specify the top-mounted moving racks for walk-ins and dry storage," Ward says. "The system keeps the floor free of tripping hazards and it is easier to clean, too."
Staging areas
Attention to detail is critical, especially for the intense activity on the cooking and plating line. Consider mocking up your proposed new layout to anticipate questions and answers in advance.
"On a recent redesign project at a hospital serving 500 meals daily, we taped out the cook line on the floor so the cooks could 'walk' through the whole process," Dickson says. "They brought in tickets from past meals and pretended to execute the orders."
Questions came fast and furious. "If you're printing tickets, where does the ticket come out? Where's the ticket rail? Where do clean plates sit? Where's the heat lamp, and how high should it be so no one burns their hands yet food stays warm? Where are lids stored?" Dickson says, repeating some of the queries from that exercise.
Training
As with most things, efficiency in even the smallest kitchen can always be boosted by training. "You can set up the greatest work space in the world, but if you haven't taught cooks to work efficiently – to gather their mise en place, tools and product – you will still fall behind," Bendas says, adding, "Be sure to train cooks to think before they walk."
Source: Nation's Restaurant News