Grilled Chicken and Slaw Street Tacos
Delicious, easy to serve and scale, these grilled chicken and slaw street tacos are prefect as a trendy platter served with sides or prepared as a large batch for catering.
INGREDIENTS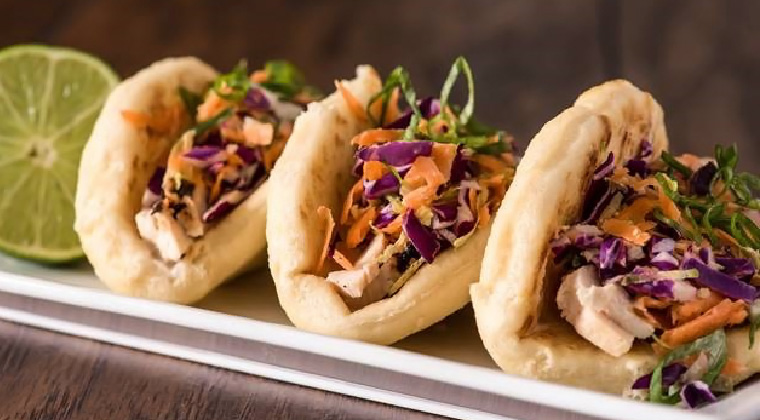 serves 48 
48 ct naan breads
9 lb chicken breast
12 piece minced garlic cloves
1.5 cup soy sauce
3 teaspoon kosher salt
1.5 teaspoon red pepper flakes
1.5 teaspoon ground black pepper
6 tablespoons honey
6 cups chopped cabbage
3 cups shredded carrots
3 cups finely chopped cilantro
3 cups chopped green onions (green parts only)
4 tablespoon rice vinegar
2 tablespoon honey for slaw
4 tablespoon olive oil
2 tablespoon soy sauce for slaw
DIRECTIONS
To prepare the marinade, combine the ginger, garlic, soy sauce, salt, black & red pepper and honey in large bowl.
Slice the chicken into strips (roughly .5″) and then coat and soak in marinade for 15-20 minutes.
To prepare the coleslaw, add cabbage, carrots, cilantro, green onions, then mix in vinegar, olive oil, soy sauce and honey in another large bowl.
Grill chicken on medium high heat until cooked to 165˚F internally.
Add chicken to naan and then top with slaw to serve!
See More Recipes