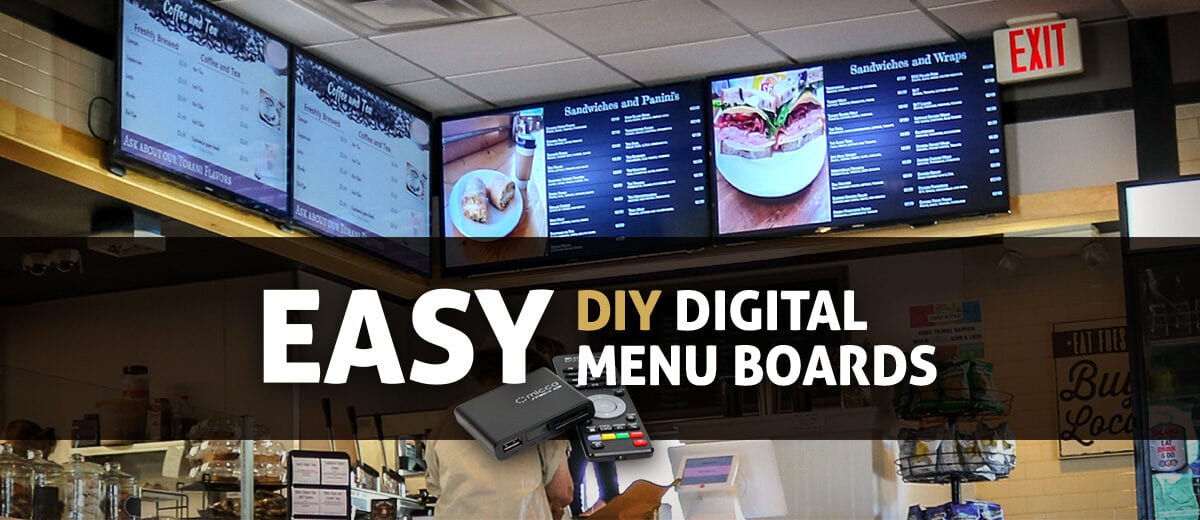 Easy DIY Digital Menu Boards for Restaurants & Foodservice
Try this low-cost, do-it-yourself solution that turns any TV into a digital menu board!
Most modern television sets feature the ability to play images and videos from a USB flash drive (also known as jump-drive or thumb-drive). Simply plug a jump-drive of your content into the USB port of your TV to showcase your menu, photos, or even videos. Some TVs even allow your content to play on loop – an easy way to share a slideshow of content.
But, not all televisions are created equal.
Ever wonder why some TVs are much, much cheaper than others – even though they may be the same size? TV manufacturers can create a range of models and slash prices by removing premium features. The ability for a TV to read and display content from a jump drive often falls under that "premium feature" umbrella. When considering displays for food service establishments, premium features that appeal to home consumers often don't make sense. Your TV might have a USB port, but when you plug a jump drive in nothing happens… it means that your TV's jump drive is there to provide power only.
No USB? No problem.
You don't need a fully functional USB port as long as your TV has an HDMI port. When plugged into your HDMI port the 'Micca Speck 1080p Full-HD Ultra Portable Digital Media Player' gives you a USB and more. If you've got an extra TV kicking around, I highly recommend this little device. Why? Because in 2020 I helped a customer set up 3 of these on used TVs – and it worked flawlessly. The Micca Speck is a cheap, powerful media player that can display multiple images and video formats in full 1080p HD. The player comes with a remote control and connects to your TV via HDMI cable. This device includes some noteworthy features such as an SD/SDHC memory card reader, USB port, automatic restart after a power failure, aluminum case exterior, and high-quality playback.
So, now you're excited about creating a digital menu board or point of sale display… What do you need? 1) Any TV with an HDMI port. 2) The Micca Speck Digital Media Player. 3) A USB thumb drive loaded with the images/video you want to share.
Menu Image Pro-Tip
Microsoft PowerPoint slides can be set to a default size of "1080p" or 1920×1080 (the same aspect ratio as most modern TV displays). Often 1920×1080 is already the default PowerPoint template size, if not you can change it.* Once you've created your menu simply "export" the slide as a jpeg image and copy it to your jump drive. Because the image is exported as 1920×1080 pixels your menu should display on your TV exactly how it appeared in PowerPoint.
Of course, you can use any application you're comfortable with to create your digital menu artwork. And there are many more methods, services, and devices you could utilize to display your electronic signage… this one just happens to follow one of my favorite business strategies – highly effective and inexpensive.
If you're already having your menus designed and printed by an outside company, a tv-ready digital version of your menu could be just a conversation away.
*PowerPoint stuck in 4×3 aspect ratio? Try this!
If you see black bars on the left and right of your content, it means your slides are set to a 4×3 aspect ratio.
1) Go to the Slide Show tab in PowerPoint.
2) Select "Set Up Slide Show"
3) Change the "Slide show resolution" from 'Use Current Resolution' to '1920×1080'
Micca Speck 1080p Full-HD Ultra Portable Digital Media Player