Beefed Up Mac & Cheese
Melt-in-your-mouth flavor will keep this dish flying out of the kitchen. This recipe uses shredded Pot Roast to elevate Mac & Cheese to a whole other level.
INGREDIENTS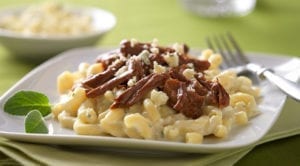 Serves: 4
17 ounces refrigerated fully-cooked boneless pot roast with gravy or au jus
1 1/2 cups uncooked elbow macaroni
2 tablespoons olive oil
2 tablespoons flour
2 1/4 cups skim milk
1 cup shredded Monterrey jack cheese
1/4 teaspoon salt
1/4 teaspoon pepper
3/4 cup Gorgonzola cheese, divided
1 tablespoon chopped fresh sage
DIRECTIONS
Prepare pasta according to package directions; drain. Set aside. Prepare beef pot roast according to package directions. Remove beef from gravy or au jus reserve gravy for another use. Shred beef with 2 forks. Keep warm; set aside.
Meanwhile, heat oil in large non-stick skillet over medium heat until hot. Carefully whisk in flour; cook 3 to 5 minutes or until lightly browned, whisking constantly. Whisk in milk; cook 8 to 10 minutes or until thick., whisking constantly. Remove pan from heat and stir in Monterrey jack cheese, salt and pepper, stirring until cheese is melted. Stir in pasta, 1/2 cup Gorgonzola cheese and sage.
Evenly divide pasta mixture among four plates; top with beef and sprinkle with remaining Gorgonzola cheese, and serve!
See More Recipes