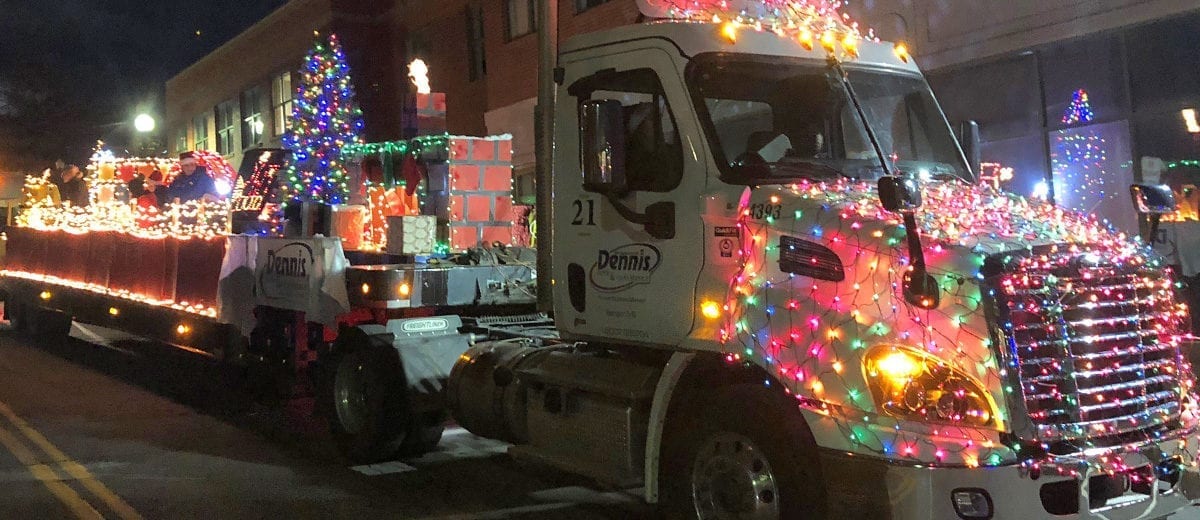 2017 Festival of Lights Parade
For the second time in two years our team of employee-owners made an impressive showing with a themed-float at the annual Festival of Lights Parade in Bangor, Maine. This year's theme was "Holiday Memories" and our float met that challenge with a 50-foot Radio Flyer wagon decked to the hilt with classic holiday toys like Legos, Play-Doh, a Lite Brite and giant Slinky. In between holiday songs, classic Christmas commercials played from loud speakers.
Last year we took home a trophy for Best in Show for a corporate entry. This year we said that we were defending our title and we meant it!  The 2017 Dennis Paper & Food Service float took home the gold for Best Commercial Entry and Best Overall Entry! An impressive feat, as our float had to beat out over 80 other entries!
Big congratulations are in order for the parade committee who made this happen! Ada, Keisha, Josh H., Travis, Brenda, Nancy, Kathy, Kelly, Trevor P. and Paul worked incredibly hard to win us this award!
Thanks also to Tylor Hunter who successfully drove what was likely the biggest trailer in the parade through downtown Bangor.  Separate awards should be given for that!
Additional thanks to the many people who stepped up and helped with designing and assembling the float, and to everyone who came out and walked the parade last night! This year we grew the number of team members and their families who participated in the parade, next year let's make it even more!
The Rotary Club of Bangor puts on the parade in early December each year. The Rotary Club of Bangor is a Service organization with an objective of Service Above Self. This year Rotary Club of Bangor is Celebrating their Centennial year! Rotary Club of Bangor has donated over $2.2 million for Service to others over the past 100 years. The club meets Tuesdays at noon, at the Wellman Commons. For more information see the Club's website at www.bangorrotary.org.