HORMEL FOODS
INGREDIENTS FOR FOODSERVICE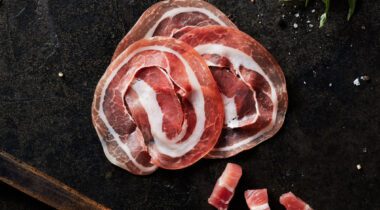 Sliced Pancetta, 3 oz. Fresh
Whole pork belly lightly spiced with mild seasoning, hand-rolled and tied. After, it's dry-cured and aged naturally—giving intense flavor. Sliced into thin slices.
Item #27448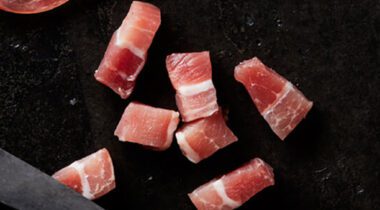 Diced Pancetta, 5 oz. Fresh
Whole pork belly lightly spiced with mild seasoning, then hand-rolled and tied. After that, it's dry-cured and aged naturally—giving it its intense flavor. Diced into small cubes.
Item #27449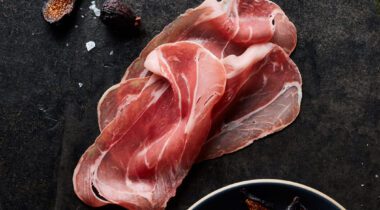 Sliced Prosciutto, 3 oz. Fresh
Highest quality, fresh hams, hand-rubbed with a hint of salt, and air dried. Once they're cured, the final product is a lean prosciutto that pairs well with other foods.
Item #27450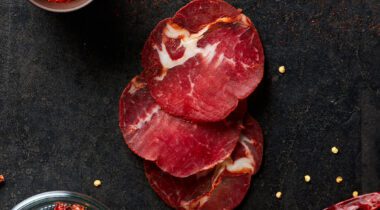 Dry Hot Coppa, Cured Fresh
Closely-trimmed pork shoulder rubbed with crushed red pepper flakes and paprika, then slow-aged and air-dried for at least 45 days for full tenderness and fragrance. Has a spicy finish.
Item #27451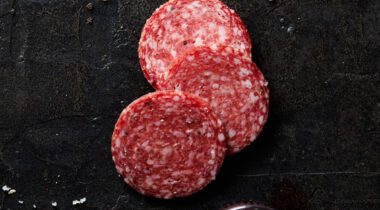 Italian Salami, Dry Fresh
Select cuts of pork, cracked black pepper, a signature blend of spices, and burgundy wine gives this salami a unique richness and aroma. It is then aged for up to 33 days, and has a nice bite from the slow curing.
Item #27452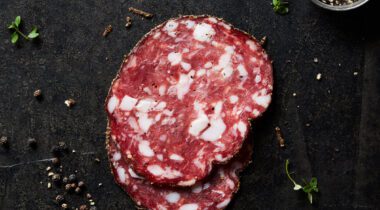 Peppered Salami Stick, Fresh
Hand-rolled Italian Dry—mild and sweet—salami in freshly cracked black peppercorns. A spicy bite followed by the true flavor of original Salame, aged up to 55 days.
Item #27453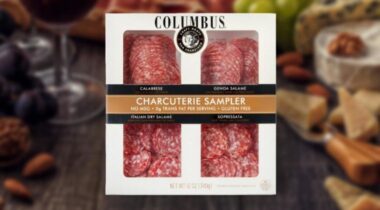 Salami Charcuterie Sampler, 12 oz. Fresh
Contains 3-ounces each of 4 different pre-sliced salami. Featuring Calabrese, Genoa, Italian Dry, and Sopressata Salami.
Item #27454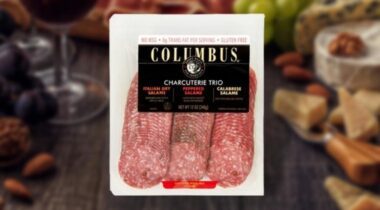 Salami Charcuterie Trio, 12 oz. Fresh
Contains 4-ounces each of 3 different pre-sliced salami. Featuring Italian Dry, Peppered, and Calabrese Salami.
Item #27462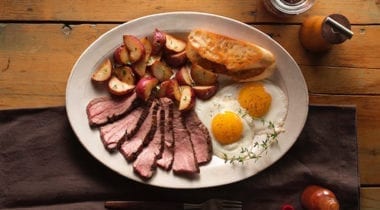 Fire 🔥 Braised Beef Flank Steak
Fully cooked whole beef flank steaks that are first flame seared before being slow-cooked in their own juices. Resulting in a tender juicy steak with a delicious and visually appealing caramelized exterior.
Item #21365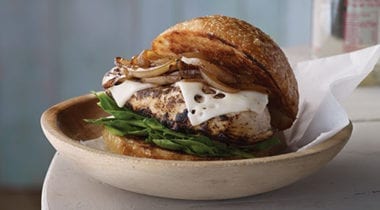 Fire 🔥 Braised Chicken Breast
Natural in shape and flavor with a bbq charred exterior, minimally processed and no artificial ingredients, always 100% natural.
Item #13120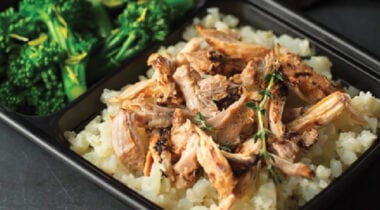 Fire 🔥 Braised Chicken Thighs
Lightly seasoned so it can be served as a classic comfort food or customized into a variety of globally inspired dishes.
Item #7777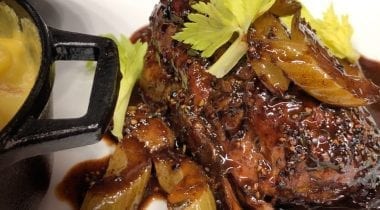 Fire 🔥 Braised Pork Shoulder
All natural ingredients for a unique flavor and appearance, this slow cooked pork shoulder is cooked in its natural juices for that classic comfort flavor.
Item #7776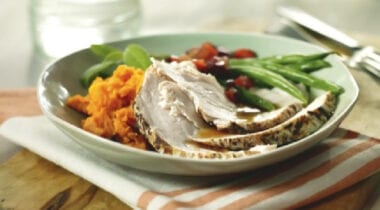 Fire 🔥 Braised Turkey Breast
Single lobe turkey breast, that is first seared with fire then slowly braised for that true moist tender turkey flavor we all love.
Item #9003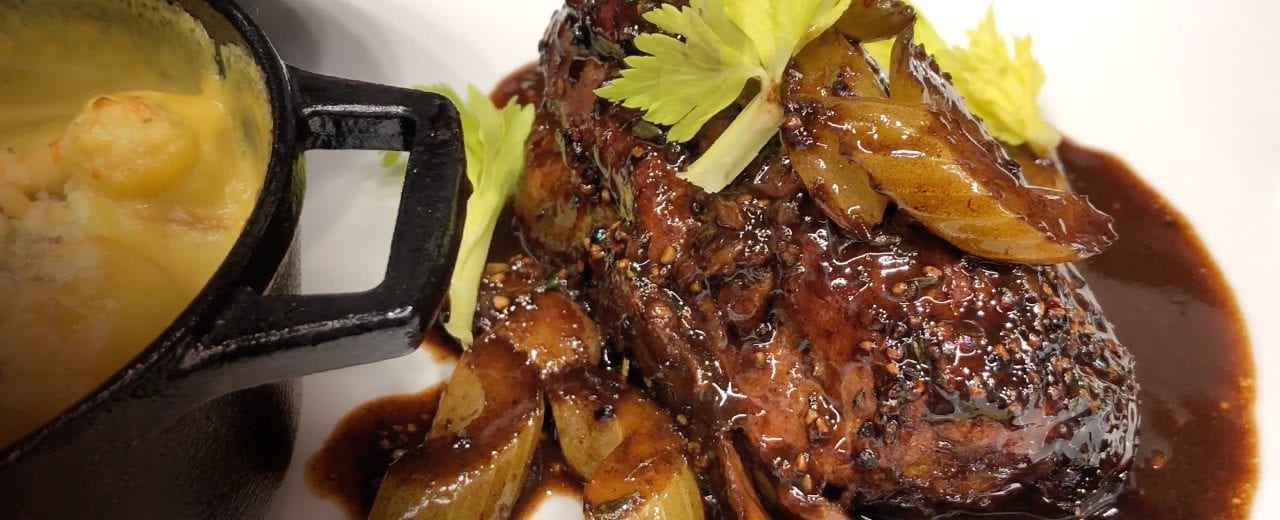 Fire Braised Pork Shoulder Pot Roast
with a Balsamic and Roasted Garlic Jus
See Recipe

FONTANINI®
There's inspiration in every bite.

Irish Style Bangers
In Action 🎬
Chef Tim's twist on a pub classic.
WATCH THE RECIPE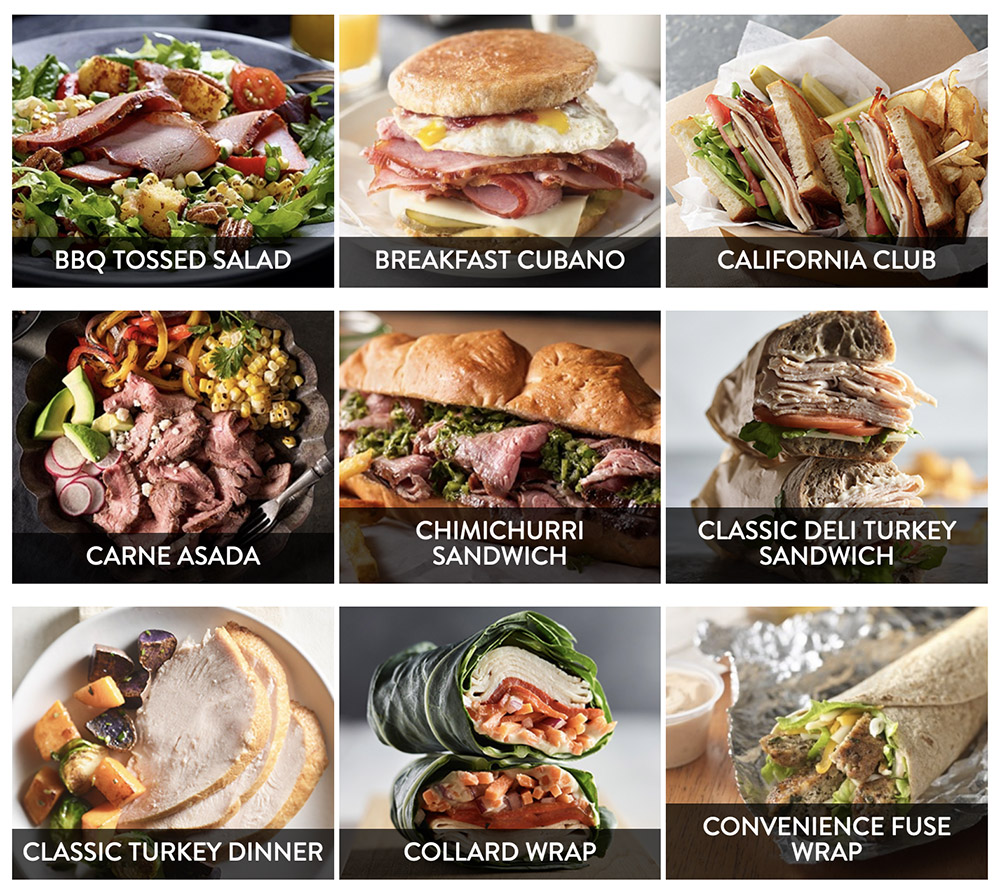 IDEAS THAT DELIVER
Hormel Foods is committed to providing consumers with high-quality, high-value branded products that are flavorful, nutritious and convenient. They strive to set industry standards for product quality, work environment and community engagement. [More]
MENU IDEAS
Hormel creates products that are meant to be transformed into mouthwatering dishes on your menu. They find inspiration in what's trending and build concepts to spark your own unique ideas – or, just replicate something you find here! There are fun features to help you save, share, and compare recipe concepts.