The
Cheese Board
Specialty cheese selections for all platforms.
For the cheese board and beyond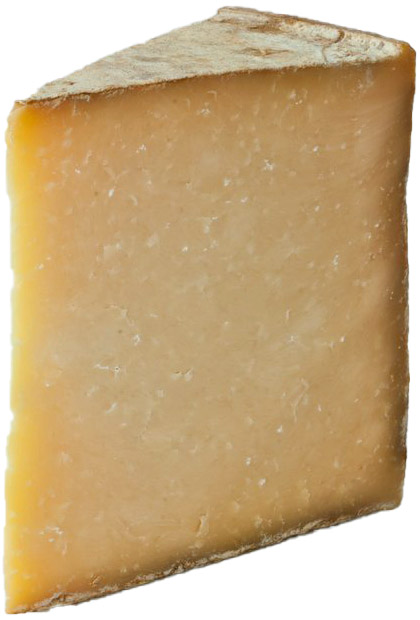 From fine dining, to bar snacks to room service offerings we have a cheese for all platforms.
Cheese plates are at the top of the list for "perfect offerings to sample." Conversation built around a plate of chef picked cheeses, garnished with pickled vegetables, grain mustard, fruit chutney & crusty bread/crostini is the perfect way to kick of a great meal.
A good cheese board offering is a great way to increase your check average by $15-$20+, depending on the size of your board and the quality of cheeses being offered.
These are but a few of the many reasons we have selected the following items as a good base of specialty cheese offerings; suitable for your cheese board and in cooking applications alike. Talk with your Dennis Account Executive about specialty cheese orders today.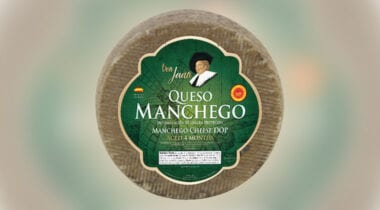 Don Juan

Manchego


Spain

Firm Spanish sheep milk cheese. Produced by Coqueya, this Manchego is made with the milk of Manchega sheep, using old world techniques and state-of-the-art facilities. An aromatic cheese featuring a floral start and a nutty finish

Chef note: Great melting cheese for fondue, on pizza or in a Spanish mac & cheese with chorizo and saffron.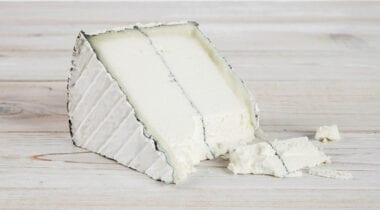 Humboldt Fog

Soft-Ripened Goat Milk Cheese

Humboldt County California

Semi-soft goat milk cheese. Each handcrafted wheel features a distinctive ribbon of edible vegetable ash. You'll enjoy buttermilk and fresh cream, complemented with floral notes, herbaceous overtones, and a clean citrus finish. As Humboldt Fog matures, the creamline develops and the flavor intensifies.

Chef note: Try on a bed of simply dressed arugula, with pistachios, grapes and rustic croutons!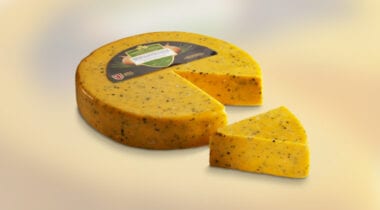 Cotswold
Coombe Castle
Castle, UK
English style cheddar with herbs. The subtle slightly nutty flavor of Double Gloucester combines perfectly with chopped chives and onions to create this delicious blend.
Chef note: Makes an awesome grilled cheese sandwich on thick cut sourdough bread, shredded on a tomato bisque or in an upscale pub style cheese stick presentation.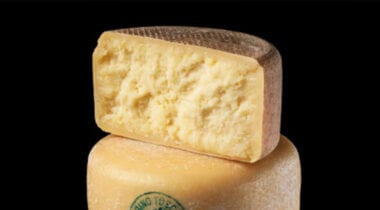 Il Forteto
Pecorino Toscano
Italy
Hard sheep milk cheese. Maturing time of 20-30 days. The paste is compact and straw-coloured. With a sweet but firm taste of sheep's milk. The flavors and perfumes are well developed and well balanced.
Chef note: Perfect grated on pasta, in a truffle cream sauce with gnocchi, in a frittata or shaved on an apple pie.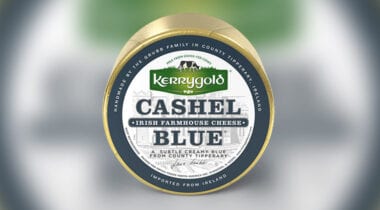 Kerrygold
Cashel Blue
Ireland
Grass fed cow milk cheese. Cashel Blue is a semi-soft, creamy Irish farmhouse cheese, distinguished by its round, full flavor and signature tang. Its buttery color is punctuated by characteristic blue veining. Lovingly crafted by the Grubb Family, Cashel Blue Cheese is made on the family farm with milk from grass-fed dairy cows that graze on some of Ireland's most lush and nutrient rich pastures.
Chef note: I won't lie, I'm a sucker for a good blue cheese as a finishing touch on a pepper crusted steak.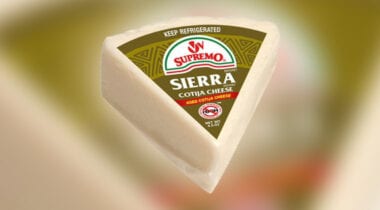 VV Supremo

Cotija

USA

Hard crumble style cow milk cheese cheese. Cotija cheese is originally from the town of Cotija in Michoacan, Mexico, this firm, full flavored, bold cheese is becoming more popular by the minute in the U.S. Sometimes called the "parmesan of Mexico", Cotija cheese can be shaken over any dish for an unparalleled flavor boost. We craft our unique Cotija cheese with whole milk and no processed ingredients, resulting in the traditional bold flavor with rich dairy notes.

Chef note: Suitable in dips, on street style corn, on tacos and in seafood dishes. Works great sprinkled on a BBQ beef short rib with shaved red onion and cilantro… yum!!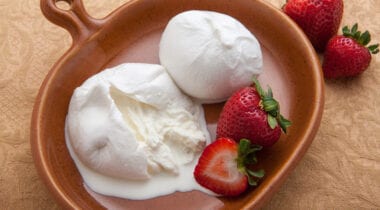 Maplebrook Farm

Burrata


Vermont


Made exactly as they do in Puglia, Maplebrook Farm's burrata replicates old world fashion by stretching curd into mozzarella and filling it with a luscious creamy center. The soft center, stracciatella, comprised of cream and strands of mozzarella gives this cheese a distinct flavor. Available in 2oz and 4oz sizes.

Chef note: Makes for a great twist on an egg's benedict; Warm thick sliced tomatoes, topped with burrata in place of poached eggs & finished with a basil hollandaise.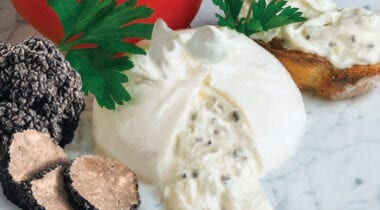 Maplebrook Farm

Truffled Burrata


Vermont


Strands of fresh pulled mozzarella are soaked in cream, mixed with earthy black truffles and then enveloped in a pocket of fresh mozzarella. Packed in a sea salt brine, our Truffled Burrata is loaded with flavor and will add just the right amount of decadence to any meal.

Chef note: Lends excellent flavor when incorporated into a risotto, asparagus salad, or flatbreads.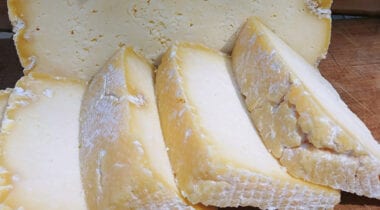 Lakin Gorge
Opus 42

Maine, Organic

Opus 42 is a semi-firm cheese, aged 3 to 6 months. The natural rind is a mottled white and tan with earthy notes. The interior is a pale yellow with a taste that is slightly sharp and nutty.
Chef note: Great in baked fruit Danish applications, melted on crusty bread with a dollop of grain mustard and cherry tomatoes or simply serve as a cheese board offering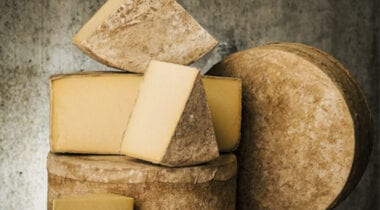 Cabot

Clothbound Cheddar from the Cellars of Jasper Hill Farm


New England


In 2003, Cabot Creamery tasked Jasper Hill with aging a special batch of cheddar, sparking a revolutionary collaboration. After more than a decade the cheese has developed into the cornerstone of our collection. After it comes to the cellars, we coat the young cheese in lard and add an additional layer of cloth. The cheeses ripen in a specially calibrated vault in our cellars, where they are constantly brushed, turned, and monitored for quality.

Chef note: Serve as a dessert style cheese offering paired with fresh berries and chocolate bark. Suitable for your favorite cheddar cheese applications; high end style that is!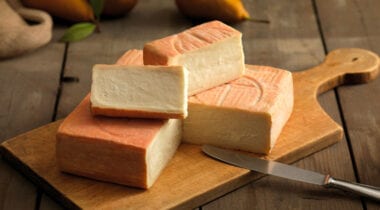 Atalanta

Taleggio

Italy


A soft cheese of ancient origins, whose name comes from the valley near Bergamo where it was born. It is produced in a square shape measuring about 2,2 kg in weight. It has a peculiar colour due to the weekly brushings with water and salt.

Chef note: Melts easily for a warm cheese dip application, in a prosciutto and peach panini, creamed into polenta or folded into a risotto.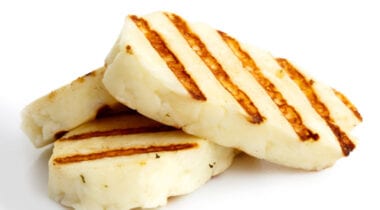 Atalanta

Halloumi

Cyprus


Halloumi is a cheese that is versatile, unique and perfect for all of your seasonal fêtes! The Mediterranean island of Cyprus is home to Halloumi, which features the texture of mozzarella and a flavor that resembles feta. Atalanta Halloumi is a pure sheep's milk cheese seasoned with mint leaves.

Chef note: Suitable for salads, breaded cubes can be fried and used as a "cheese crouton" and perfect for grilling applications as this cheese will not melt.

THE DAIRY AISLE
Cheese • Milk • Butter • Cream • Eggs • More
LEARN MORE