Pepperoni, Sausage, Deli & Cured Meats
Hot Dogs • Salami • Kielbasa • Chorizo • Prosciutto
Dennis Paper & Food Service offers a full line of high quality smoked, cured, seasoned and deli meat products to meet the many different needs of restaurants and foodservice operations throughout New England.
In addition to our traditional offerings we maintain strong vendor relationship that provide access to the best in specialty meat products including buffalo, duck, lamb, veal and more. Ask an Account Executive about our specialty meat options.

Distinct flavor your customers will savor.
Tested. Tasted. Approved.
We've tested, tasted and reviewed hundreds of varieties of traditional, gourmet and the newest in trending meat products to inventory the best selection for our customers.  This selection covers a wide variety of options across sausage and hot dog products including all-beef, beef/pork or turkey franks, mini wieners, red hots, chorizo, kielbasa, polish sausage, bratwurst, pepperoni, salami and more.

A little slice of heaven.
A fantastic selection of premium slicing and deli meats.
Your customers will love the flavors and high quality in our ABF, additive and preservative free products. From prosciutto to hard salami, roast beef to capocollo we work with the industry's top manufactures to secure our customers the best meats available.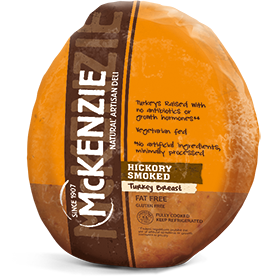 We are proud to partner with McKenzie Country Classics of Vermont, and other national brands, to offer All Natural and Antibiotic Free product choices.
McKenzie Country Classics natural Artisan deli meats & cheeses are all natural without artificial flavors, fillers or ingredients. Never any MSG and always gluten free. Deli with full rich flavor that tastes better and is better for you. Our turkey and ham is sourced from local family farms and contain no antibiotics and no growth hormones. We do not add nitrates or nitrites to any of our natural artisan products.
Explore more meat products in these categories: