Specialty Hams
When it comes to specialty hams - you've got options.
Savory and flavorful, the right ham can add wow-factor to holiday menus, special occasions and signature dishes.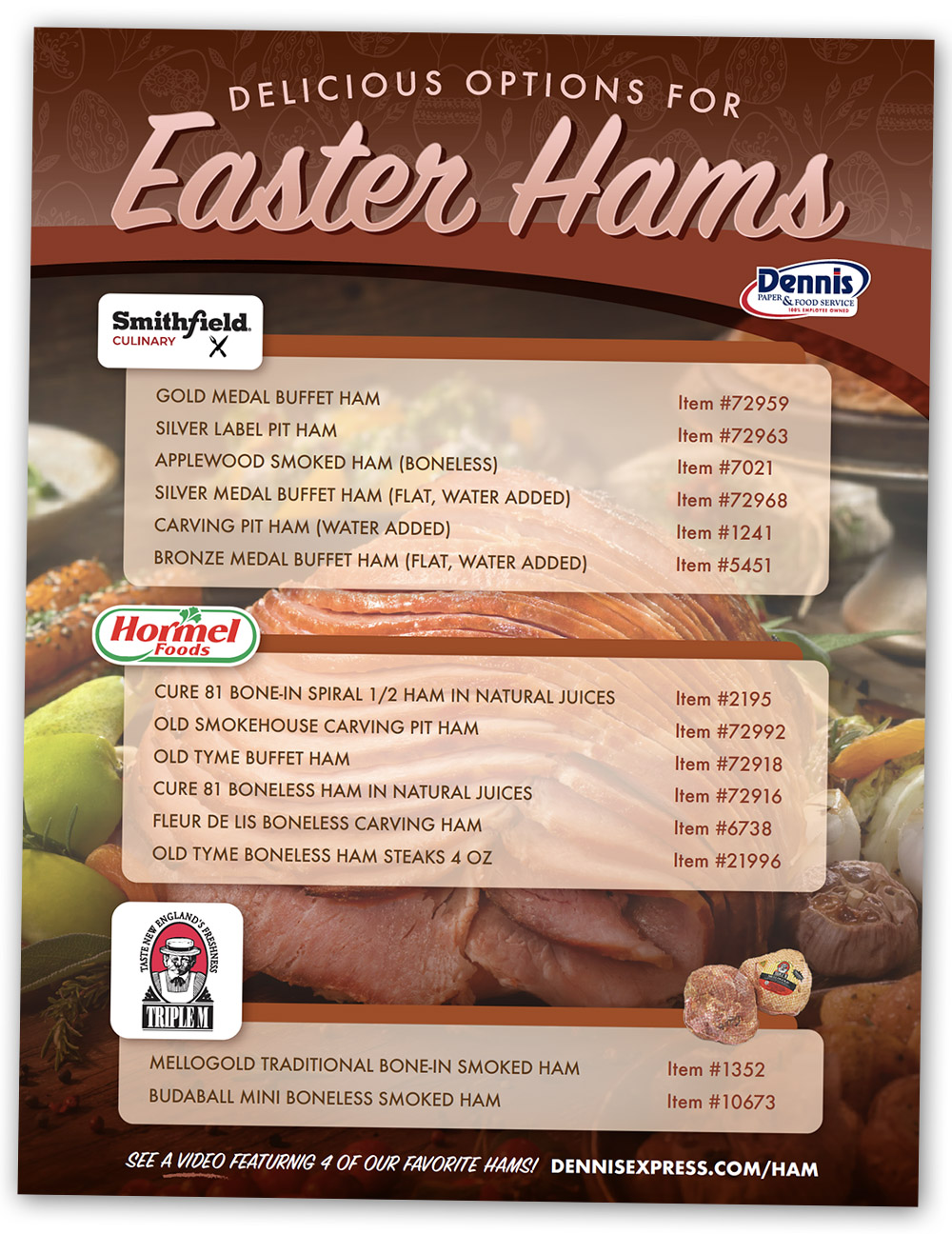 Dennis Paper & Food Service stocks a wide assortment of hams, making it easy to bring the premium quality and irresistible flavor ham lovers desire to your menu.
Specialty hams from Smithfield Culinary, Hormel Foods and Kaymen Foodservice are available in a variety of sizes and options, including bone-in and boneless, so you can select just the right fit for your operation.
Looking for more options? Be sure to ask you Account Executive for additional suggestions.
| | | |
| --- | --- | --- |
| Brand | Description | Item # |
| Farmland | Steamship Ham | #19365 |
| Farmland | Virginia Baked Ham | #72956 |
| Farmland | Gold Medal Buffet Ham | #72959 |
| Farmland | Silver Label Pitt Ham | #72963 |
| Farmland | Applewood Smoked Ham (Boneless) | #7021 |
| Farmland | Silver Medal Buffet Ham (Flat, Water Added) | #72968 |
| Farmland | Carving Pitt Ham (Water Added) | #1241 |
| Farmland | Bronze Medal Buffet Ham (Flat, Water Added) | #5451 |
| Farmland | Bolo Style Cooked Ham | #72961 |
| Hormel | Cure 81 Bone-In Spiral 1/2 Ham | #2195 |
| Hormel | Old Smokehouse Carving Pitt Ham | #72992 |
| Hormel | Old Tyme Buffet Ham | #72918 |
| Hormel | Cure 81 Boneless Ham | #72916 |
| Kayem | Mellogold Traditional Bone-In Smoked Ham | #16332 |
Video: Holiday Hams with Smithfield Culinary